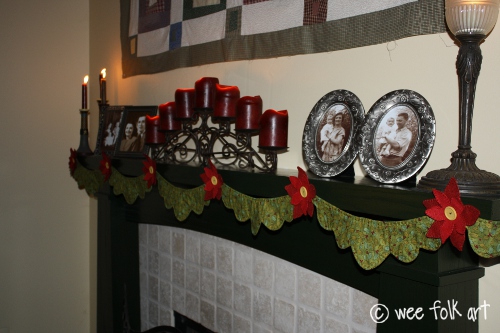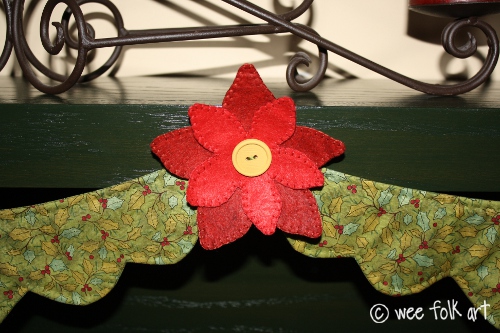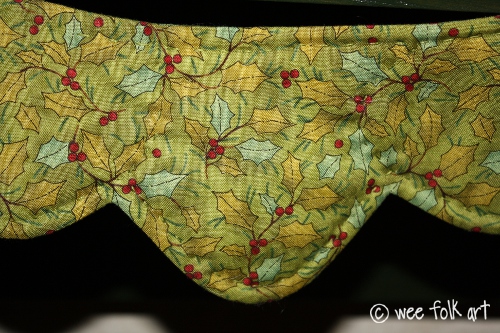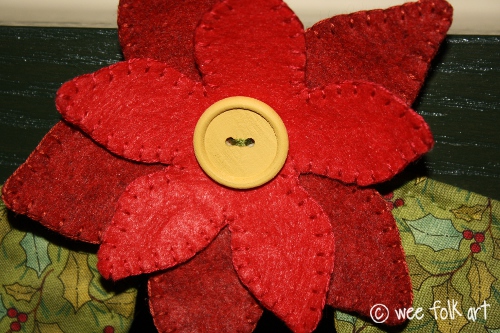 Directions are for a garland approximately 9′ long comprised of 7 sections of roping and 6 poinsettias. Each roping section is approximately 18″ wide so you can design your garland to meet your needs. The 2 outer ends of my garland do not have flowers, but depending on where you use your garland, you may wish to have flowers on either end, too.
MATERIALS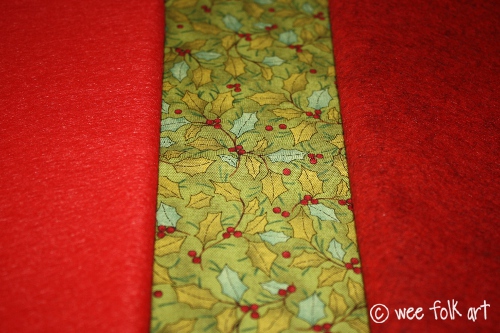 Flowers:
Barnyard Red Felt
Red Felt
1 skein each of DMC floss #3777 and #304
6 – 1″ wooden buttons
gold paint for buttons
poinsettia pattern
Roping:
green fabric – Green Holly by Henry Glass.
thin cotton or wool batting
match thread for machine
2 skeins green floss for hand quilting (DMC floss #469 matched my fabric)
roping pattern
Mounting:
self sticking Velcro coins
*(see note below for suggestions for other mounting ideas}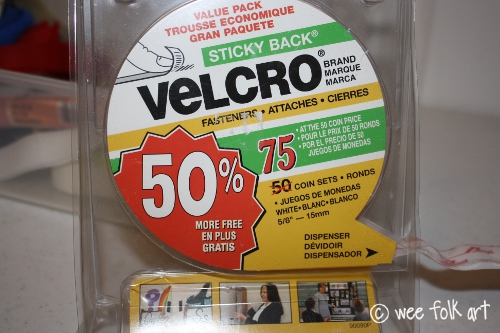 Poinsettia Directions:
Make copies of the flower pattern.
Cut out 12 pieces of small petals and 12 pieces of large petals. When cutting, cut 2 pieces together that will be stitched together at the same time. Refer to the directions for cutting out felt found HERE.


Using a blanket stitch and 3 strands of floss, sew together each set of 2 using matching floss. You will now have 6 large petals and 6 small petals.


Roping Directions:
Make 2 copies of the pattern. Cut out the patterns. Tape the 2 pieces together along the tape line. NOTE: On one piece you will see the markings and you will see the blank back of the other piece.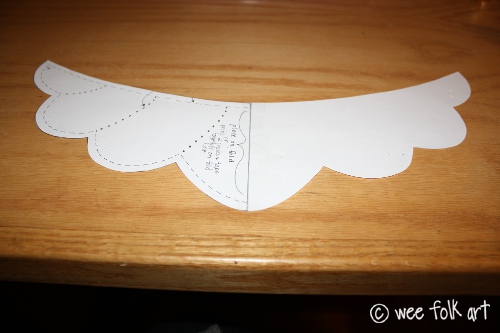 Cut out 2 pieces of fabric for each roping section. For my garland I cut out 7 swags (14 pieces of fabric).
Cut out 1 piece of batting for each section of roping by cutting rectangles that are slightly larger than the pattern piece. I cut out 7 rectangles.
Place the right sides of 2 pieces of roping together.  Place this over a piece of batting. Pin together.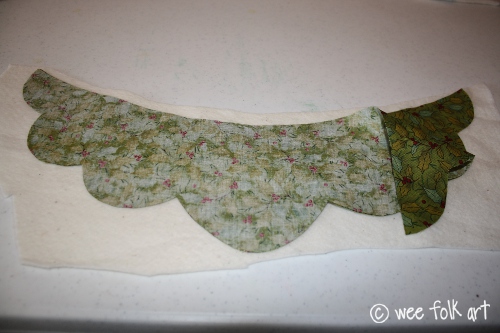 Sew the 3 pieces together using a 1/4″ seam, leaving a 3 finger opening at the top of the roping as indicated on the pattern.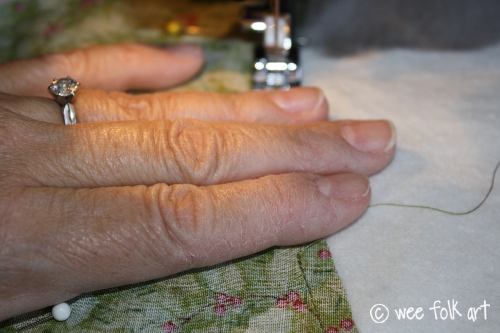 Trim seams to 1/8″ EXCEPT over the opening. Do not trim the fabric but trim back the batting.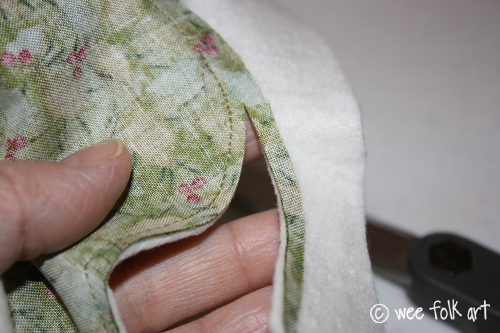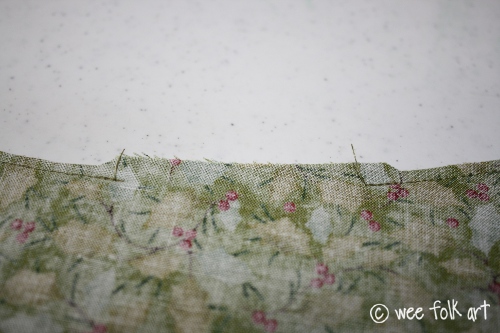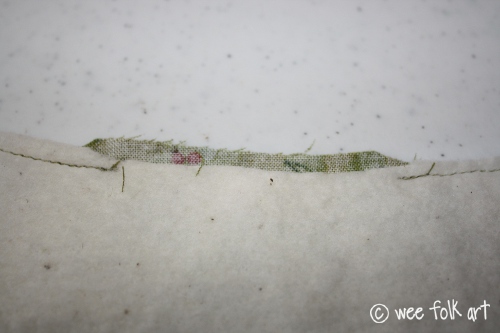 Clip inside curves being careful not to clip all the way through.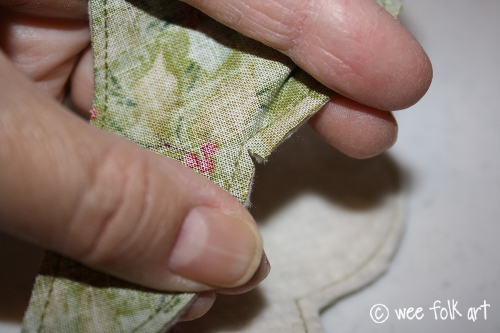 Turn and iron. I find a chopstick works well for turning the ends but be very careful. I pushed a little too hard when I turned my first end and stuck my chopstick through the fabric!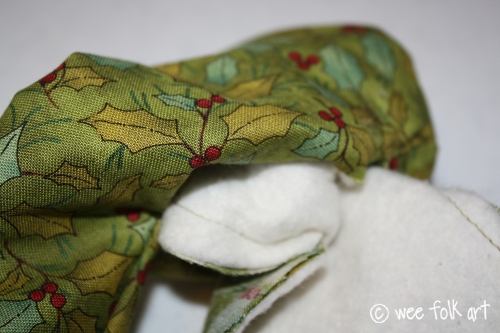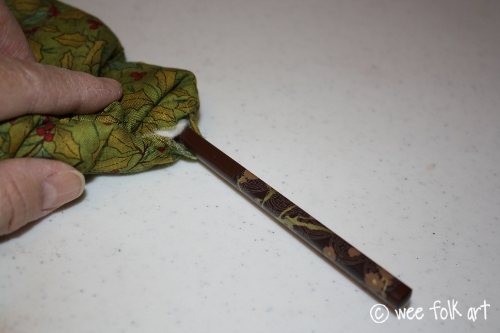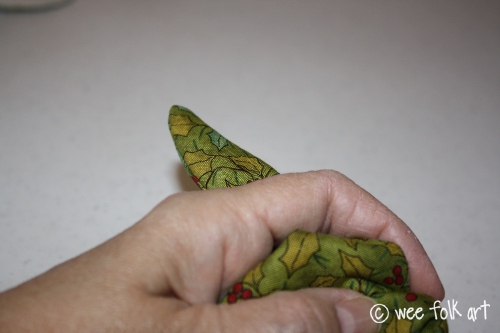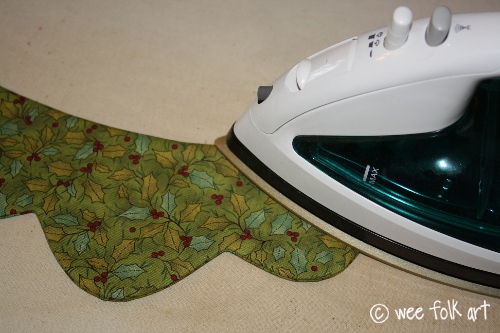 Using a slip stitch (ladder stitch), sew opening closed.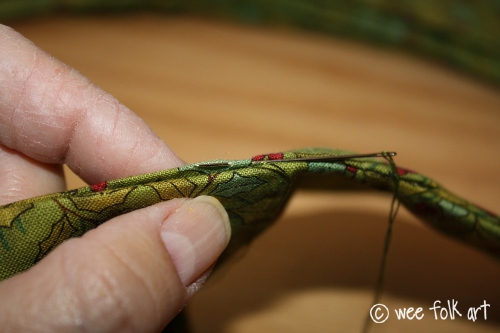 Transfer markings to roping. Hand quilt the stitching lines indicated on the pattern using a running stitch and 2 strands of matching floss.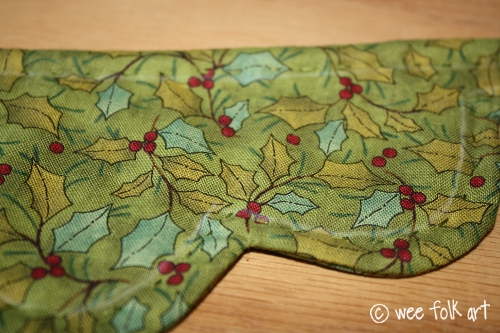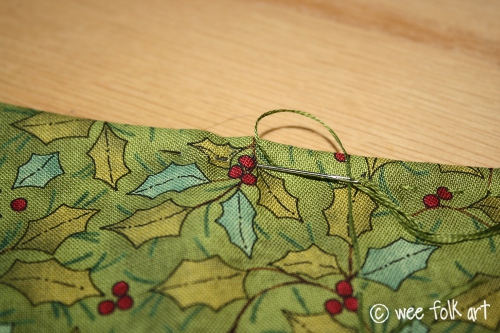 Complete all roping pieces.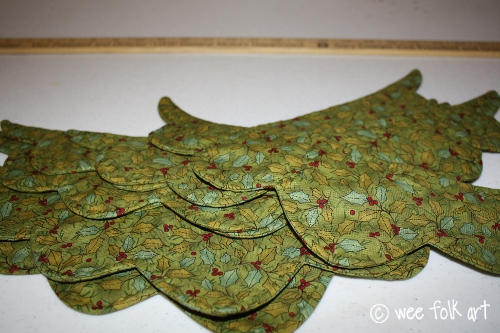 JOINING and BUTTONS:
Paint buttons and allow to dry.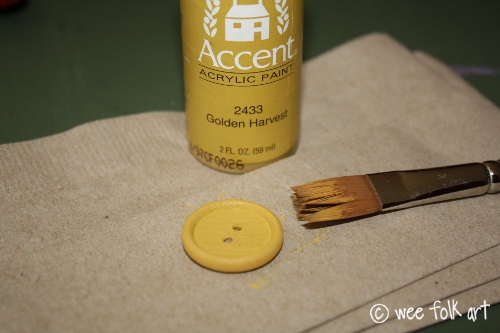 To join, overlap 2 swag pieces about 1/2″. It helps to line up sections along a straight edge.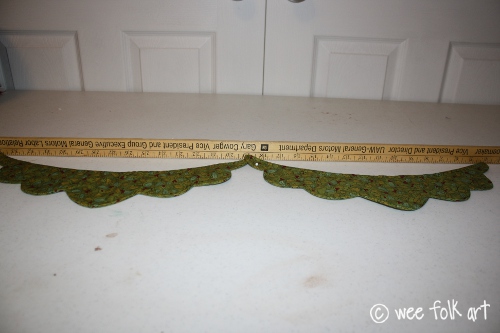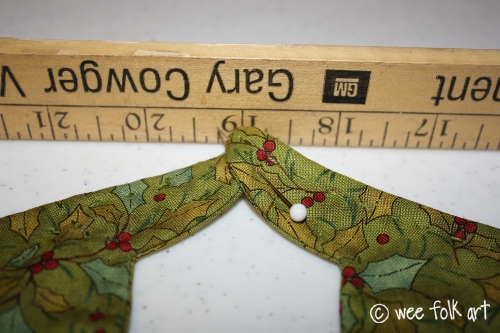 Using matching thread, tack together. NOTE: You can do this by hand or machine sew together.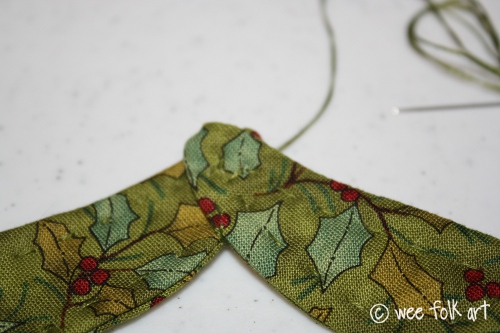 Center a large poinsettia petal on overlap. Place a small poinsettia petal on top of the large. Tack in place.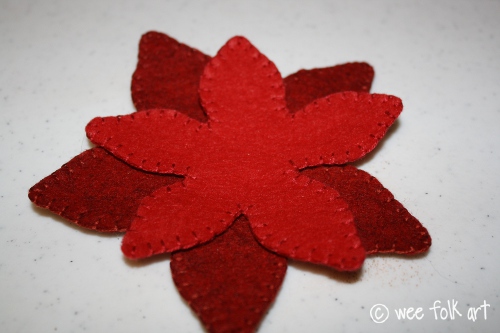 Place a button in the center of the small poinsettia petal. Using 4 strands of floss, sew on the button going through all layers of the poinsettia and the 2 swag pieces.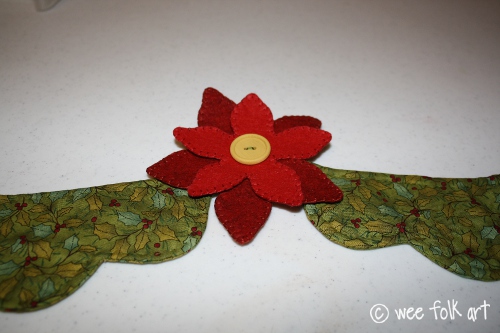 MOUNTING OPTIONS:
Place the looped side of a sticky back Velcro coin centered on the backside of the poinsettia. Place a Velcro coin on the backside of each end.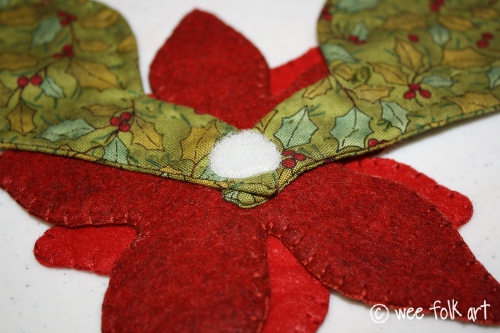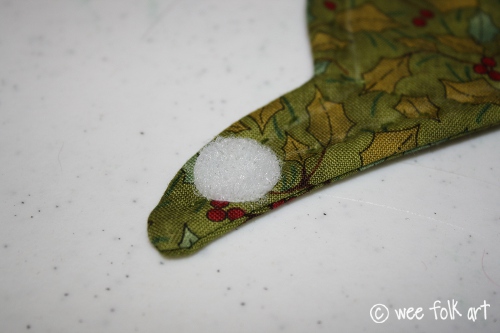 Position the garland on the surface you are mounting to, and add the hooked side of the Velcro coins so they match the loops. Hang the garland on the Velcro hooks.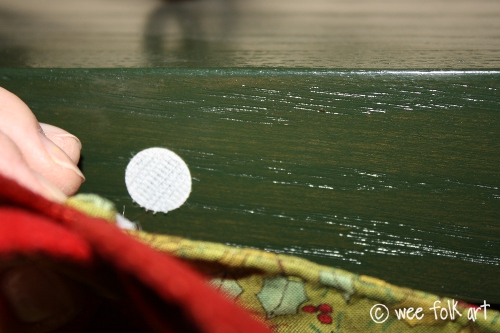 IMPORTANT. Test the Velcro on the surface to make sure the adhesive does not hurt the surface. When removing the Velcro coins from the surface, peel back slowly. If a gooey residue is left on the surface, a product like Goo Be Gone will remove the glue. I tested the Velcro coins on my wooden mantle and they came off easily without leaving any residue. But test your surface. The Velcro coin loops can stay on your garland year after year. You will simply need to replace the hooks on your surface.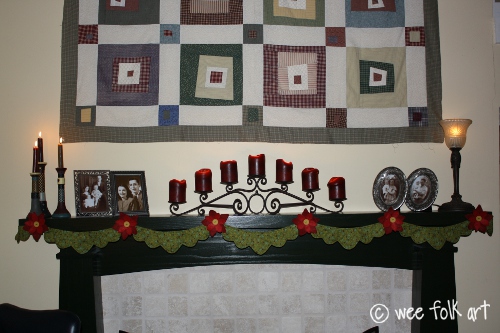 *Alternative mounting suggestions: Because the poinsettias are heavy, you must attach the garland to the surface near the flower or the weight of the flower will cause the flower to droop. The garland may be mounted using thumbtacks or push pins. You can sew rings on the back of the flowers, and hang the garland to a surface by the rings. Straight pins in a wall should hold the weight of the garland. If using your garland on a glass window, you can use the little suction cups with hooks and attach to rings.
OUR "DISCLAIMER"! We are sharing patterns we have designed and made for our own children, families and friends. Every effort is made to share information in a clear and accurate manner. But we are only human, although I often long for superhuman powers, and as humans, mistakes will be made. We offer preemptive apologies for any aforementioned mistakes. Please let us know via comments or emails if you stumble upon a mistake or if you encounter directions that leave you scratching your head! We will rectify the situation as soon as humanly possible! Before beginning any of our patterns, think of yourself as a Beta Tester. We do not have a staff, editors or even volunteers that are crafting our projects before we share them. YOU are the first to have a go at them. As such, other than a heartfelt apology, we accept no responsibility for mistakes made, or in an extreme circumstance, for time or supplies wasted. Please tackle our projects in the same manner that we are sharing them, with a spirit of goodwill and global friendship!
https://www.weefolkart.com
Copyright © Wee Folk Art 2008 – 2010. All rights reserved.
All photos, text and patterns are copyright protected. You may not copy, reproduce or redistribute any material found on WeeFolkArt.com without written permission. Wee Folk Art retains all rights.