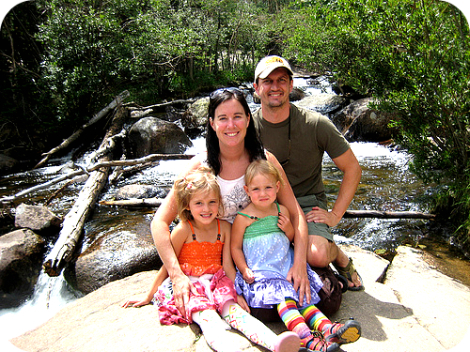 Michelle and I are very please to introduce our newest sponsor, Hip Mountain Mama… "Mama" being the lovely and inspiring Suzy Hawbaker. According to their site, Hip Mountain Mama is… "a family owned company focusing on natural, green, reusable, and eco-friendly products." They have "everything from classic wooden toys, playsilks, organic cotton toys, and natural art supplies for kids to handmade jewelry, reusable cloth napkins, and knitting bags for mamas." But that is just the tip of the iceberg! They have baby carriers and hemp clothing, yoga essentials and cloth hygiene supplies, toys and children's shoes, reusable shopping bags and stainless steel water bottles; so many things for the environmentally conscious consumer.
But that's not all. Through Hip Mountain Mama Blog, Suzy continues to share with us a bit about the family, a bit about the shop, and a bit about their family's journey to embrace a more sustainable life style. Then, as a means of encouraging others to join their quest, Suzy and her husband started, One Small Change, a blog dedicated to supporting others committed to reducing their carbon footprint by making one small change at a time.
If you've never been to Hip Mountain Mama you're in for a treat. So, do yourself a favor, grab a few quiet moments, read our interview with Suzy Hawbaker, spend some time exploring Hip Mountain Mama and then, head over to Hip Mountain Mama Blog and One Small Change, to get to know Suzy a little better, see how their family is making a difference and become acquainted with their incredible shop!
Then be watching our blog… anxiously… over the next couple of weeks for the Giveaway we are planning with Hip Mountain Mama 🙂 But for the time being… here's Suzy!
Kimara: It only takes a moment at your site to realize that you are environmentally conscious. Did this commitment evolve over time or did you have a cathartic experience that propelled you in that direction?
Suzy: It definitely evolved over time. I remember one of my college professors in 1999 talking about how he wanted to live a sustainable lifestyle. At that point I didn't really understand what that meant. But, I believe this was my starting off point to really becoming aware of living more environmentally conscious. I had already been eating a lot of organic foods and using a lot of natural products, but I started realizing how much more to it there really was. After I had my kids I started making more and more changes and am still, today, making changes to lessen my carbon footprint. It is an ever evolving experience!
Click HERE to read the entire interview.