Britta awoke with mixed feelings. Today was St. Patrick's Day, which meant the leprechauns would be leaving The Thicket for places unknown. "Perhaps, just perhaps", she thought, "I may miss them just a wee bit." But Britta was ready for the pranks to end and for order to be restored to her household.
She cautiously got out of bed, and tip toed around the room. "Surely the leprechauns wouldn't leave without a final prank." She made her way down the stairs, peeking around corners and watching each time she set a foot on the ground. When she entered the kitchen she stopped aburtly.
The leprechauns had been in the house during the night! There, hanging from the post, was a beautiful Rainbow Banner, and under the banner was a pot… "Could this be the pot of gold at the end of the rainbow?" she wondered. Slowly, she lifted the lid of the pot, and she gave out a wholehearted laugh.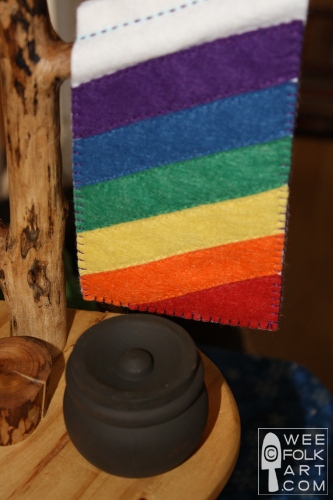 The leprechauns had left her a pot of gold; a pot of golden honey, enough to last the family the entire year! Britta dipped her finger into the honey and took a taste. "Yum", she said. "This will be far more useful to me than a silly old pot of gold!" In the distance she heard a soft chuckle. In a loud clear voice, to no one in particular, Britta said, "I will have to thank the leprechauns next year, when they return to The Thicket!"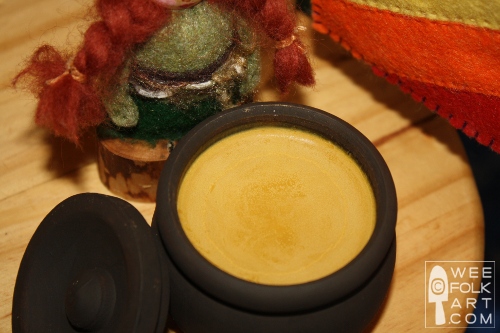 The pattern for the Rainbow Banner can be found HERE or with our FREE Patterns. Following the pattern, applique the rainbow strips to the front of the banner, then sew the front to the back using a blanket stitch. Using the pattern guide lines, sew two lines of running stitches to create a casing to hang the banner. For more detailed directions for making banners, check out the instructions for making the Valentine Banner. Enjoy!
https://www.weefolkart.com
Copyright © Wee Folk Art 2008 – 2010. All rights reserved.

All photos, text and patterns are copyright protected. You may not copy, reproduce or redistribute any material found on WeeFolkArt.com without written permission. Wee Folk Art retains all rights.