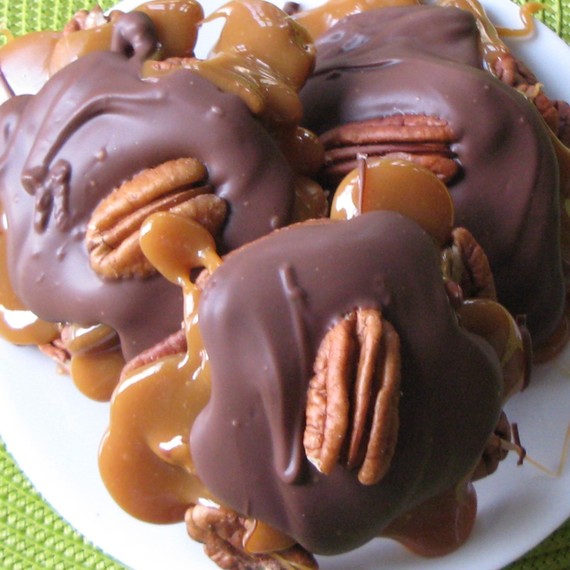 Several weeks ago we added a new sponsor to our site… just in time for the holiday season, although you don't need a reason to visit her shop! The shop is Nicole's Homemade Treats, with Nicole being the candy maker extraordinaire. In her own words:
Nicole's Homemade Treats is an LLC operating out of NY. Everything is prepared in my fully licensed kitchen. My treats are prepared in small batches, to preserve the taste and quality of the product, and to ensure that there is no waste. I make only all natural, preservative free products, and use as many organic ingredients as possible. My products may not have the shelf life of store bought products, no worries! They won't last very long!
We waited to introduce Nicole's Homemade Treats because we first wanted to sample her candy. (Oh, the things we endure for our readers.)
A few days ago we received one of Nicole's samplers. All I can say is, oh Yum! Actually, that's not all I can say. I can also say mmmmm, and delicious, and WOW. Every nibble we took was wonderful. The ingredients all tasted so fresh, especially the nuts. The caramel was smooth and creamy and the chocolates were perfect. The real moment of truth, however, was when I tried her Pecan Cluster pictured above. Pecan Clusters are one of my favorite candies and when tasting hers, it was going up against years of collective sampling!
I am pleased to say, it was wonderful! Nicole claims they are large enough to share with others, and that is true. Each one is a full quarter pound! I would like to say I shared it… my thighs would like to say I shared it, but I didn't. Through the course of the day I consumed the whole thing!
Anyway… with a clear conscience and a resolution to share my next Pecan Cluster with a friend, we highly encourage everyone to bop on over to Nicole's shop and take a look around. Honestly, no calories are consumed by just looking! The candies are perfect for gift giving or hording 🙂 Welcome, Nicole. You truly are a wonderful candy maker!