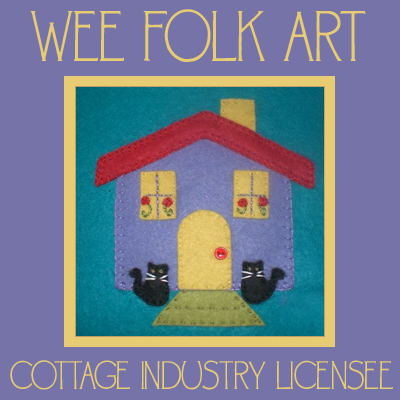 Edit: Please note we just added an answer an important question at the bottom of the post… I am interested, now what do I do? Rather important question to have omitted. Oops 🙂 You can find the answer in the text. Remember to contact michelle@weefolkart.com with ANY questions you might have.
Michelle and I receive many emails each day. Two of the most common are: do you ever sell the crafts you make and can I sell things I make from your patterns in my shop? The answers have always been "no" and "no".
The first "no" comes from the fact that we just don't seem to have the time to make crafts for sale. Oh, originally we did plan to do that, but as the blog has grown, we found we spend a lot of time designing for our blog and for other projects, teaching, and soon, we will be opening an on-line shop. The second "no" has been because we've been delusional thinking one day we might actually be able to sell our crafts. But the glaring truth is that's not going to happen!
For that reason, Michelle and I have been kicking around the idea of allowing others to use our patterns, crafts and appliques to make and sell for profit. If we aren't going to do it ourselves, there is really no reason not to let others make and sell our designs. As you know, Wee Folk Art has tons of patterns, tutorials and appliques on our blog, that we share with our readers free of charge. We will continue to design and share all our patterns for free, to be used for personal use. But, we are now giving people the option to purchase a Wee Folk Art's Cottage Industry License.
We believe that this will benefit many of our readers. First, it will support small, handmade business owners that would like to make our designs and sell them for profit. It also provide licensees exposure on our site. Then, for those of you interested in buying Wee Folk Art designs, we can hook you up with people on-line that are making and selling things made from our designs. We are hoping this is a win-win situation.
Below are the general guidelines concerning our Cottage Industry Licensing Agreement. (You will want to read over the actual agreement for complete requirements.) When selecting patterns, you can choose from anything on our Patterns Page or our Appliques Page. You can visit the Cottage Industry Vendor Page where we will be adding vendors that are in a licensed agreement with us and download our Wee Folk Art Cottage Industry Licensing Agreement. Read everything over. If you have any questions, feel free to email Michelle (michelle@weefolkart.com).
Remember… you can still use our patterns for free and you do not need a license if making our designs for family and friends. But if you've been thinking about opening a shop or have one already and would like to include some Wee Folk Art Designs, now's your chance 🙂
If interested, we are offering three levels of licensing to meet the needs of your business.
Bronze License:
$25 a year
Use of 1 Wee Folk Art Pattern or Applique
(you must submit a list of your chosen patterns)
Text link on the Cottage Industry Vendor Page
Silver License:
$75 a year
Use of up to 5 Wee Folk Art Patterns or Appliques
(you must submit a list of your chosen patterns)
125x125px Button link on the Cottage Industry Vendor Page
Ability to participate in at least one give-way advertisement on the Wee Folk Art blog per year
Gold License:
$125 a year
Unlimited number of Wee Folk Art Patterns or Appliques
300x250px Rectangle ad link on the Cottage Industry Vendor Page
Ability to participate in at least one give-way advertisement on the Wee Folk Art blog per year
15% off all crafting supplies with an order of $100 or more in the Wee Folk Art Market Place (when open)
Who qualifies for the Wee Folk Art Cottage Industry Licensing?
Anyone who hand makes items for their own shop. If you have a WFA CIL only you and your business partner or members of your households can contribute to the production of items from our patterns. You many not pay others to manufacture products for you. You may not wholesale your products to another retailer.
Do I need a CIL to make things for my family and friends?
Absolutely not! WFA still shares our patterns free of charge for personal use. It is only if you decide to use them for profit that you must purchase a Wee Folk Art Cottage Industry License from us. Seems only fair, right?
How do I pay for my WFA CIL?
We accept checks or PayPal. Contact us for more information.
Do I need to pay Wee Folk Art commissions?
No, your licensing fee is all you pay for the entire year.
Can I advertise on your website?
Of course, please let us know if you are interested in purchasing a sidebar button and I will send you our current advertising rates. Your name will be included on the WFA CIL page in accordance to your CIL level at no additional charge but the side bar buttons are visible on every page and will greatly increase your shop's exposure.
What if I choose to close my shop or stop making WFA patterns?
Your CIL is valid for one year. We do not offer refunds on the WFA CIL but we will remove your name from the CIL listing at any time you choose.
Can I share your patterns on my site or in my store?
No, we retain all copyrights to our patterns. You cannot redistribute or sell our patterns in any form, electronic or printed without written consent. If you would like to share a Wee Folk Art pattern please use a direct link to the pattern or contact us for more information. See our FAQs for more information on copyrights.
Do I need a WFA CIL to make items for a fund raiser?
Not necessarily. Please send us an email request detailing the fund raiser and the items you would like to make. In most cases we do allow people to use our patterns for fundraisers free of charge.
I'm interested. Now what should I do?
First step is to email us at michelle@weefolkart.com. Introduce yourself, share a link to your site if you have one, and let us know what crafts you're thinking about making. This is not your "official" pattern selection. That will come in your agreement. Then, make copies of the agreement, sign 2 and mail them to us at Wee Folk Art, PO Box 376, Brighton, MI 48116. Finally, submit payment. This can be with a personal check included with your signed agreement or through PayPal. (Michelle will provide you with that information.) After we receive payment, our copy of the signed agreement will be sent back to you, and you'll be good to go!

Click here to download the Wee Folk Art Cottage Industry License Agreement.