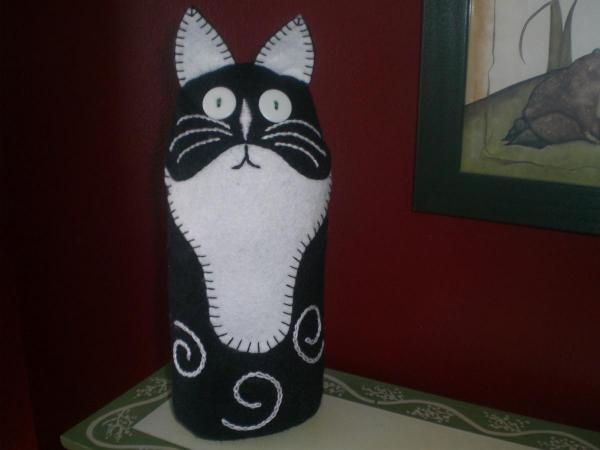 EDIT: Pattern for the Doorstop Cat can be found HERE.

Well…over break I was able to design the pattern for the cat doorstop, and finished him this morning. He's purrfect! He weighs in around a pound, which wouldn't be enough to hold open a door in a torrential wind, but he'll do just fine for your average, garden variety, wafting breeze! His base is filled with navy beans, but you could substitute sand or gravel if you need him to be heavier. Also, he is 4" x 9 1/2", but if you'd like him to be large enough to hold open the castle door, just enlarge the pattern.
I am now working on writing up the pattern to be added to our Crafting Club. I'll then turn my attention to the Puppy Dog Doorstop. I will be using these 2 pals to share several different embroidery stitches, which will be added to our glossary. When we post the pattern, we will also post a link for a discount coupon to Prairie Point Junction. As I mentioned before the holidays, they have graciously offered a one-time discount for Wee Folk Art readers. I plan to restock my felt cupboard! We should have the pattern and coupon posted before Monday.
We hope everyone had a wonderful holiday. January is always exciting to me. As snow and frigid weather loom outside, this is a wonderful time of year to stay warm inside and get tons of crafting done. If only I could be disciplined enough NOW to start on Christmas gifts for next year! Hmmm … perhaps we should start a Christmas Corner. I'll have to talk to Michelle about that!