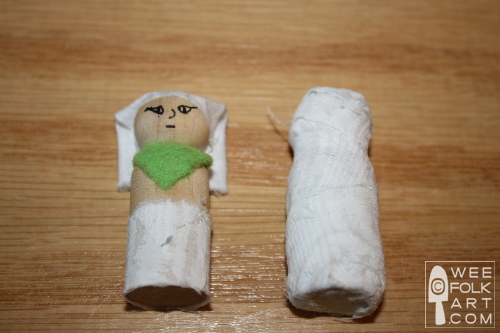 Bug, Fairy and Pixie are learning about Ancient Egypt. When they needed a pyramid, and needed one fast, we got out the Big Bucket-O-Legos and started building. After about an hour, the five of us… Bug, Fairy, Pixie, Mommy and Gammy, constructed a pyramid we were all pretty darn proud of. When we were done, the children began playing. Before you knew it there was vegetation, the Nile, and some local animals. They were using pirates and spacemen to set to work on building a palace, but it wasn't long before Bug wandered over and said, "Gammy, we need a mummy and a pharaoh." He had already built a sarcophagus but was hoping for an authentic looking pharaoh and mummy.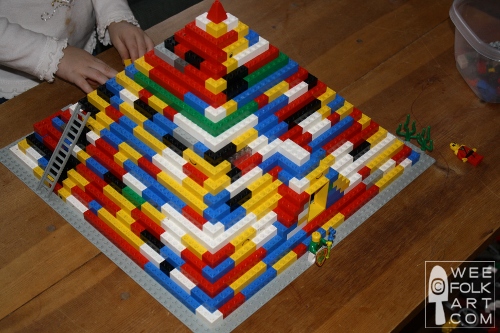 Well… how hard can that be, right? We grabbed a couple of our 1 1/2" wooden people pegs, the crafting glue and a few strips of white fabric. Before you could say Tutankhamen, we fashioned a mummy and pharaoh. To make the mummy, simple cover a wooden peg with glue. Rip fabric into 1/2" strips and begin wrapping the mummy. If the glue dries as you are wrapping it, simply add more glue. Make sure you cover the top of the head and the bottom, and tut-tut, you have your very own mummy, ready to be placed in his sarcophagus.


To make the pharaoh, rub glue on the lower half of a peg. Wrap a piece of a 1/2" strip of white cloth around the lower part of his body 2 times. Cut the strip on a diagonal so the cut is on the front of the pharaoh. To make his head wrap, cut a piece of fabric 1" by the distance around his head plus 1/2". Put glue on the head following a natural hairline. Wrap the scarf around his head, overlapping in the back. At this point the fabric will be standing up straight. Place a little more glue on the back of the head and fold the scarf toward the back, making sure to leave 2 sharp points on either side of the scarf. Add an embellishment around the pharaoh's neck. We cut a necklace out of green felt, making sure we cut it so it fit around his neck, and glued it in place. When the pharaoh dries, use a fine tip permanent marker and add facial features. He is now ready to storm the castle… I mean the pyramid!