Working with the Double Scroll
Ok, if you read last week's post (Afghan Block 17) you will know that I had issues with this block and skipped it the first time around. Since the blog caught up to me, I knew I couldn't put it off any longer. I thought that maybe with fresh eyes it wouldn't seem so bad. Nope, I still don't like this bugger. LOL. I don't enjoy knitting when I have to work row by row without being able to memorize the pattern but I forced myself to solider on. I was being super careful about checking off my rows as I went but I still ended up making mistakes forcing me to back track several rows. After the second time of ripping stitches I finally realized what I was doing. I kept skipping rows 17-20. Ahhh! This pattern is written over 3 pages and in all the flipping back and forth, somehow I kept wanting to go back to the beginning at the end of page sixty-six rather than moving ahead. So my biggest suggestion with this block, COPY out the pattern onto one page! Trust me, it will help save your sanity.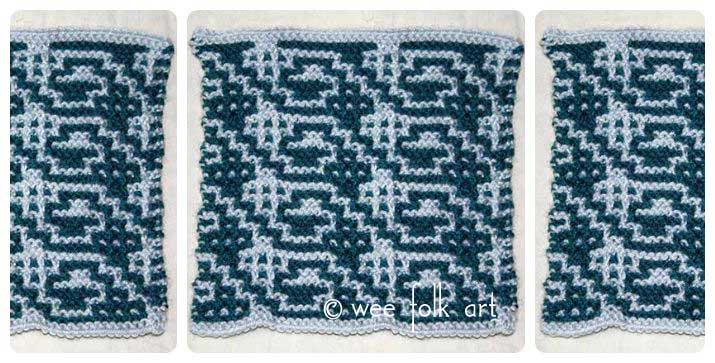 More Blocks in the Series
Learn to Knit Afghan Project
This series covers several different knitting stitches using the Learn-to-Knit Afghan book by Barbara Walker. Whether you are a true beginner or an intermediate knitter, you can take your knitting to the next level working through the blocks in this book. About once a week I will be adding one new block to the blog with some of my notes. If you would like to knit along with us please feel free to leave your comments, questions, suggestions, and links to photos in the COMMENT section. You can also add a photo to our Flickr group or tag a Tweet with #WFAlearn2knit. If you are just joining us you might want to start with the introductory post.
Getting Started Knitting
If you are completely new to knitting you can learn the basics of getting starting with our Newbie Knitting series. Once  you have tackled the first few lessons there, you will be ready to begin your afghan.