Newbie Knitting: Project One
Updates! I had some corrections to make and wanted to get some better photos up. Sorry for any confusion. We had out of town guests all week and Pixie's birthday this weekend! I didn't get a chance to edit like I normally do.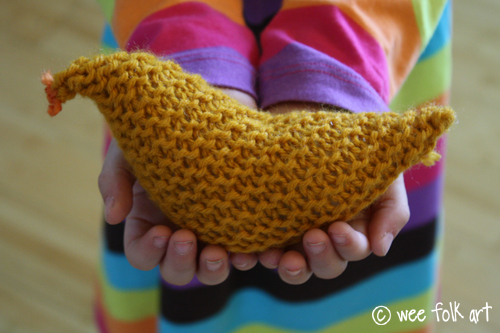 This week's assignment gets you started on your first project, A Baby Chick. You can add this project to your Ravelry queue.
Materials Needed:
Size 8 Needles
Yarn Needle
approximately 20 yards yellow worsted weight yarn (Lion Brand Wool Ease)
6" Scrape of Orange Yarn
Softball-Sized amount of batting

Cast On 18sts. Leave yourself about an 8 inch tail.
Knit approximately 34-36 rows.
We are making a small square as the base for our birdie. When you look at your knitted piece notice that each bumpy row is actually made up of 2 knit rows. So you should have 17-18 large bumpy rows when you stop. End with the live yarn and yarn tail on opposite sides of the needle.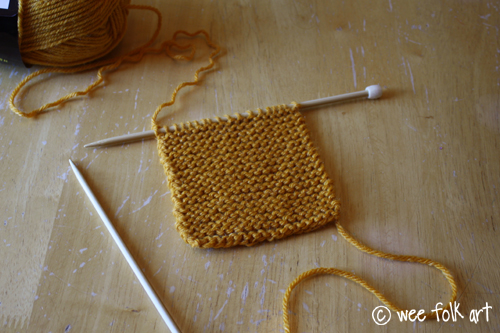 The exact number of rows doesn't matter (depending on how tight your stitches are you may end up with a different number of rows needed) as long as you end with a square shape. You can tell that it is square by folding a corner up to make a right triangle.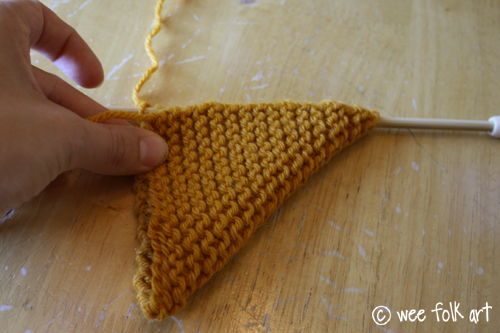 Next week we will learn how to get your knitted square off the needle and how to finish your bird.
CLICK HERE FOR PART TWO: SEWING UP YOUR BIRD