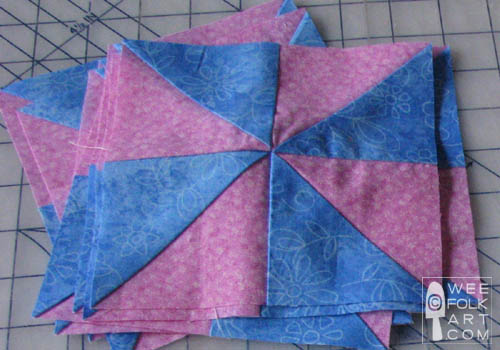 The other day I mentioned that the pinwheel quilt was my favorite "go to" pattern… especially for baby quilts. (I CHERISHED my pinwheel baby quilt 🙂 I am now making one for my little niece that is due in September. (Don't look Meghan!) I will share this tutorial in 2 parts. Part 1: Making pinwheel squares. Part 2: Assembling your Quilt. Here is Part 1.
To make a baby blanket (approx 34″x42″) you will need:
1 – 1 1/2 yd cute print fabric (to be used for backing and print blocks – or you could get 1/2yd for blocks and 1yd for backing)
4 – 1/4yd coordinating, small print or solid fabrics (for pinwheel blocks)
1 – 1/2 yd fabric for border
2 – coordinating colors of embroidery floss for ties
batting
thread
(unless noted all seams are 1/4″)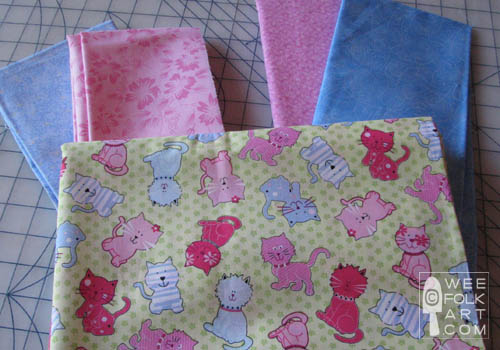 Cut out your 4 coordinating fabrics into 4″ wide strips.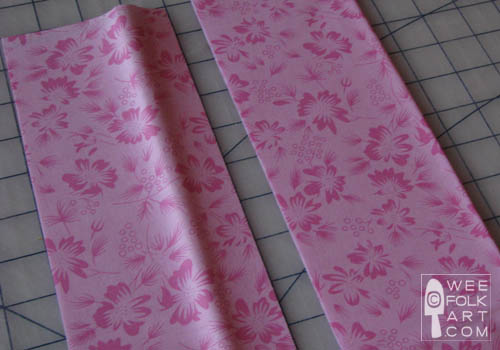 Cut the strips into 4″ squares. You will need 18 squares of each coordinating fabric.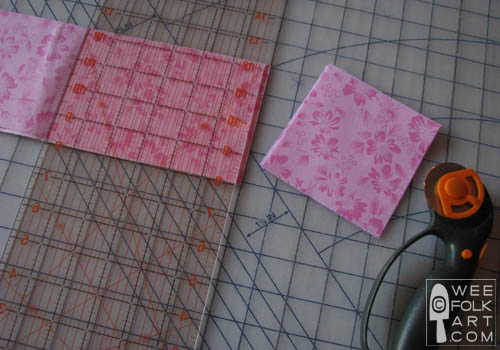 Cut the squares on the diag to make triangles.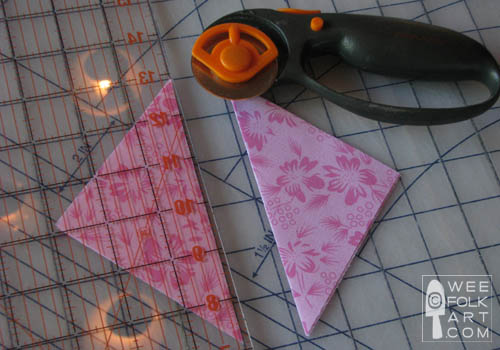 Decide which two fabrics you will combine to make a pinwheel. Sew those triangles right side together along the diag.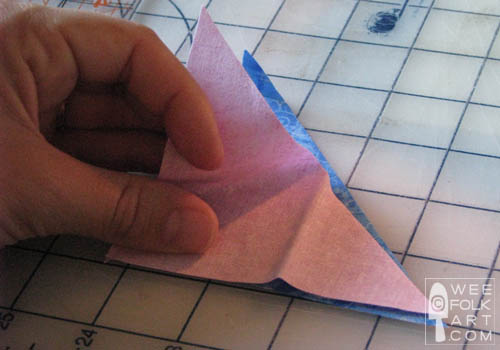 Press all seams in the same direction (go towards the darker fabric). Neat seams are important for neat pinwheels! Please ignore my very stained ironing pad… there was a wax crayon project that ran a muck once upon a time.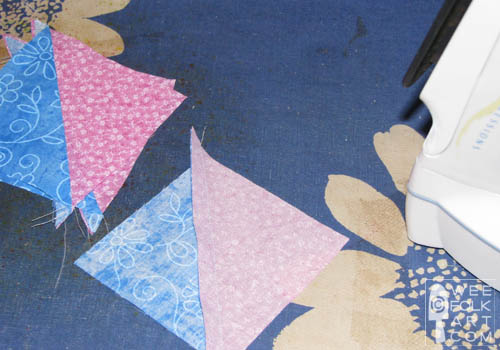 Line up two square together as show in the picture. The seams should fit together nicely with fabric A on top of color B. Sew up the sides right sides together. Press all seams in the same direction (go towards the darker fabric).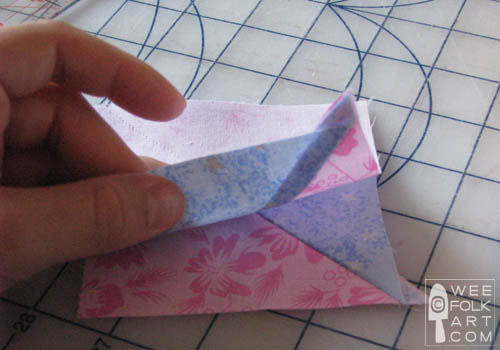 You should now have a rectangle with a two-colored triangle in the middle. The top of the triangle is the center point.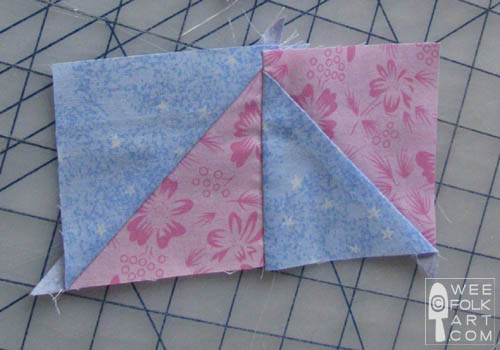 Line up the center of your pinwheels, right sides together. It is more important that your centers are lined up perfectly than your outside corners! We will clean those up later. When they are lined up correctly all the seams should fit together nicely. Before you sew… take a look at the backside of the rectangles. You can see the seams on the back side of the rectangles that show you exactly where the center points are… you want to line up your new seam so that it crosses at exactly that point. Pin if you want and sew.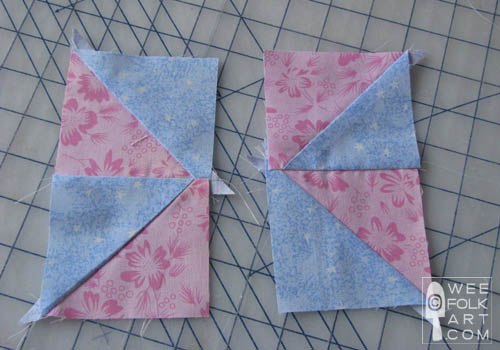 Open your pinwheel block. Don't worry if the edges are a bit wonky. Press all your seams.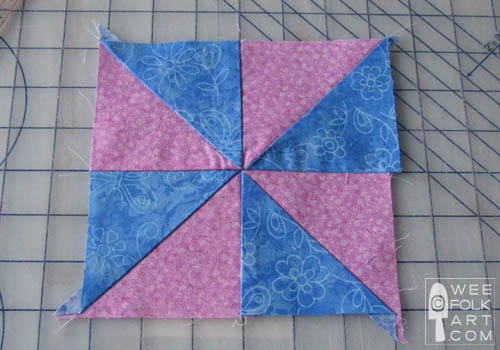 Now it is time to trim up those edges. Lay your pinwheel on your cutting mat with both the center vertical and center horizontal seams in line with a cutting mat line. Trim each edge of the pinwheel block to make a neat 6″square.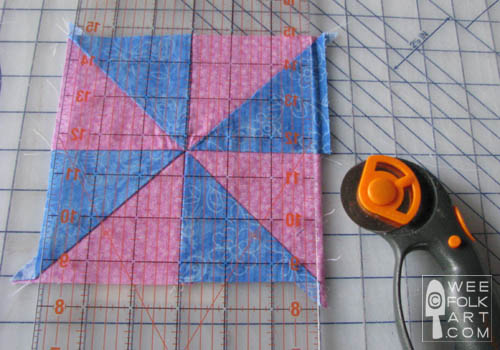 Now you should have a nice, neat pinwheel block.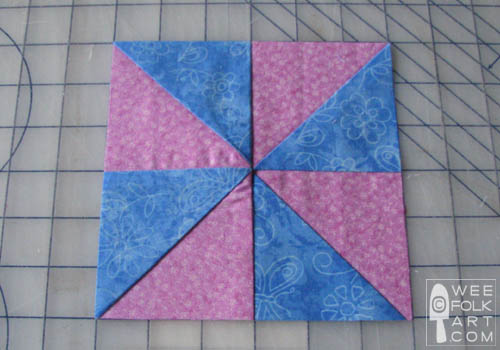 You will need 8 blocks of A:B pinwheels and 9 blocks of C:D pinwheels… 17 total pinwheel blocks. You can also go ahead and cut out 18 6″ blocks from your 1/2yd of cute print fabric (the full yard left over is for the backing).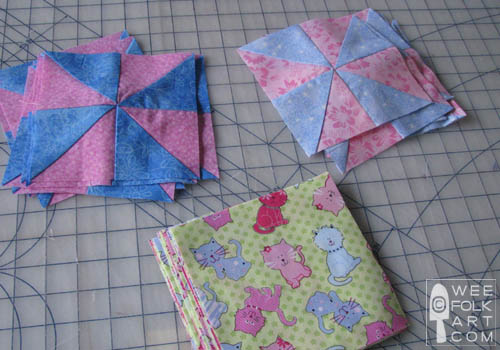 This completes part one of our Pinwheel Block Quilt. Part Two: Assembling Your Quilt will be posted later this month. Sorry to post and run in the middle of a project but the Green Mountains of Vermont are calling. I will be finishing the project when I get back.