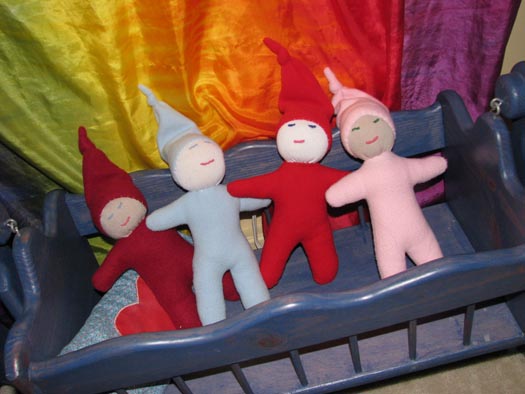 These simple Waldorf Inspired baby dolls are easy to put together and enjoyed by all ages (older kiddos can make their own).
Materials: about 1/3 yard of fuzzy fabric (fleece, felt, flannel, terry, etc)
1 Sock (Thinner Woman's)
12″ of Dental Floss
Embrodiery Floss
Batting
Doll Body Pattern
Doll Hat Pattern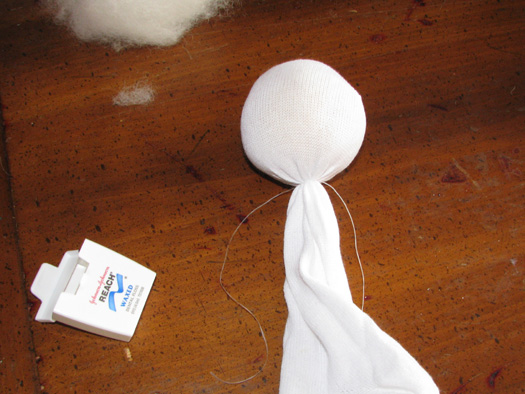 1) Firmly stuff the end of a clean sock. This is a great way to re-use socks who have lost a mate! Shown is a woman's sock… thinner knit.
2) Use the dentil floss to tie off the opening when you have stuffed to the point of making a round ball. Mine come out to have about a 9 inch circumfrence. Trim off the bottom of the sock leaving about a 2 inch tail.
3) Cut out two pieces of fabric for the body. Place right sides together.
4) Starting at the neck, machine (or hand) stitch around the whole body leaving the neck open. Reinforce at the armpits and crotch.
5) Trim excess fabric around the curves and make small snip to the edge of the seam in the concaved points (ie arm pits, crotch). Be careful not to clip the seam.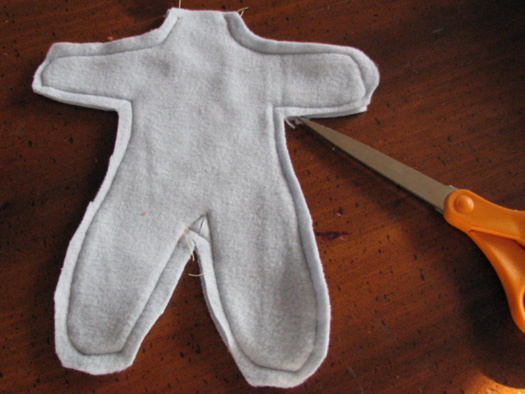 6) Flip the body right side out and stuff. Be sure to use small bits of batting for a smoother effect. Leave some room at the neck for the sock fabric.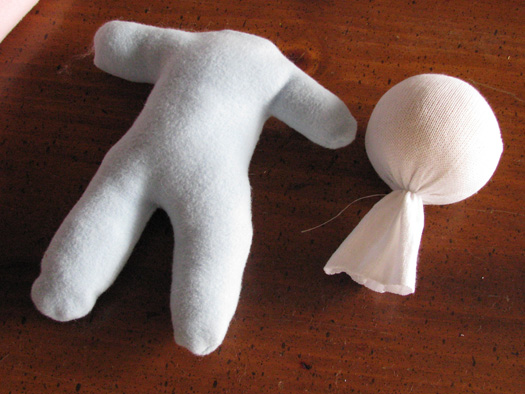 7) Tuck the tail of the sock down into the body. Make sure the neck hem is turned in. Hand stitch the head to the neck of the body. I find that I get a smoother neck line if I make small stitches a 1/4″ apart but I encircle the neck with stitches 2 or 3 times as needed.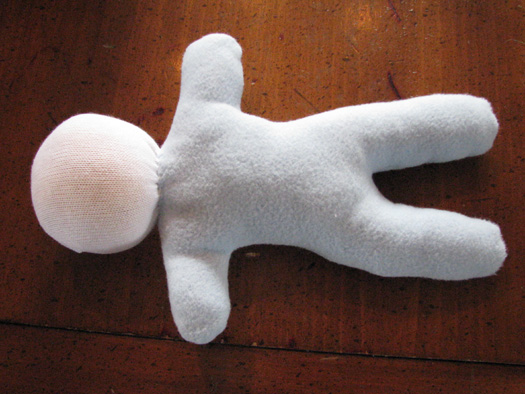 8) Cut out 1 piece of fabric for the hat. Fold it in half length-wise, right sides together. Stitch along the outside edge.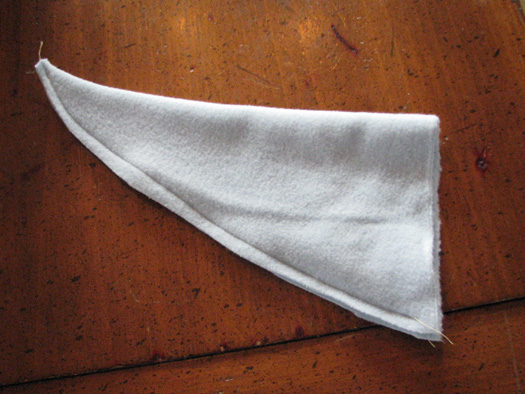 9) Flip the hat right side out. Fold under the open edge about 1/4″ and place the hat on the doll, seam centered in the back. It should fit snug. The hat should touch the neck line in the back and sit at the brow in the front. Hand stitch the hat in place.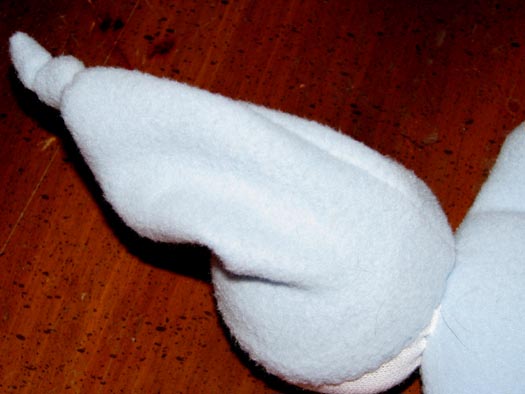 10) Tie a knot in the end of the hat.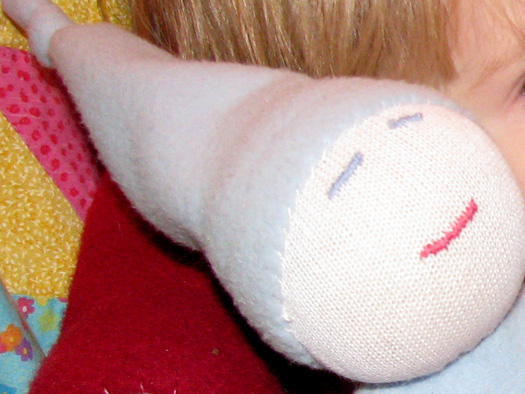 11) Using 6 strands of embrodiery floss, you can emblish the doll with eyes and a mouth or you may prefer to leave the dolls faceless. Keep the expressions simple.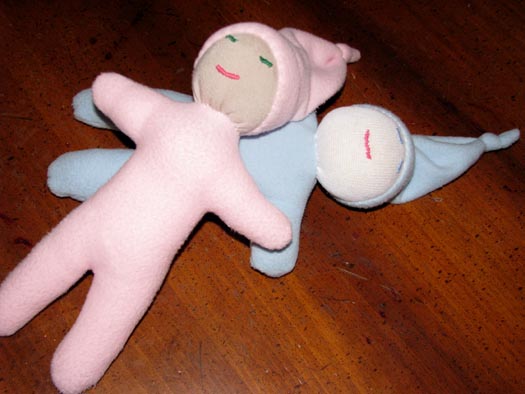 Note about patterns: We are sharing patterns we have designed and made for our own children, families and friends. Every effort is made to share information in a clear and accurate manner. We offer preemptive apologies for any mistakes that may be made. Please let us know via comments or emails if you stumble upon a mistake or if you encounter directions that leave your scratching your head! We will rectify the situation as soon as humanly possible!
Copyright@Wee Folk Art 2008. All rights reserved.