Banner Images (left to right): FAIRY WINGS TUTORIAL :: Source: Antique Lilac, GARDEN PARTY QUILT :: Source Jane Brocket,, COAT PATTERN :: Source Cynthia Treen Studio
POST-ITS is a weekly feature on Wee Folk Art where we share some of our favorite posts from the week taken directly from our Wee Folk Art's Facebook page. We encourage you to share some of your favorite finds from the week. It might be something you've seen on the web or something you've blogged about or something you just added to your shop. Just tell us a little bit about your find and share a link in your comment.
---
FAIRY WINGS FOR PIXIE
FAIRY WINGS TUTORIAL :: Source: Antique Lilac


Although Fairy loves her dolls, to Pixie, dolls are her friends and she seldom goes anywhere without her favorites. A couple of months ago, when she came over to spend the night, she brought 2 backpacks with her. Nine dolls made the trip with her. And, each had pajamas that we needed to dress them in before bed. When I told Pixie it was now time for her to put on her nightgown she realized she had forgotten to pack her own! Isn't it like a Mommy to worry about her wee ones at her own expense?
Then, at Halloween, when she was all dressed for trick or treating, she refused to leave the house until all her dolls were in costume. Some of the costumes were quite make-shift, but in Pixie's mind, they were lovely.
When I saw these wings this morning, the first thing I thought about was Pixie. This summer, when we have more time, I want to make some of these with her for her dolls. How beautiful they will all look decked out in lovely fairy wings!
For the tutorial on how to make the wings visit Antique Lilac HERE.
BTW… Still achy this morning, but functional. We shall see what the day brings smile emoticon
~Kimara~

---
RE-PURPOSING OLD TEXTILES
GARDEN PARTY QUILT :: Source Jane Brocket


I use to get the heebie jeebies when I saw people cut up quilts and linens to make other things with them. Old quilts turned into pillows and stuffed bears, embroidered table clothes transformed into vests and drawstring purses. Blasphemy, I shouted!
Recently, I've had a change of heart. As a craftsperson I want people to enjoy the things I make. Sometimes, they don't use something in the way I intended. The wool plaid shawl I made becomes a tablecloth. The basket I wove and envisioned sitting on the hearth is now holding small tools in the shed. The cranberry jam I made to judiciously spread on perfectly toasted English muffins is dumped unceremoniously on a pork roast. Not my intended purpose but enjoyed and appreciated non-the-less.
I think of the Biblical verse, "To every thing there is a season, and a time to every purpose under the heaven." And, sometimes, time makes the purpose change.
I would be lying to say I still don't cringe when I view things as being misused, especially when they are still serviceable as intended, but often these repurposed projects were made from soiled and worn out items that wouldn't be used in their original form and even discarded. How much better to extend their lives and create something brand new that brings as much joy as the original.
Today, I am sharing a very lovely Garden Party Quilt from Jane Brocket. You can see it HERE. This quilt was made from old linens that she had been collecting. Her project was met with very mixed emotions from her readers. Visit her site to see all sorts of lovelies!
What is your opinion? Do you view this as destroying antiquities or salvaging the past? BTW… no right answers here. You most certainly are entitled to your opinion smile emoticon
~Kimara~
---
DAPPER LITTLE FOX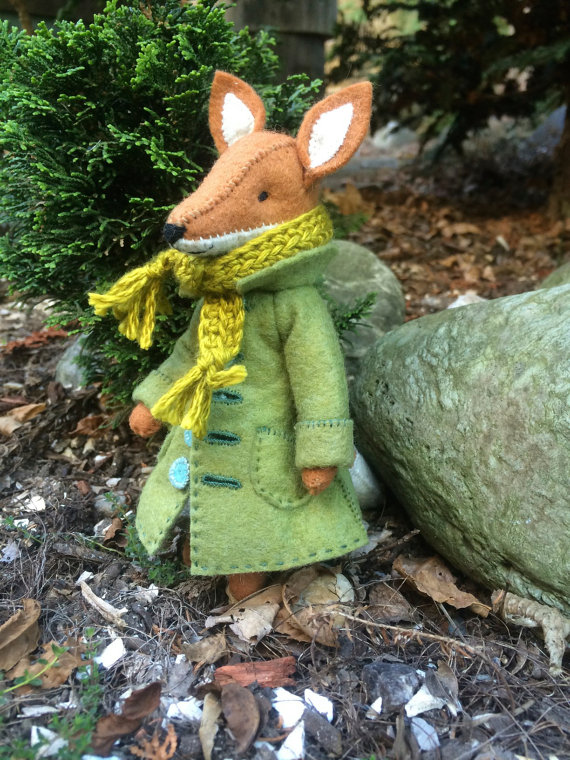 COAT PATTERN :: Source Cynthia Treen Studio


I have been fighting some bug all day… bad enough to cancel Sunday dinner but not bad enough to say I'm officially sick. I've slept most of the day and when I was up I watched Property Brothers on HGTV. (Thank you, Raewyn and Adam!) Heading off to bed for the night at 8:30! Hoping when I get up tomorrow this is behind me and not the beginning of something!
Anyway, before I go to bed I saw this adorable fox. It is from the Etsy shop Cynthia Treen Studio. You will find it HERE. She sells patterns. This pattern is for the coat, the fox pattern is sold separate. Lots of adorable patterns on her sight. Check it out!
Hope everyone is staying healthy in this cold and flu season!
~Kimara~