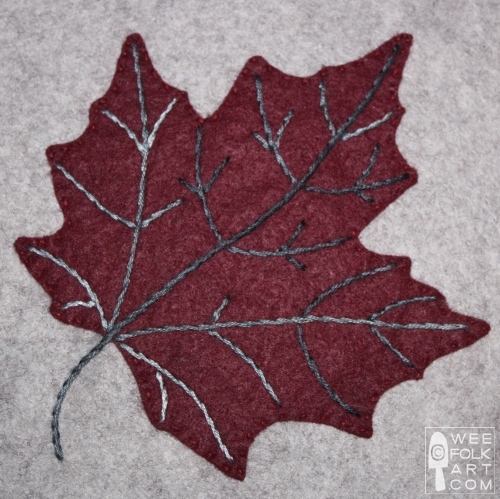 Although the calendar may still say August… supposedly the hottest month of the year… the temperature says fall… and it's been this way for the past week. Now, I'm a fall person, so I'm alright with this, but it does make me feel like I better get a move on and get my fall and Christmas crafting underway! Nothing says fall in the Midwest like, well, our falling leaves! So I thought it would be appropriate to wander out the back door, scoop up a couple of leaves… trace them… and turn them into applique blocks. Leaves can be used in so many different fall projects. Use them as appliques on quilts and t-shirts. Or cut out pairs, embroider them, then blanket stitch them together. They can to thrown hither and yon, turned into brooches, or glued to picture frames. The possibilities are endless!
Today I'm sharing our Maple Leaf Block Applique. Although the leaf I traced is still green, I gave it fall colors for the block. As with all blocks, this was designed for a 6″ x 6″ block, but can be reduced or enlarged to meet your needs. The pattern for the Maple Leaf Applique Block can be found HERE or in our FREE Applique section. Enjoy!
https://www.weefolkart.com
Copyright © Wee Folk Art 2008 – 2009. All rights reserved.