First up in our new collection of Fairy Tale needlework designs is our Princess and the Pea embroidery pattern. This embroidery pattern collection features stylized, pixie style dolls set in our favorite fairy tale stories.
In the Princess and the Pea embroidery pattern, our princess sleeps atop a pile of whimsical mattresses with that pesky pea under it all.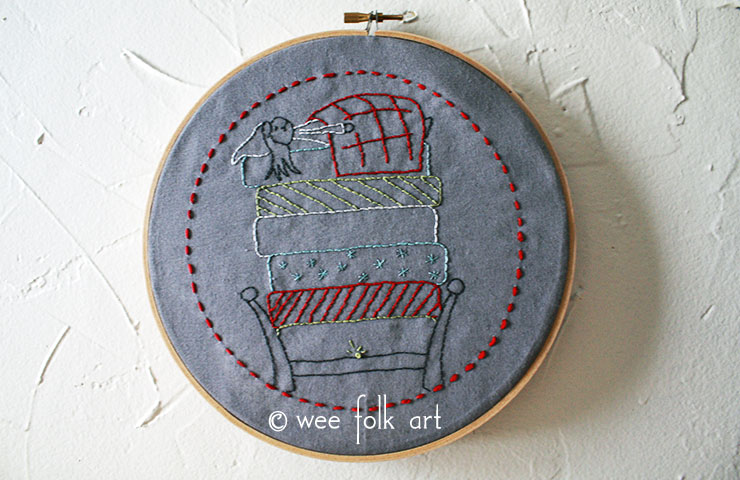 Princess and the Pea Embroidery Pattern Materials:
DMC Embroidery floss: ruby red 321, sky blue 598, lime green 3348, snow white BLANC, charcoal gray 3799 (the Amazon link include similar but not necessarily the exact colors)
Cotton fabric approximately 12″ square (I chose a medium gray)
Transfer your pattern to your fabric using your favorite transfer pattern technique.
Embroidery Pattern Stitches Used
The bed frame and Princess hair, face, hands, and feet outline were made using a in single strand charcoal gray with a back stitch.
To make the pea use 2 strands lime green and create a french knot.
The snowflakes on the third mattress were made with a single strand of sky blue.
The circle frame was made with ruby red in all 6 strands using a running stitch.
All other stitches were made with 2 strands and a basic back stitch.