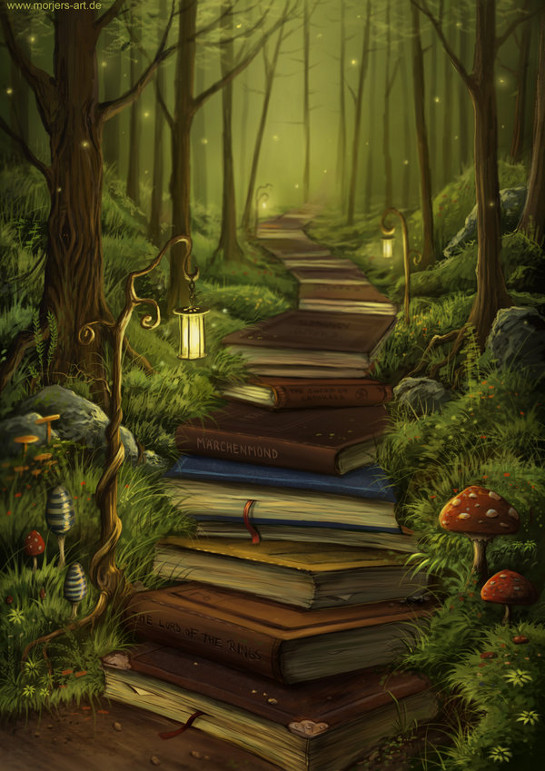 Several weeks ago I stumbled upon this picture somewhere… out there… on the net. After a bit of searching, I came up with the original. It is titled "The Reader's Path", which was digitally created by "jerry8448". I purchased a 20" x 30" print of it from Deviant Art. http://browse.deviantart.com/art/The-Reader-s-Path-345536889 (Notice the names of the books on spines 🙂
There is a few things you should know about me, if you don't already. First off… I love the world of fantasy. Duh, right? I love fantasy books, I love creating toys that allow children to play with fantasy characters, and I love letting my imagination soar in these worlds.
Next, I am a "geekish"… not brilliant enough to be a true "geek", but I've manage to surround myself with a cozy little nest of geeks 🙂
Finally, I'm a "gamer". When my children were in college they started playing online games like Everquest and World of Warcraft. In the beginning, they dragged me kicking and screaming into these fantastical worlds, where I continually got lost and I would have thought I was more hassle than I was worth! But, I suppose I had long ago taught my wee ones that "A family that plays together, stays together", and they had no intention of leaving me behind! A 58 year old Gammy certainly isn't your typical gamer, but Azeroth has become a bit of a "home away from home" to me, and you'll still find me running amuck with my children in WOW.
Having said all that, I think you can understand why I fell in love with this picture. It appeals to my sense of fantasy, my interest in computers, my love of reading, and it resembles the worlds in which we game. Tim loved the picture, too, and after it came in we had it professionally framed using a wide, distressed frame and museum glass.
Then, came the question of where to hang the picture. I knew I wanted it in our family room where Tim and I have our computers. (They are side by side… very romantic 🙂 I knew from the start that I didn't want to hang the picture in a traditional way. Pictures hung flat on a wall can be overlooked. I wanted this picture to "pull you in" to a world of fantasy. I decided to hang it on a 45 degree angle in the corner. I went on line to try to figure out how to accomplish this. I couldn't find a single posting where someone hung a picture in a corner.
Well, leave it to Tim to accommodate my wild whims! He came up with an awesome way to hang a corner picture, and I thought I'd share it, incase you were ever so inclined 🙂
He began my cutting a 1" x 3" board an 1/8" smaller than the width of the picture frame. He than cut the ends on 45 degree angles. We determined where we wanted the board, and he screwed both ends into the wall. (He used molly bolts in the dry wall.)
Our picture had a wire on the back for hanging. Using 2 pan screws (wide, flat headed screws) we simply attached the picture to the wooden bar.
Wah-lah… a rather unorthodox way to hang a picture, but it creates an interesting effect, inviting you to walk up the path into a world of fantasy. Note: I am disappointed that my photos really don't do this justice. It really is quite striking. My work table faces the picture. I must admit I often find myself daydreaming as I cautiously climb the books, on the lookout for fairies and gnomes 🙂
Photos 2-26-13