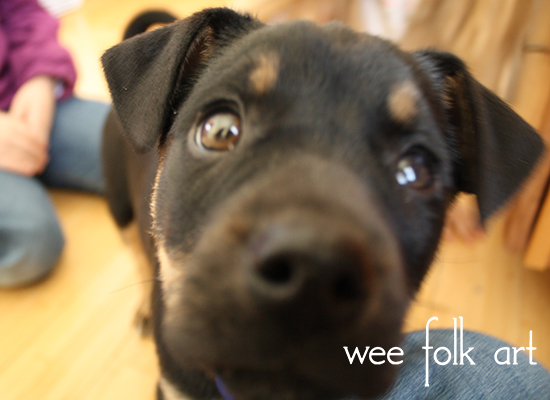 We've adopted a new bundle of joy (and fur and nails… and oh so sharp puppy teeth)! Meet Fargo (named from a character on our family favorite show Eureka) our lab mix puppy (they say pug… I'm not sure we see it). We brought him home from a rescue group two weeks ago and the kids are in love. We have an old schnauzer that is all my dog… he has never really had any interest in the kids other then stealing their food when they were younger. With being almost completely blind and having a bad hip his days of playing fetch and the like are far behind him. So we understood the kids need for a puppy. I've put it off for a few years. After potty training three kids, I needed a break before starting the puppy process.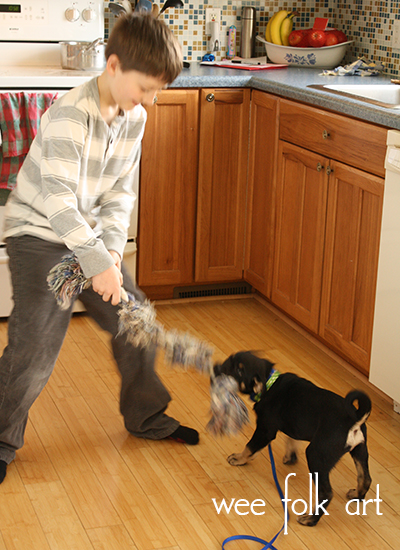 I must admit I've had a few days of wondering what I earth I got myself into. I knew there were going to be messes and a few items destroyed (my poor bamboo knitting needles are victims to puppy teeth marks!!!) but what I hadn't considered, silly me, was how much he was going to interrupt our school day. He is my kids' dog with all the playfulness they were hoping for, and he can't for the life of him figure out why they have to sit still and cannot play RIGHT NOW during school hours. They takes turns sitting with him while I run lessons with someone else so we are getting some things done. Pixie likes to read to him. It is cute as can be. Of course, I'm sure Fargo is more interested in chewing on the corner of her book then hearing about what Little Bear will do next, but he does enjoy the attention.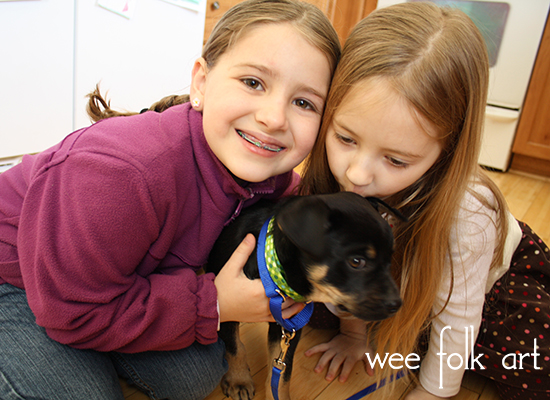 Our old schnauzer thinks we are nuts (I swear he rolls his eyes at us)… but has adjusted ok (hey this fella gets high fat puppy food which is apparently sooo much better than the low fat, old dog chow that Flint has been on since his last bout of pancreatitis). So they are on ok terms as long as Fargo doesn't cross the line onto his side of the loveseat.
Puppies are even harder to shoot than kids. Most of our photos are just a blur of black fur… but here is a glimpse at our little ball of trouble.