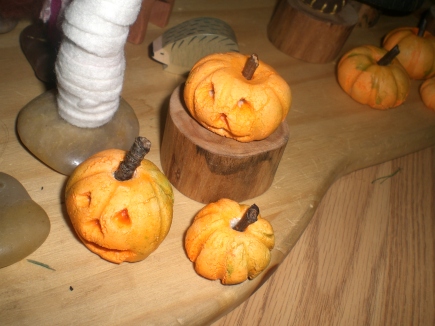 A few weeks ago Michelle made salt dough veggies with her children. They have a knit play mat that she made (and must share with everyone soon) and they wanted veggies to plant in their garden. We made corn and lettuce, celery and carrots, but we were all most delighted with the pumpkins. Below is the recipe we used. I made 8 pumpkins for the gnome house, three of which are jack-o-lanterns.
Basic Salt Dough Recipe
1 cup salt
2 cups flour
3/4 room temp water
1 tablespoon vegetable oil

Mix all ingredients until smooth. Pinch off small pieces and roll into balls. Do not make them perfectly round. Think pumpkins in the field! Make them different sizes and shapes. They should be acorn to walnut sized.

Use a toothpick to press grooves into the pumpkins to make ribs. If you would like to make a jack-o-lantern, use the tip of the toothpick to press in the desired face.

Break off pieces of small twigs and push into the pumpkins to make a stem.

Bake at 200 F. for several hours until dried through. (When you turn a pumpkin over, the middle should appear dry.)

Paint when dried. You can use tempera paint or milk paint. To make milk paint adds a couple drops of orange food coloring to a couple 1/4 cup of milk. To make them look more natural add streaks of green to several pumpkins.

Note: We discovered at both Michelle's house and mine that puppies and 2 year olds like to eat the finished pumpkins! Keep a close eye on the little ones if you have 'em.