Kool-aid dying yarn is a fun activity for a rainy afternoon and a great way to create your own rainbows. Over the years I have tried several different methods of kool-aid dying yarn. Some of the popular ways include placing the yarn and kool-aid mix in a baggie and then heating it in a microwave or on the stove top. I have used both methods in the past but this time I wanted more control over the dye placement. Today's tutorial will show how to kool-aid dye yarn in mason jars.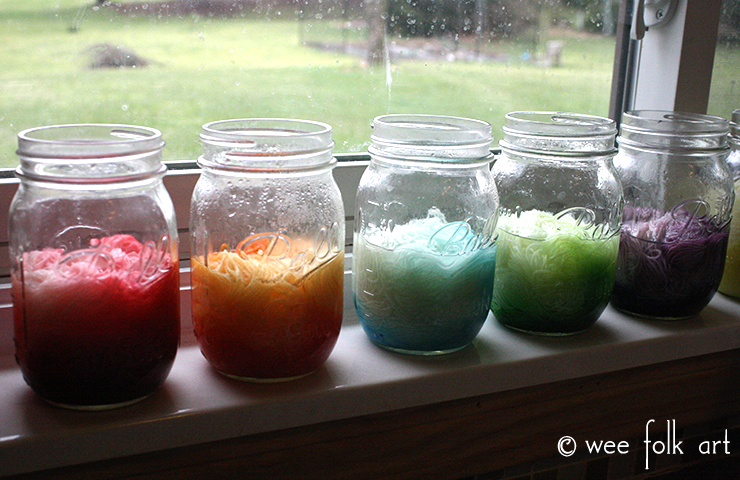 Materials to Kool-Aid Dye Yarn in Mason Jars
Kool-aid packets in assorted flavors/colors
Animal fiber yarn that has been wound into a loose hank (I recommend using a superwash yarn to avoid felting.)
Mason jars in a size that fits the yarn
Electric kettle
Hot pad to protect your table or counter top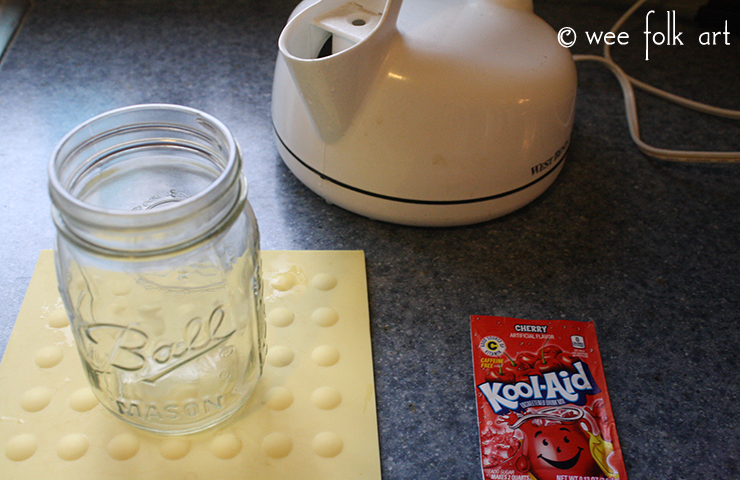 Preparing to Kool-Aid Dye Yarn in Mason Jars
Wind your yarn into loose hanks if they are already in a ball. You can read more about making mini skeins here.
For my 25 gram mini skeins, I found that two packets of kool-aid provided a decent amount of coverage and fit well in pint size jars. If you are dying larger skeins, you will need to use more kool-aid packets and larger mason jars. Lighter colors may require additional packets but for a good starting point, use two packets for every 20-25 grams of yarn.
Start by washing the yarn in room temp water. You can use a small amount of wool-lite or even just a bit of dish soap. Take care not to felt your yarn if you are not using a superwash/machine washable yarn. Wring out excess water.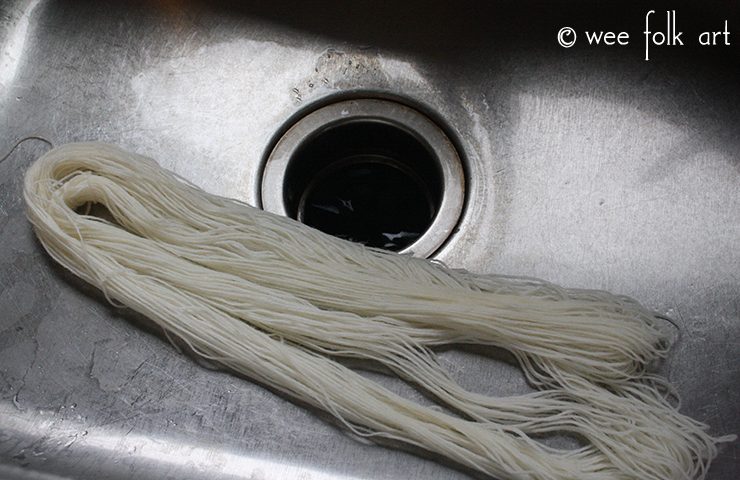 Directions to Kool-Aid Dye Yarn in Mason Jars
Heat water in a kettle. It does not have to be boiling.
Mix a packet of kool-aid in the bottom of a jar with about an inch of hot water. Use one packet if you are going to mix dye colors, use two-three packets if you want full coverage.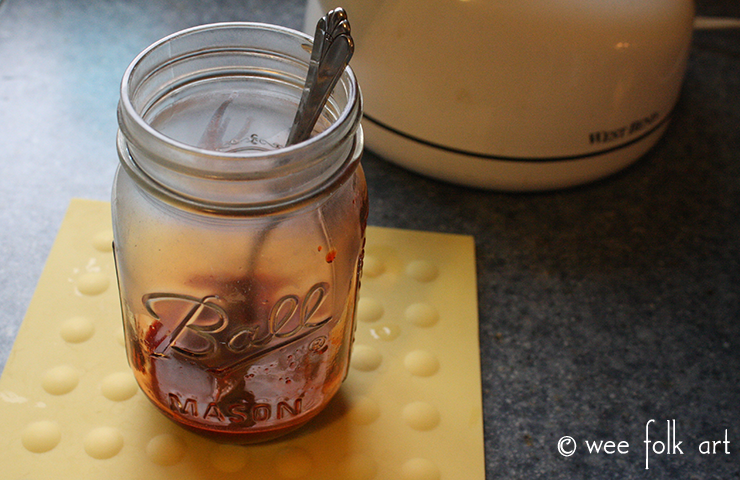 If you want a varied or striped yarn add the yarn first and then pour in enough water to cover yarn fully. Use a spoon to push the yarn down. You can lightly stir. The yarn at the bottom of the jar will soak up more dye.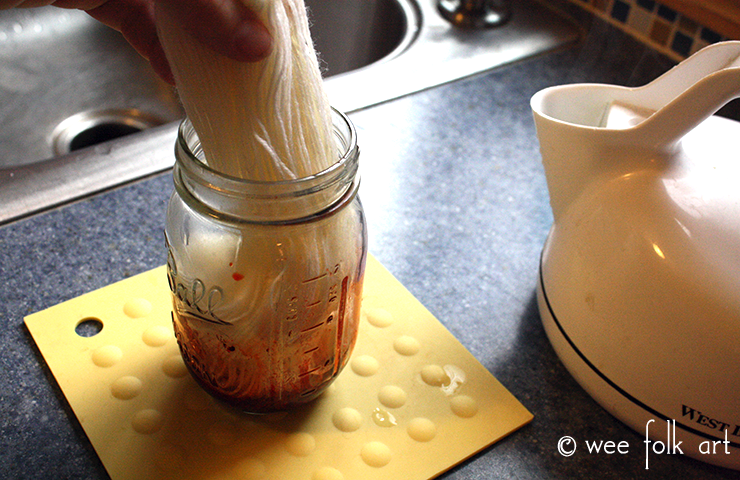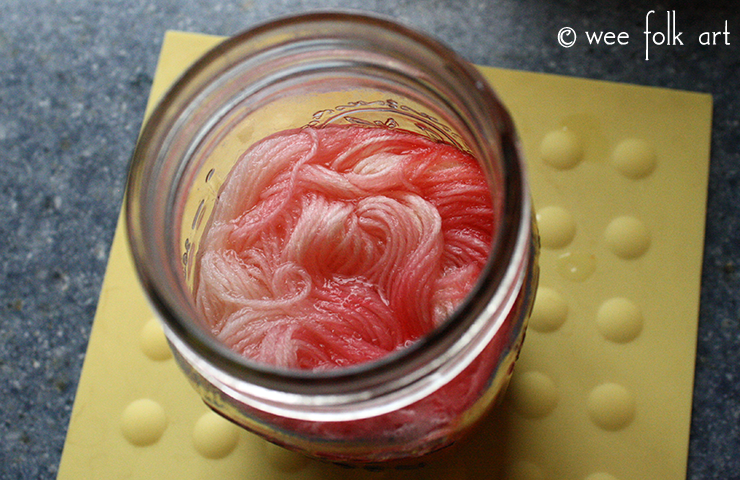 For more even coverage of the dye, fill the jar half way with water first and stir in several packets of kool-aid.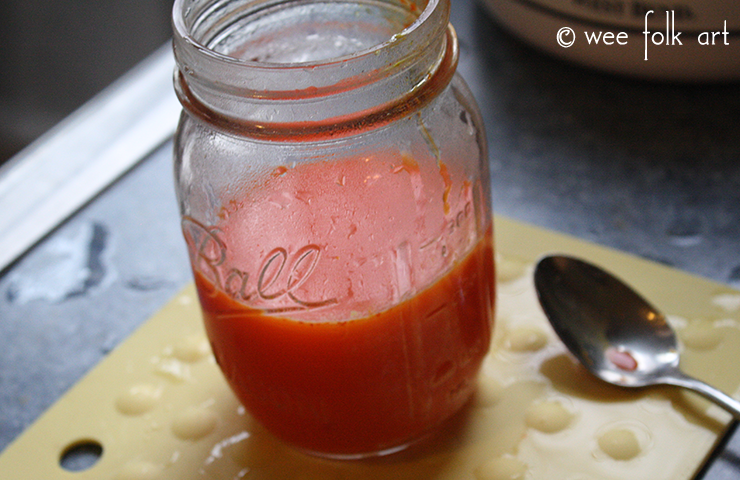 Add the yarn to the jar and place a lid on top. Carefully shake the jar. Use a heating pad to hold the jar if it is hot.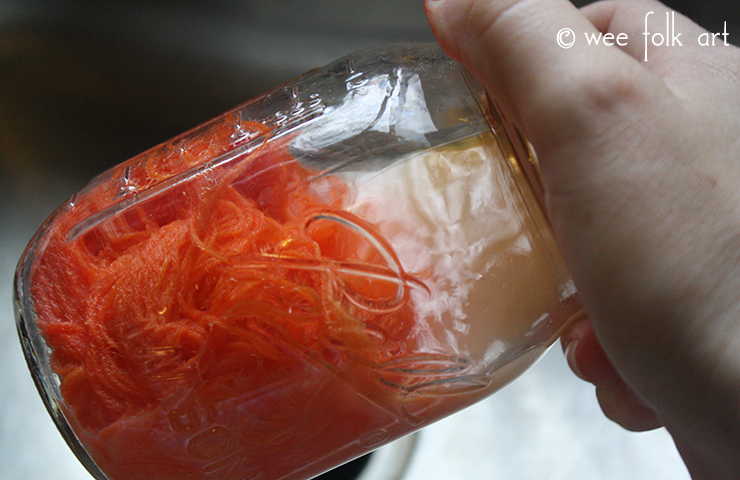 Set aside the jars until they cool to room temperature.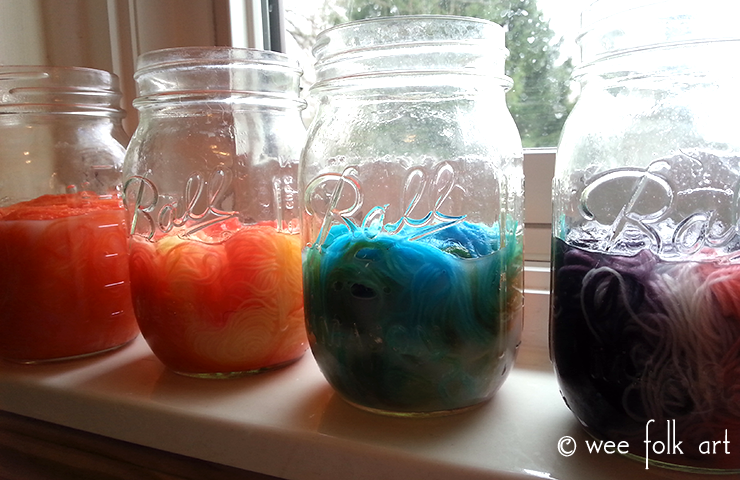 Empty yarn into the sink. Rinse lightly with room temp water and wring out excess.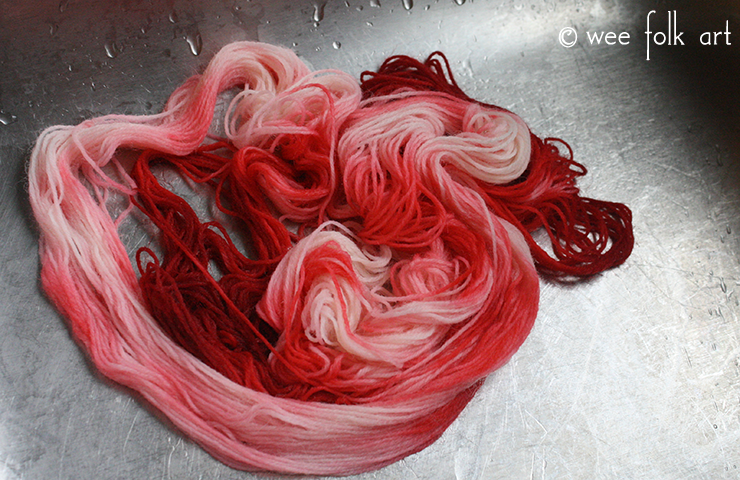 You can now dye the other side of the yarn, or over dye the yarn to mix colors.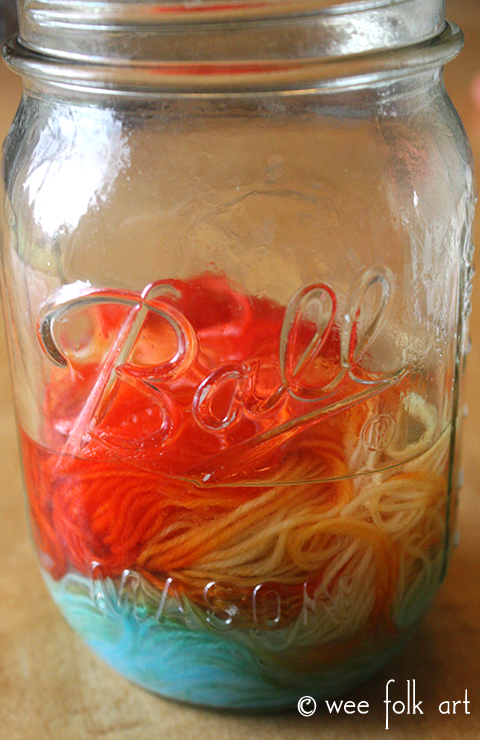 For an even more hand painted effect, you can put the yarn in a heat safe dish and then pour or drip kool-aid directly onto the yarn.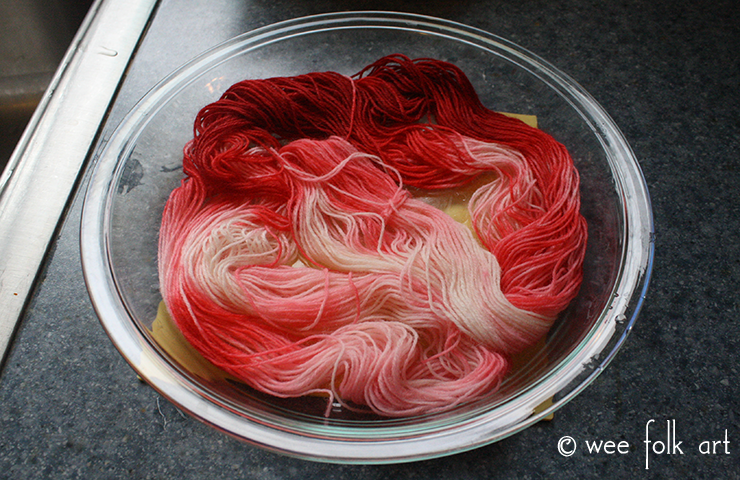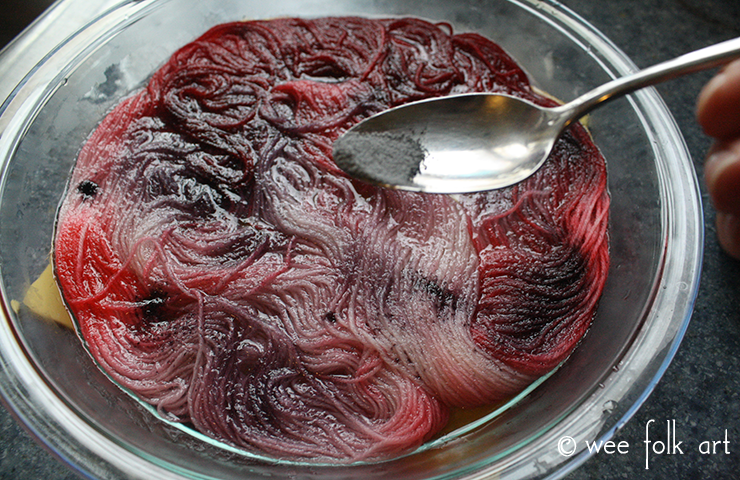 When the yarn cools to room temperature, rinse it out thoroughly with room temperature water and a bit of dish soap (or wool-lite). The only color that I had any excess with is the cherry red. All the other colors set immediately. If you find that certain colors are not setting all the way, add a tablespoon or two of vinegar to the kool-aid mix.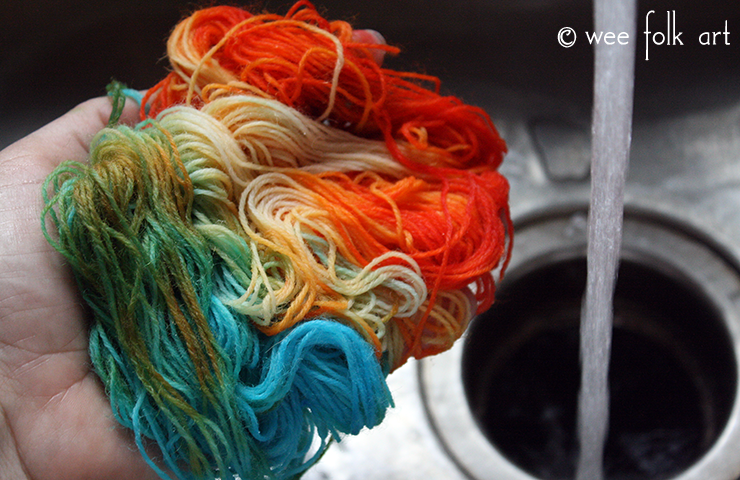 Wring out excess water. Wrap yarn in an old towel to remove additional water. Be careful not to felt fibers if you are not using a superwash yarn.
Hang yarn to dry. Outside in a sunny spot would be ideal, but of course on a rainy day… somewhere inside is fine too.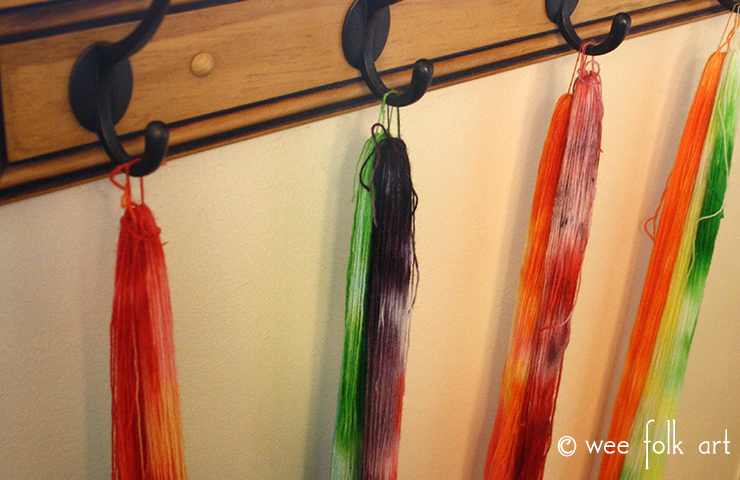 When the yarn is dry, you can wind it into balls for knitting.