Help your peg gnomes gets ready for Halloween with our Gnome Mummy Pattern.
Even gnomes love to dress up for Halloween. This year Radolf wanted to be a spooky mummy! Enjoy our Thicket Tale where Axel tells scary stories by the fire, and then make your own Halloween gnome mummy to go trick or treating.
Thicket Tales :: Scary Stories by the Fire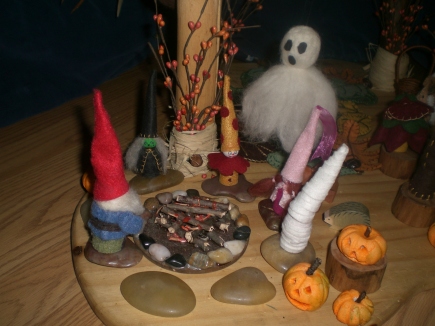 The gnome children have been busy all week getting ready for Halloween. Their normal garb is usually woodland colors so it is very exciting to be dressed in colorful and unusual costumes. 
Malena wanted to be a witch. She thought painting her face green and running around cackling would be great fun. Although her mother said she was being naughty, she thought it was ever so much fun scaring her little brother.
Dag wanted to be a clown. Although gnomes take their jobs very seriously, they also enjoy a hearty chuckle. Whenever possible, Dag likes to make his friends laugh. His father told him this was a very good quality indeed. This Halloween he wanted to make all his friends laugh!
Tabitta likes nothing better then writing stories about dragons and castles. She has never seen either, but she hopes she will some day. In the meantime, she likes to pretend she is a princess, and dreams about saving a prince in distress. She was rather disappointed Dag did not dress up like a prince.
Radolf thought it would be great fun to dress up like a mummy. He spent the whole year saving little bits of fabric that came in the biscuit tins his city cousins often sent them. But now he is beginning to wonder if this was such a good idea since it is very hard to move around. Radolf is hoping none of the girls try to kiss him!
Axel is very pleased with the children's costumes. He remembers dressing up as a child. As the host of this year's party, it is his job to tell the children a spooky story before they join their other friends to go trick or treating through the woods. Alex is careful not to tell too spooky a story. The really scary stories will be saved for his friends long after the wee ones go to bed.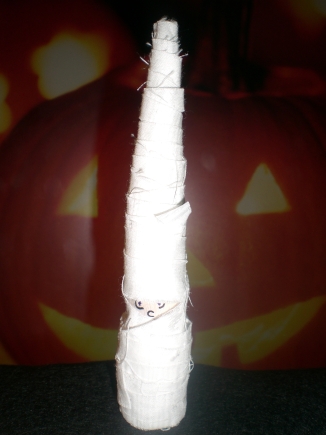 (Note: Sorry if the images are a little hard to make out. It isn't easy capturing white on white work on camera!)
Gnome Mummy Pattern Materials:
Scraps of white felt
 Approximately 44" x 1/4" white cotton fabric or felt
1 "little boy" people turning* – 1 11/16" x 5/8"
White embroidery floss
Gnome Mummy Pattern Directions:
Print off a copy of the gnome mummy pattern.
Paint face and shoulders white. Add facial features using a felt tip pen or paint.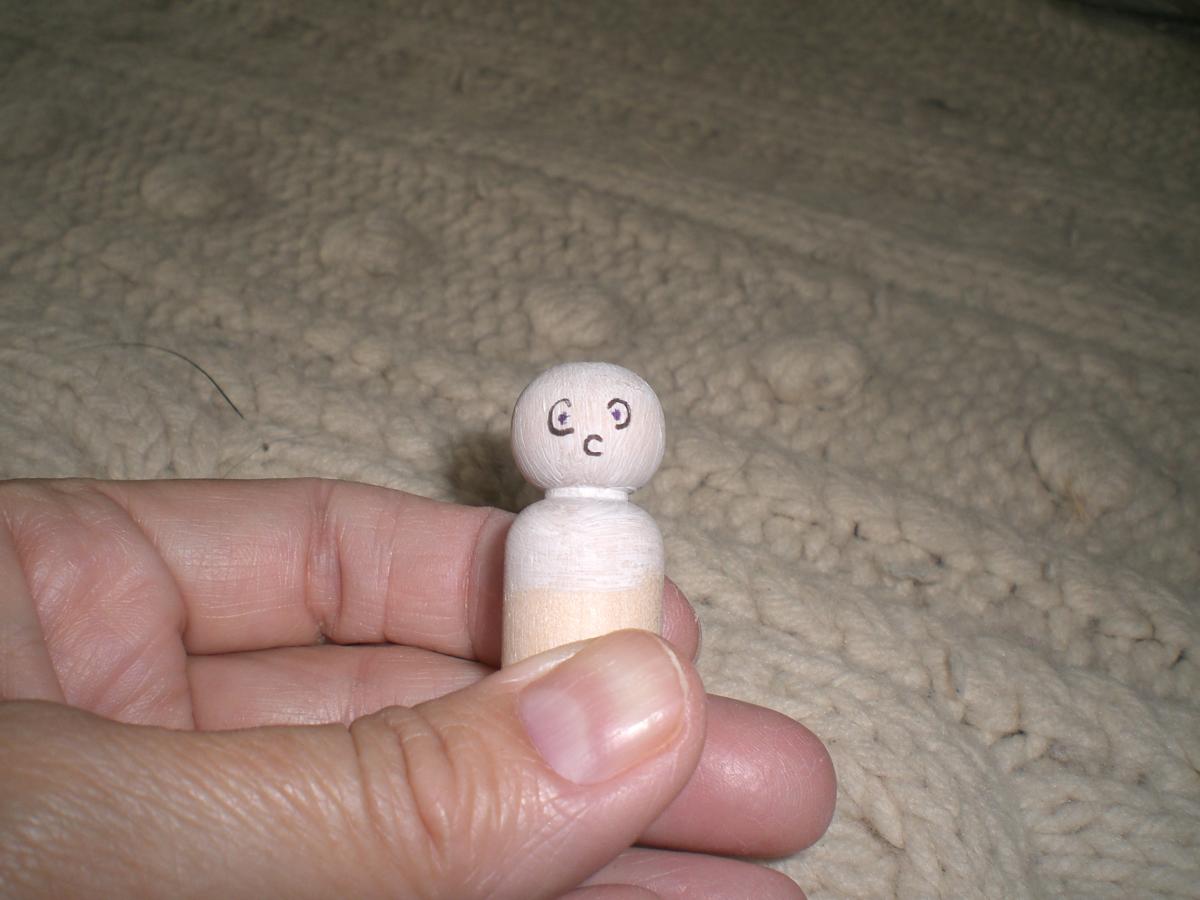 Cut out hat and body wrap from white felt. Glue body wrap to gnome's body making sure the bottom the wrap is even with the bottom of the body. Let dry.
Using 2 strands of white embroidery floss, blanket stitch the hat's back seam. Make sure to overlap 1/8".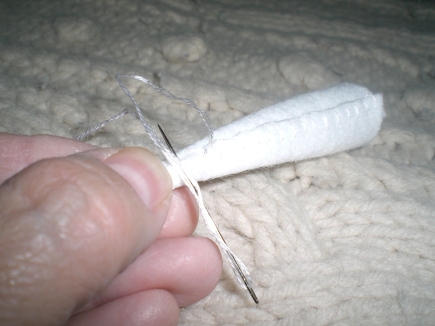 Glue hat to gnome straight up and down or slightly towards the back.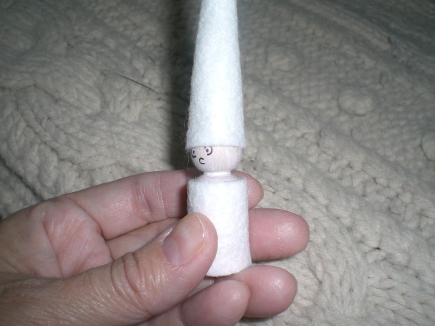 Cut out the 44" x 1/4" white cotton fabric or felt.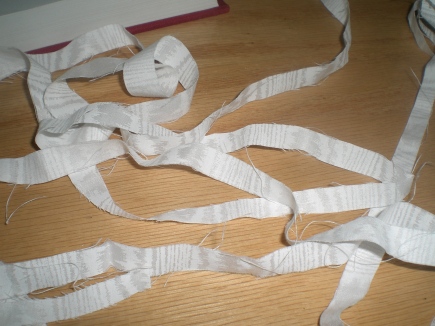 Beginning at the top of the hat, glue fabric strip to gnome in a circular manner. Overlap slightly. Occasionally cut strip and start again leaving a tail to give a tattered look. Cut strips to give a crisscross look around the face. Make sure to use plenty of glue especially each time you cut the fabric and restart wrapping.