Learn how to make a Seaside Gnome House for your Seaside Gnomes! We are sharing directions for how we made ours but get creative when you make your own!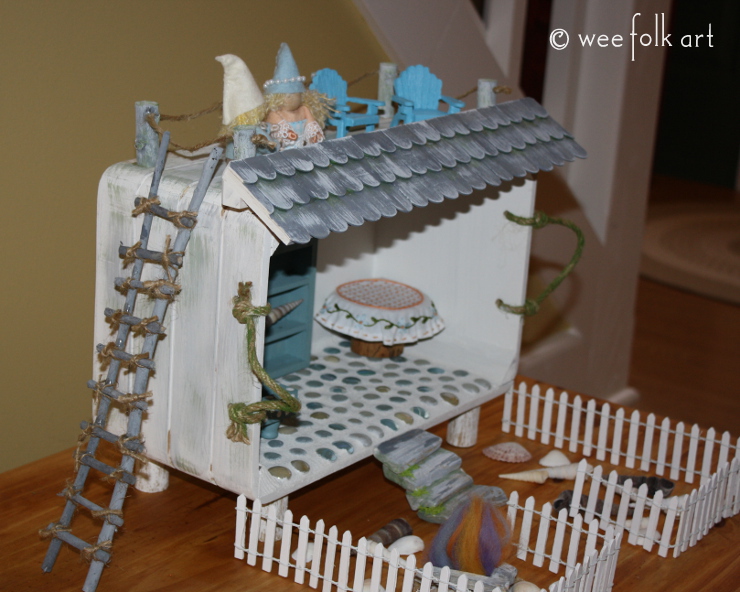 Kristoff had just returned from his travels where he had meet and became engaged to the beautiful Caleen. Her brothers had told Kristoff that they could marry as soon as he built a proper home for his new bride. All the gnomes in his village lived together in a community built in the side of a dune, but the brothers insisted that Caleen have her very own house. As Kristoff sat on the beach trying to decide where to begin, he saw something being tossed about by the surf. It was a crate!
"Perfect", thought Kristoff. "I can use that to make Caleen her house."
Kristoff wondered if it had been washed ashore from the human fishing village up the coast or if perhaps it was a relic from a sunken pirate ship that had finally been set free.
It really didn't matter, because he knew he could use it for their home. The only problem was, how was he going to get it out of the surf and up to the dune!
---
The directions for making your own Seaside Gnome House will be shared in 4 parts:
PART 1 :: Crate and Dry Brush Painting
PART 2 :: Roof and Storage Shelf can be found HERE
PART 3 :: Flooring and Rope Railing can be found HERE
PART 4 :: Steps and Ladder can be found HERE
GENERAL MATERIALS FOR SEASIDE GNOME HOUSE
crate or other wooden box (ours was a decorative crate that measures 14″ x 9″ x 6″ that we bought at a local craft shop. It was unfinished and had rope handles which we removed while painting. We tied them back on at the end) You can use or make any size crate you like.
acrylic, soy or other non-toxic water based paints (save paint from painting crate for other pieces of the house)
craft glue
twine
sea glass or decorative glass pieces
grout
twigs and branches for house stilts, ladder and rope railing. I bought a bag of small pieces of decorative driftwood from our craft store which I used for the steps but used branches from our yard for the rest.)
wide craft sticks
3/16″  basswood (found in craft and hobby shops) Our piece was 4″ deep by 36″ wide
1″ x 1″ pine the length of your crate plus 4″ for support wedge of roof
NOTE: We are sharing how we made our seaside gnome house. Hopefully our directions will give you useful ideas that will help you make your own. You will need to make adjustments based on the size and shape of the box you start with.
BEFORE YOU BEGIN: A NOTE ABOUT "WASHES" AND "DRY BRUSHING".
Your Seaside Gnome House is suppose to look weathered. Perhaps pieces of your house "washed ashore", or maybe they have just weathered over time. Whatever the case is, it should looked weather and worn. To get this look, we began by mixing the paint with equal amounts of water. We wanted the paint to be more of a "wash" and we still wanted to be able to see the wood grain through the paint and even left some pieces of the natural wood showing.
When applying the gray and green we used a "dry brush" method. Place a small amount of paint on the tip of a dry, flat brush. Dab the brush on paper towel to blot off most of the paint. Lightly drag the brush across the surface. We suggest you try it on a newspaper or scrap piece a paper to get a feel for it. Remember… you can always go back and add more paint if need be. Add color randomly to give it a weathered look.
Painting the Seaside Gnome House
NOTE: Mix enough paint so it can be used for other parts of the house to keep the colors all the same. Store in air tight containers.
We began by painting the whole house, inside and out, with the off white "wash". Later, we went back and painted the inside of the house again because the gnomes would keep the inside of their house looking pristine!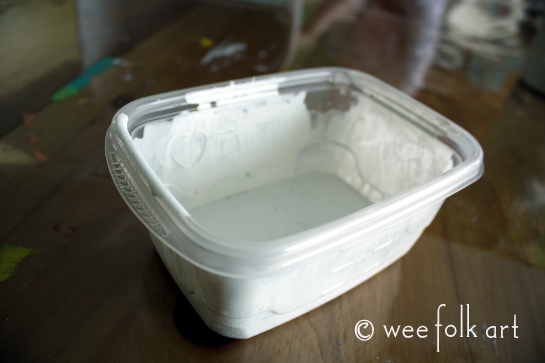 Notice how Pixie is not applying a solid color. Some of the wood is still showing.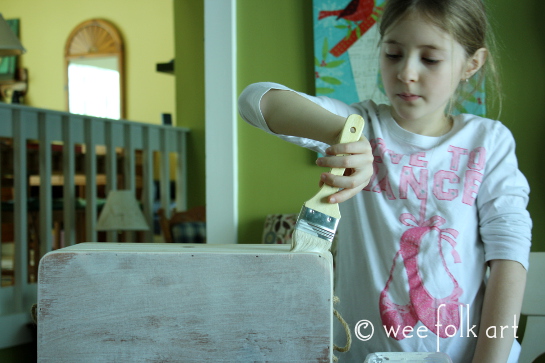 After the white paint dried, add a few drops of black paint a little at a time to the white paint until you get a nice gray. Now "dry brushed" the surface with gray. Lightly paint the crate, applying a very light coat of gray paint. You DO NOT want to cover the whole house. Think of what a piece of wood would look like weathered. Leave parts completely white. Concentrate the gray in other areas. Make the color very random. 9 year old Pixie painted the crate and it looks fantastic! Biggest thing to remember it to start with very small amounts of paint. You can always add more later.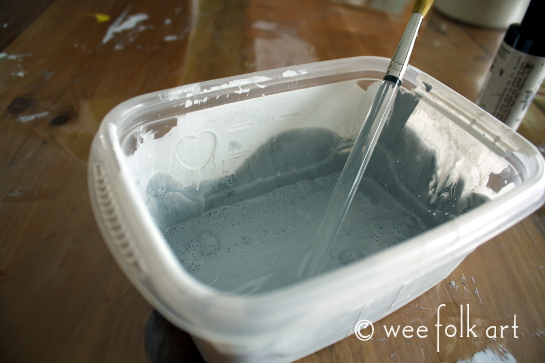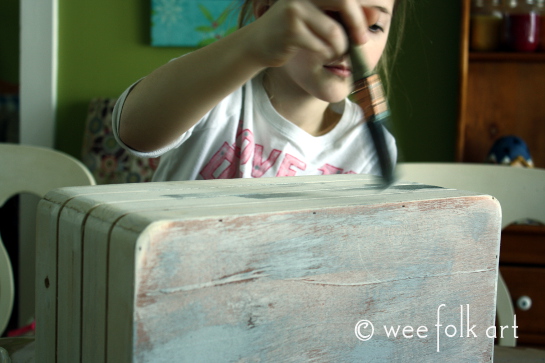 Finally, add green paint to the gray until you get a "moss green". Again, dry brush on the green. Think about where moss might grow naturally on the crate.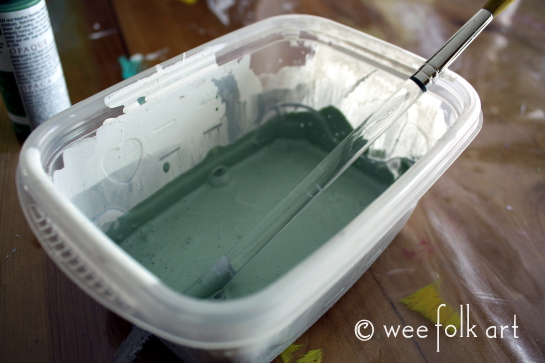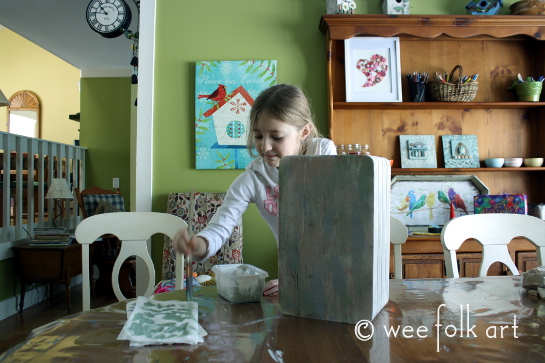 If you would like to add "stilts" to the base of the house, cut 4 lengths of branches the same size.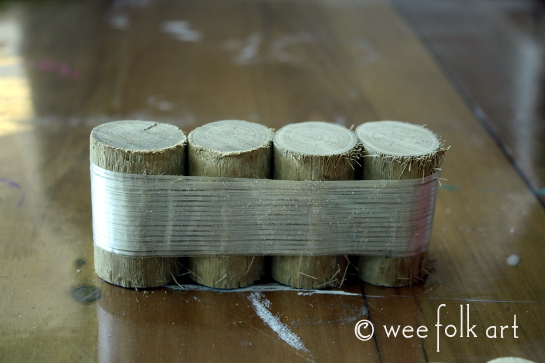 To keep the house stable we only cut ours 1 1/2″ long. Paint to match the house and turn the house over and glue about 1″ – 1 1/2″ away from the 4 corners.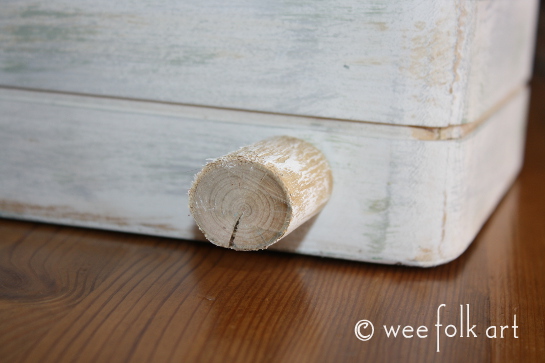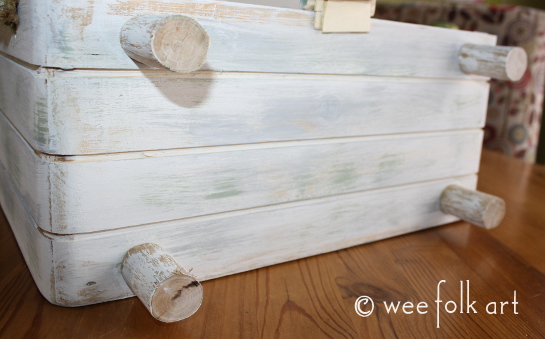 Our crate came with rope handles. We took these off before we painted. After we were done painting the crate, we added some green paint to the handles to give them a mossy look and then tied them back on.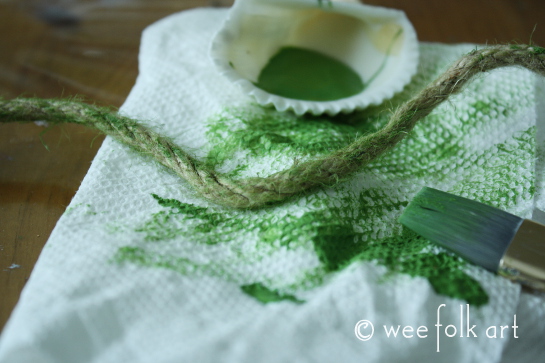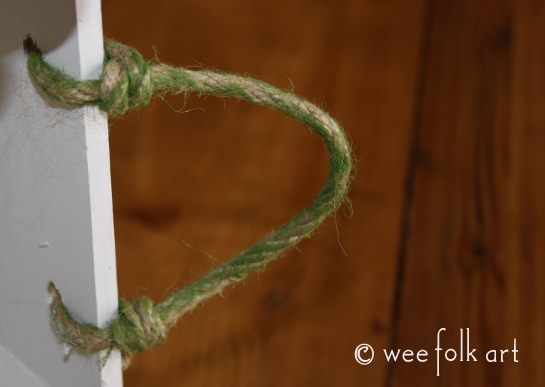 PART 2 :: ROOF can be found HERE