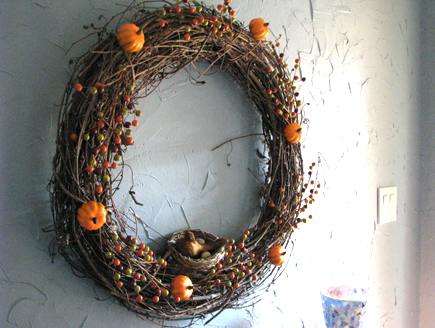 Last week we had a few days that gave us a taste of fall. They were cool days requiring long sleeves. The air was damp and in general I got the feeling that a hearty meal of Vegetable Beef Stew, Corn Bread and Hot Cider would soon be our meal of choice over our current Lite Grilled Chicken and Steamed Veggies from the garden.
The kids must have had the same feeling. As we entered the craft store their eyes lite up with excitement. HALLOWEEN was everywhere. The warm colors, the spicey scents and the "little bit spooky" fun.
I'm trying not to cross over yet. My October Project cd is still safely tucked away. I know we still have several more weeks of serious summer left. But just as the yard is looking spent, so was my Nature Wreath that hangs above the kids Nature Table. It needed some attention and so I gave in. A little splash of fall that makes me smile. I still have my summer Stars and Stripes up most places but the Nature Table is ready for the warmth of fall colors.
Not familiar with October Project? Something about their haunting music seems to make the perfect companion to a cool, damp fall night with a fire in the fire place.