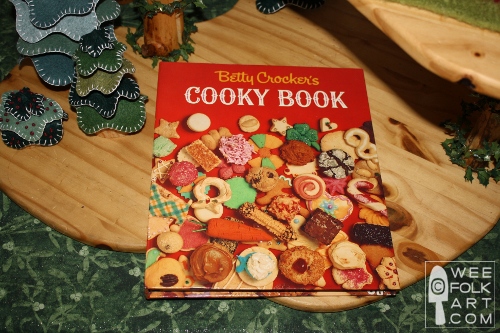 When I was a little girl, one of my favorite things about the Holidays was baking with my mother. She loved… nah, loves… to bake, and the Christmas cookie platter in our house was always overflowing with the most delectable variety of cookies imaginable. Some of the recipes were hand-me-downs from the family. Some were new recipes amassed from newspapers, magazines, and friends. But the majority of the recipes came directly out of the Betty Crocker Cooky Book. I can remember sitting around on long winter nights, looking at the tantalizing pictures, suggesting new recipes to try. My Mom was always game. Although we used the cooky book throughout the year, I always associated it with Christmas. You can imagine my delight when I received my very own copy from Michelle a few Christmases back. The book had been reissued as a nostalgic offering, and it certainly brought a smile to my face. I still regularly scrutinize each page!
Christmas cookies seem to be a universal part of celebrating the Holidays. Whether we bake 12 varieties of cookies, or just one, we all seem to have our favorites. I always find it interesting to to find out what cookies other people believe to be Holiday mainstays.
Having said all this… there is a reason for my ramblings… we have a request for our readers. Like most families, December is a very busy time for us. Last year Wee Folk Art took an hiatus for the better part of the month. This year we plan to continue blogging for most of the month, but we could really use your help. We are asking YOU, to help us provide our readers with meaningful content, by sharing one of your family's favorite cookie recipes.
If you would like to help us out, send us your recipe with a little "cooky" background. Is it an old family recipe? Is it a new favorite you got from a friend? Do you have a special tradition for making cookies? Email us your recipe and little anecdotes at weefolkart@yahoo.com. It would be totally awesome if you had a picture of the cookies to attach, but that is not necessary. If you have a website, make sure you include that information, too.
Then, over the next few weeks, we will share your stories and cookies with all of our readers, right here on Wee Folk Art. We will make sure to include your website so our readers can stop by and say Happy Holidays.
I know everyone is busy right now, but if you could take a few minutes to help us out, everyone will enjoy not only a crafty holiday season, but a yummy one as well!