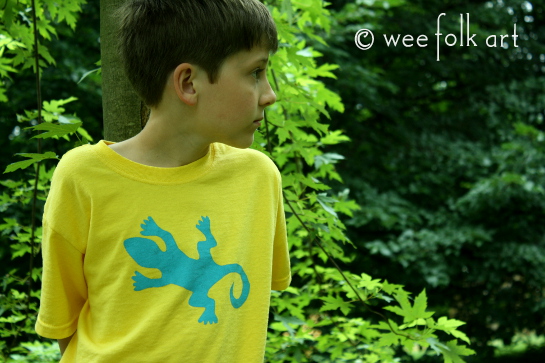 Here we are doing yet another Freezer Paper Stencil. But as you can see, this method is really a splendid way to incorporate some personality into boys' clothing. I find as a crafty mother that I am sometimes hard pressed to find ways to bestow my crafty love onto my boy in something that he will actually wear (this seems to get harder every year). The girls' closet is full of mom-made beauties, but Bug has just a few well loved items. This shirt has made it into his favorites and matches wonderfully with the shorts I made him 3 years ago… gasp! (You can find info on the shorts below)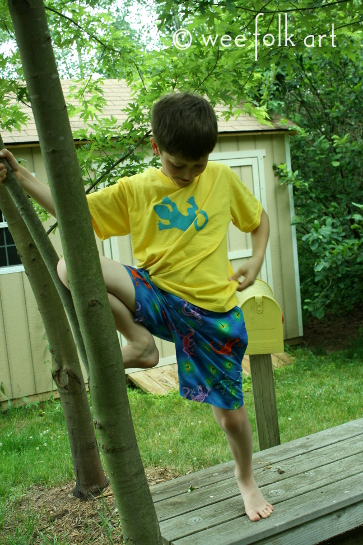 Ok, so if you have missed the How to Freezer Paper Stencil which we covered in our
Leaf Shirt Blog
(oh my gosh… talk about my folks being wee) and in our
Snowflake Stencil Quilt
… here is a super fast run down.
I used our Lizard Applique Block for the lizard pattern. Make a copy of the pattern and enlarged it until it's the right size for the shirt you are stenciling. (Check out our blog post on Enlarging and Reducing found HERE.)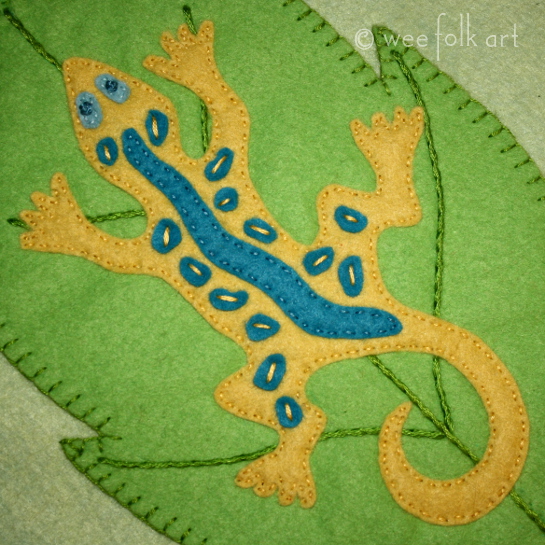 Trace your image onto freezer paper.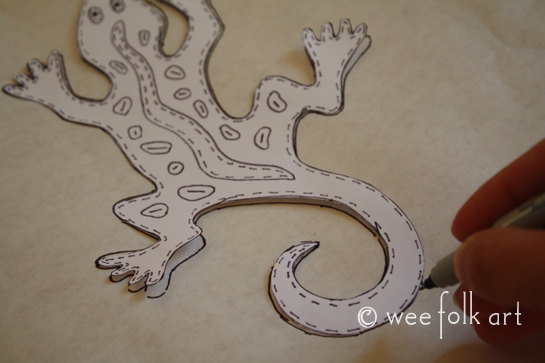 Cut out the inside of the stencil.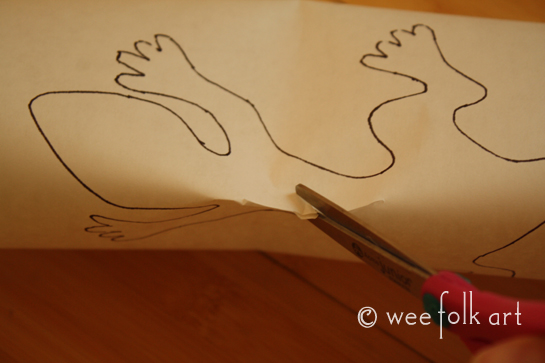 Place the stencil shinny side down where you want it on your shirt (be sure to wash your shirt first).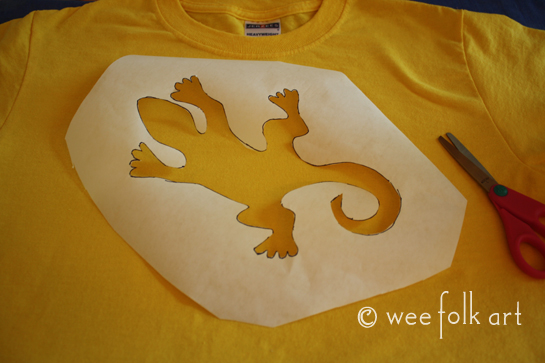 Iron the stencil to the shirt using a warm iron.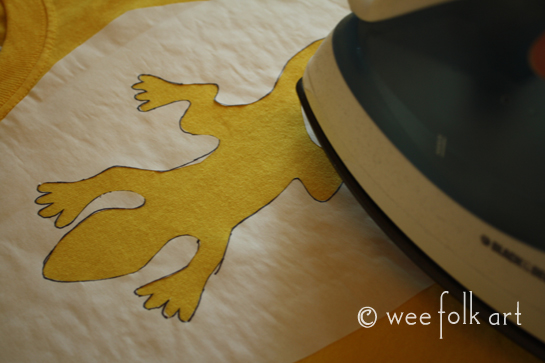 Place an old paper bag, cereal box, etc in the middle of the shirt to prevent the paint from bleeding through.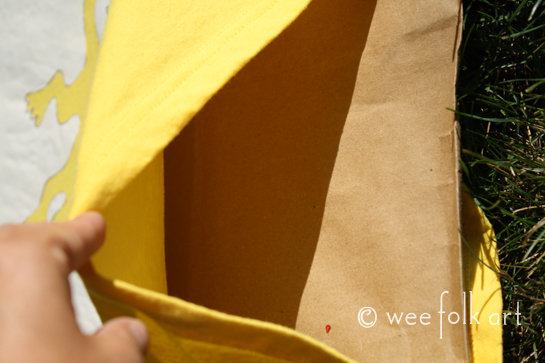 Use a sponge brush to apply the fabric paint in a gentle up and down motion. Be careful not to get the paint under the edges… especially around the toes.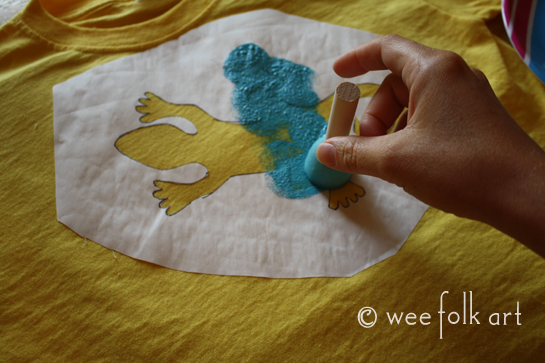 When dry, carefully peal away the paper.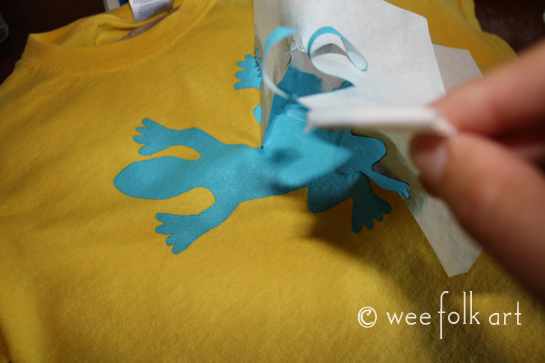 Follow the directions on your fabric paint for setting the paint. Some require ironing after it dries. Wash your shirt according to your paint's directions.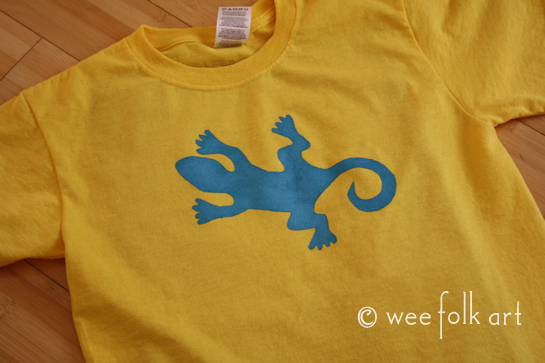 Your wee one is now ready to wear, enjoy and explore the world!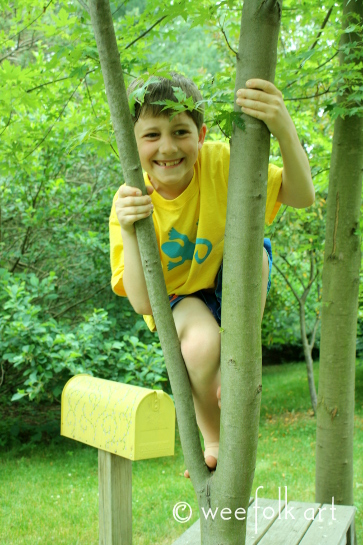 About word about the shorts…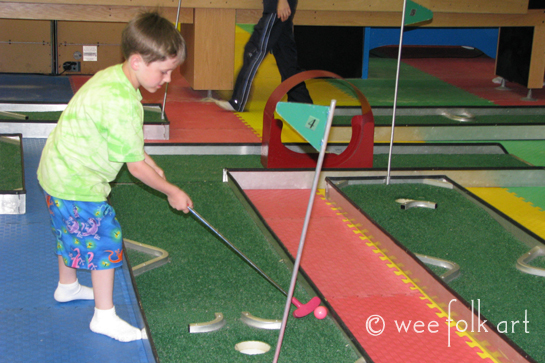 In the blog world you can easily stack the years side by side to see how your wee ones have grown (
click here to read about the shorts
). Amazingly this series of shorts (
McCall's Pattern 3193
) which includes the pair pictured above (photo from July 2009) and two more have been a staple in Bug's summer wardrobe for so long now. They are just now starting to show wear and have become short enough this season that he may actually need some new ones for next summer 🙂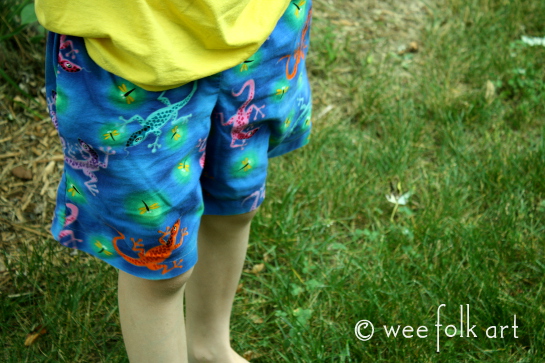 https://www.weefolkart.com
Copyright © Wee Folk Art 2008 – 2012. All rights reserved.
All photos, text and patterns are copyright protected. You may not copy, reproduce or redistribute any material found on WeeFolkArt.com without written permission. Wee Folk Art retains all rights. Read our FAQs found HERE for specifics or contact us at weefolkart@yahoo.com if you have any questions.