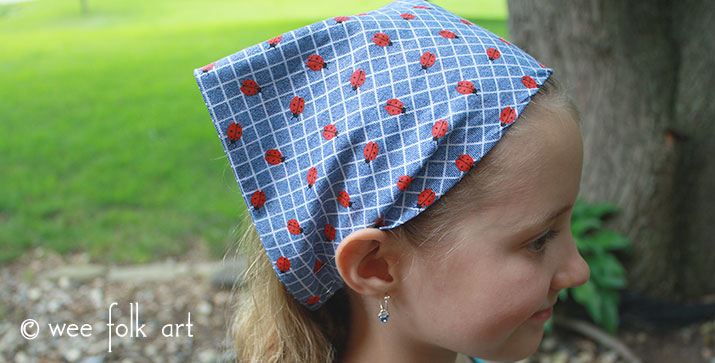 My girls and I are loving these super easy to make Stretchy Bandana styled Headbands. They are perfect for playing outside in the summer. They keep your hair out of your face and the sun off the top of your head. They take just a bit of fabric and about 15 minutes to make. This pattern is essentially a simplified version of our Handkerchief Bandana Pattern. We have quite a collection of colorful stretchy bandana headbands now!
Materials:
1/2 yd of cotton fabric (half yard will make two)
1/4 wide elastic
Cut out a 16″ square of fabric.
Fold it over on the diagonal, right sides together. Sew up both sides. It is ok to go all the way to the edge.
Lay out your triangle with the long side on a straight edge and cut off 2″ from each corner, perpendicular to the long side.
Flip your banana right sides out. You can use a knitting needle or similar to poke out the corner. Iron flat.
Tuck under each open edge about 1/2 inch. Iron flat.
Cut out a 3″ x 8″ piece of fabric for your scrunchy back band. Fold it in half right sides together and sew up the long side. Flip right side side out to make a long tube (you can use a safety pin. Iron flat.
Cut a 3.5″ piece of elastic (you may need a different length of elastic depending on how stretchy your elastic is and the head size). Use a safety pin to thread the elastic through the tube. Be sure to secure the other end of the elastic to the edge so it doesn't drop in.
Remove the safety pin and tuck the whole tube edge about 1/2″ into one of the bandana openings. Be careful not to drop the elastic. Sew in place.
Repeat with the other side of the elastic band in the other opening. Clip your strings.
You now have a super comfy hair band that looks like a tied bandana.
I am also thinking that this might be a really cute way to re-use fabric from some of my girls' favorite t-shirts that they have outgrown. It would look cute if the print was centered in the middle of the bandana. I will have to give it a try when I get a chance.