As part of our Christmas cookie series, today we are sharing one of our family's traditional cookies. Here is our Surprise Cookie Recipe.
My Bushia was a marvelous cook…of basic foods. And, hey, let's face it, we consume mostly basic foods, right? As a mother of 13 children there wasn't much time for fluff, but there was no shortage of flavor! A very Old World, traditional little lady. Now my Grandma Pearl…she was cheeky and modern. Her foods always reflected the latest trends, and she too was a marvelous cook… just different.
Today, I want to share a Christmas cookie Bushia always made. Come to think of it, it was probably the only Christmas cookie she made. The Surprise cookie recipe was like Bushia herself…plain on the outside, but a treasure trove of richness inside! (If you'd like to hear a little more about how my heritage and grandmothers affect our holiday celebration, check out my other blog, One Generation To Another this week and read "Polish for a Day".)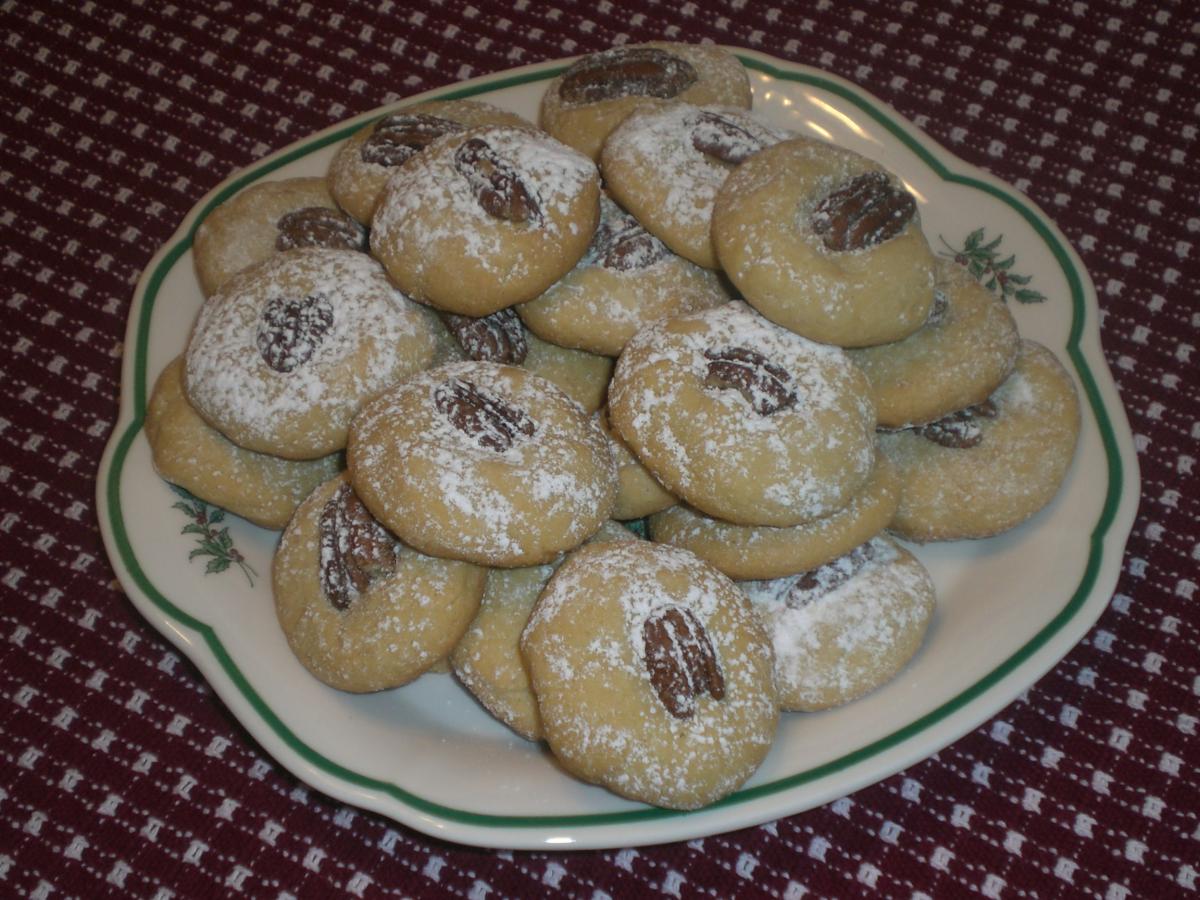 Surprise Cookie Recipe
Ingredients
3 1/2 cups flour
1 teaspoon baking soda
1/2 teaspoon salt
1/2 cup butter
1/2 cup shortening or margarine
1 cup sugar
1/2 cup brown sugar
2 eggs, unbeatened
2 tablespoons water
2 teaspoon vanilla
1 package rum, chocolate mint, or milk chocolate candy wafers
(If these are not available at your local stores, you can use chocolate chips or pieces of chocolate bars inside the cookie.)
Surprise Cookie Directions
Sift together dry ingredients. Cream together butter and shortening with sugars. Add unbeaten eggs, water and vanilla to shortening mixture. Slowly add dry ingredients. Mix well. Refrigerate for at least an hour to make dough easier to handle.
Enclose each wafer in 1 t. of dough (might need a bit more.) Place 2 inches apart on a greased cookie sheet. Place pecan half on each cookie. Bake 10 – 12 minutes in a 375 degree oven. (Use middle shelf and watch for burning!)
Dust with powder sugar when done baking.
Enjoy!