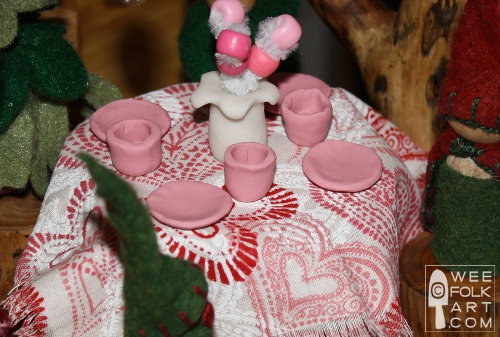 We have had our gnome house for almost 2 years now, and just like my own house, I am always adding a little here and there, changing this and that, and allowing our environment to reflect the seasons. When preparing our gnome house for Valentines Day, I decided we needed plates and cups. There are many different ways I could have gone with this… including using natural clay to craft them, but I must admit I took the easy route this time and used some Polymer Clay I had on hand. Certainly, the same idea can be used with natural clay, but I do like the pretty pinks and reds for Valentines Day and will make some natural ones for every day use later 🙂
If you are interested in crafting your own set of cups, dishes, and vases, the directions can be found HERE or with our FREE Patterns. The kids will love helping with this craft. Enjoy!
WARNING: These are definitely CHOKE HAZARDS and should not be used with small children that still put toys in their mouths.