Summer is the perfect time to dive into some easy knit patterns. It doesn't matter if you are 5 or 100, it's never too early or too late to get your creative juices flowing!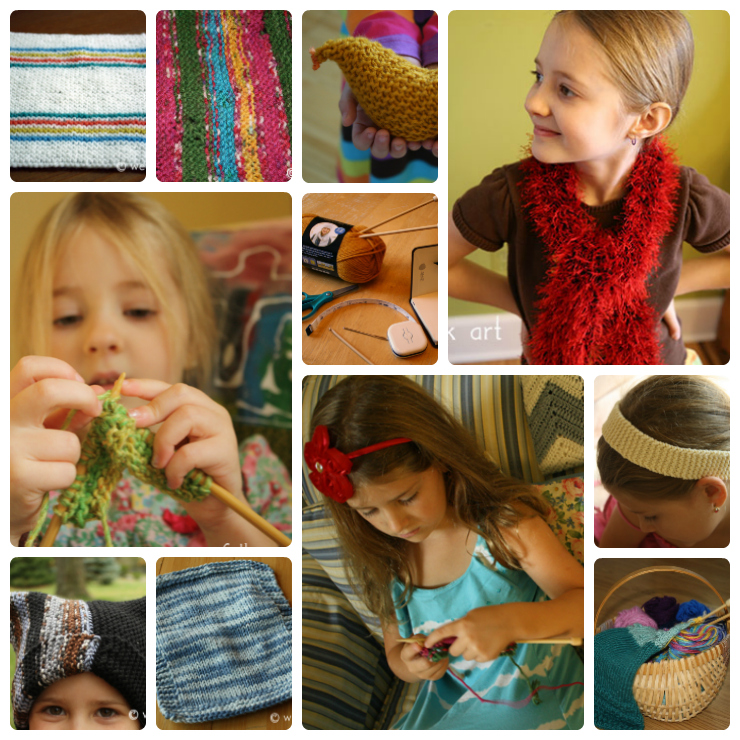 When I think of "summer vacation", so many wonderful memories come to mind. There were cross country trips with the windows rolled all the way down since there was no air conditioning in cars. I think of time spent at lakes. I remember the yummy sensation of being able to check out stacks of books from the library and reading to my heart's content. Summer also meant my brother and I got to spend many nights at Grandma Pearl's (and Grandpa Johns!) When we spent the night we got to stay up as late as we wanted, drink Boston coolers, go through her costume jewelry and buttons, but best of all, Grandma Pearl was forever sharing her crafty ways with me.
She taught me to knit and by the time I was in second grade, I knit my first cable-knit cardigan sweater. Quite an accomplishment for an 8 year old, but if Grandma Pearl thought I could do it, no way was I going to let her down!
As the weeks or months of summer vacation loom before your family, it is a wonderful time to help your children learn something new. I rummaged through past blog posts on Wee Folk Art and put together a collection of easy to knit projects… suitable for a child or a beginning adult knitter. If you don't know how to knit, summer is a great time for you to learn along with your children. Our first link is to a wonderful Newbie Knitting Series Michelle developed for a group of children, but obviously can be used by non-knitting adults!
Wishing you and your family a joyous summer vacation, peppered with enough creative pursuits to keep it interesting!
---
Whether you would like to teach your child to knit or you simply want to learn yourself, summer, with it's long days and lazy vacations, is a perfect time to learn. There are many wonderful videos out there that can get you started, but if you're like me, you also want to have directions in front of you. A few years ago Michelle designed a beginner's knitting program for children at their homeschool co-op. She shared the weekly lessons here on Wee Folk Art. She takes you through the step-by-step process of knitting, and by the time you are done, you can tell people, "Why yes, I knit!"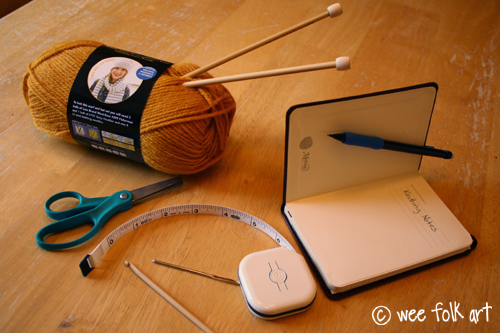 ---
When is the best age to teach children how to knit? The simple answer is, "When they are ready." Typically when a child begins to show an interest in learning a new skill you can begin. Pixie became a knitter just after she turned 5. They need to have the coordination the handle the needles. If you start teaching a child and they become frustrated, it may be too soon. Instead of teaching them how to knit, you can show them how to use a Knitting Tower to create long loops that can be coiled and sewn into objects.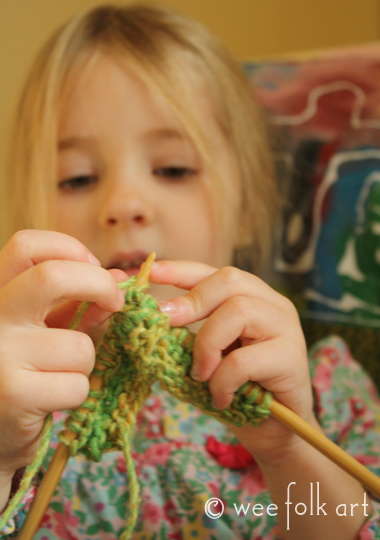 ---
Although it is exciting to see how needles and yarn can create a fabric, it won't be long before the wee ones want to "make something". And who can blame them? Here is an awesome first stuffie that requires nothing more than knitting a square, folding it diagonally and stuffing it. Tah-dah… you have a bird!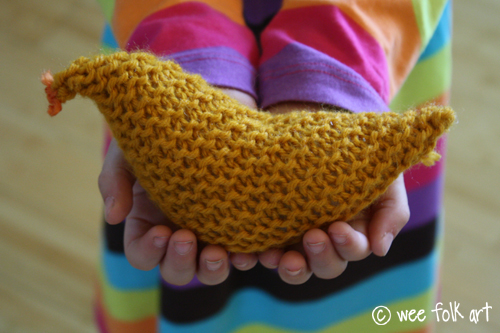 ---
Another one of those fast, easy and very useful projects perfect for gift giving. Hit your stash to create lovely, colorful headbands… one for each day of the week!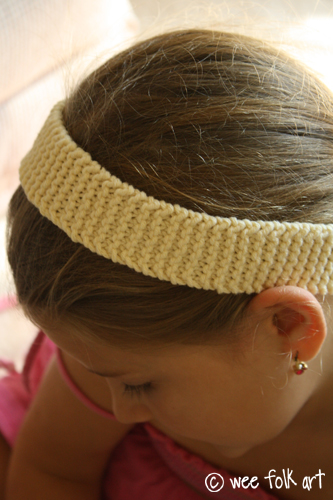 ---
Girls aren't the only ones that enjoy knitting. I taught my boys to knit along with Michelle. Look for simple patterns, like this hat, and let them pick their colors. Other great first projects for boys are pouches for treasures, belts and scarves.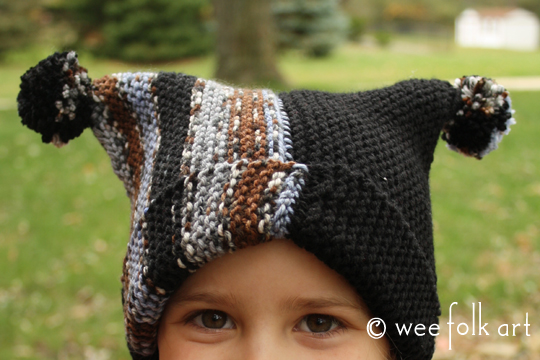 ---
Fairy's first project that was all her own… in other words, she decided what she wanted to make, she figured out how many stitches to cast on and she began knitting until she determined she was "done", was to create a blankie for a favorite dollie. By using a lively self-striping yarn she could "change" colors as she knit without ever having to add new yarn!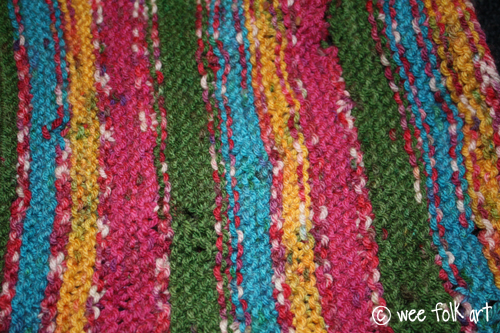 ---
Oh, how quick I am to sing the praises of the dishcloth… but I'll let you read all about that when you follow the link! Quick and easy to make, useful and beautiful, these make great gifts for grandmas, aunts and teachers. Plus, you'll want to amass a stack for your own home!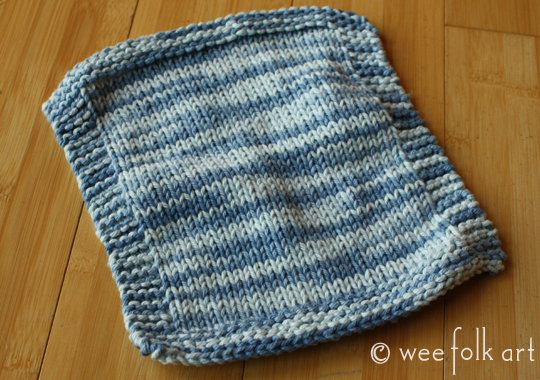 ---
Although this pattern is easy and fast to make, I would not use this as a first project. You knit with 2 pieces of yarn and the "eye lash" yarn can be a bit confusing if you don't have a firm grip on knitting. But once you can knit, this is a fun project. It moves quickly and is a great project for gift giving. Have you child make a pile of them as holiday gifts for friends!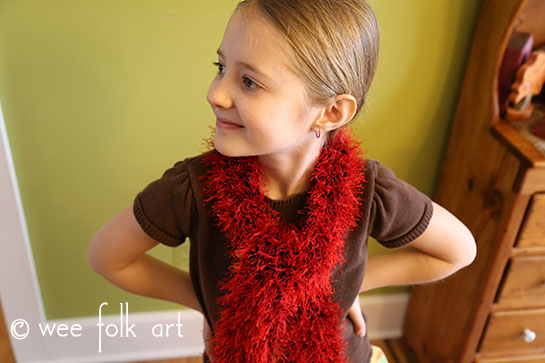 ---
Whether you share your house with gnomes, fairies, or miniature dolls, they will all appreciate a beautiful, cozy blankie. This is a simple knit blanket, with the added technique of changing colors. Won't your gnomes be thrilled to have a stack of these ready for cold winter nights?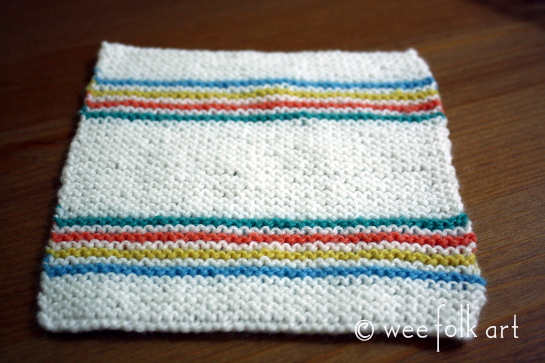 ---
One of the greatest joys about knowing how to do a particular craft is sharing that skill with others. Sometimes we share our knowledge with a young child, just starting our on their crafting journey. Sometimes it's with an old friend that just never got around to learning. We have found a wonderful way to introduce people knitting is to allow them to practice on our latest scarf in our family's community knitting basket. Follow the links to read more about this!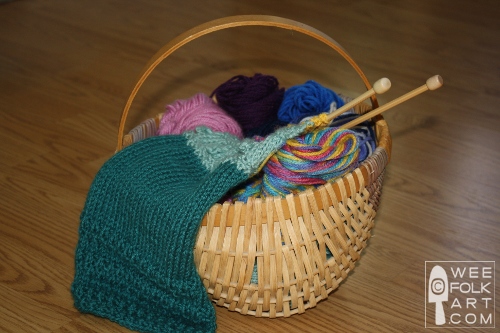 ---