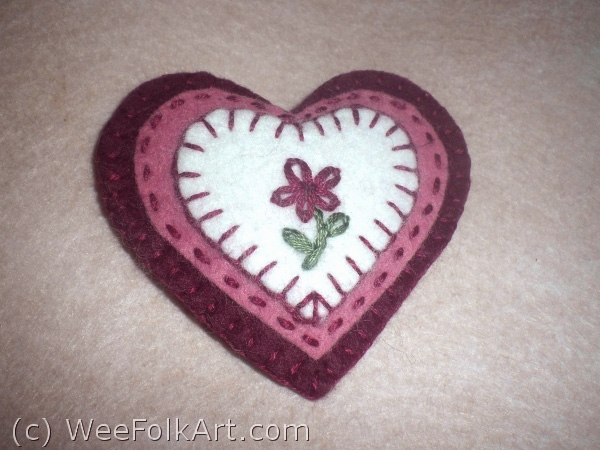 Materials:
Cranberry Wool Felt – small amount
Rose Wool Felt – small amount
Off White Wool Felt – small amount
Cranberry Embroidery floss
Green Embroidery floss
Stuffing – wool, cotton or polyfil – small amount
3/4" – 1" bar pin
Copy of Pattern
[1] Print pattern and use to cut felt as follows:
2 large hearts – cranberry
1 medium heart – rose
1 small heart – off white
[2] Using 3 strands of cranberry floss, blanket stitch small heart to medium heart.Transfer flower design to small heart. Using 6 strands cranberry floss, embroider flower on white heart using a lazy daisy stitch. Using 6 strands green floss, stem stitch stem, and use detached chains to add leaves.
[3] Attach medium heart to large heart using 6 strands of cranberry using a small running stitch.
[4] Pin the embroidered heart to the heart backing.Using 3 strands of cranberry floss, blanket stitch the front to the back leaving an opening as indicated on the pattern.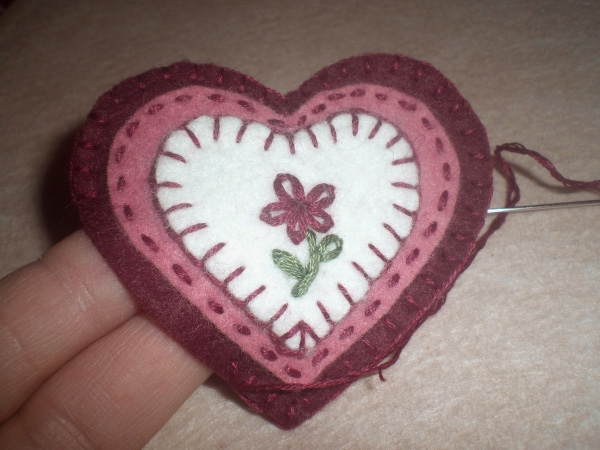 [5] Using a small amount of stuffing, stuff the heart to create dimension but do not overstuff. The heart should look stuffed, not bulging.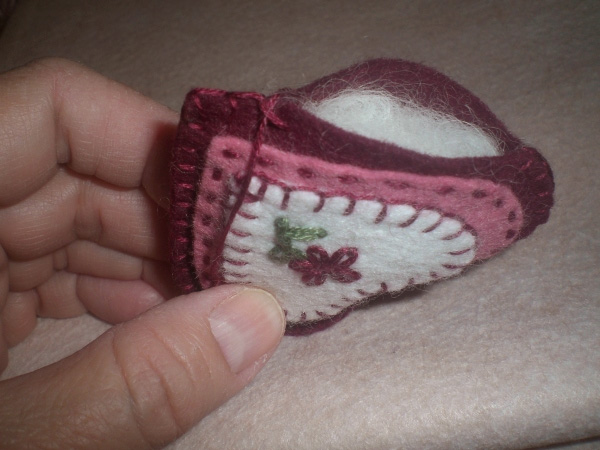 [6] Tack bar pin to the back of the heart as indicated on the pattern. Note: If you are making a necklace out of the heart, do not add the pin.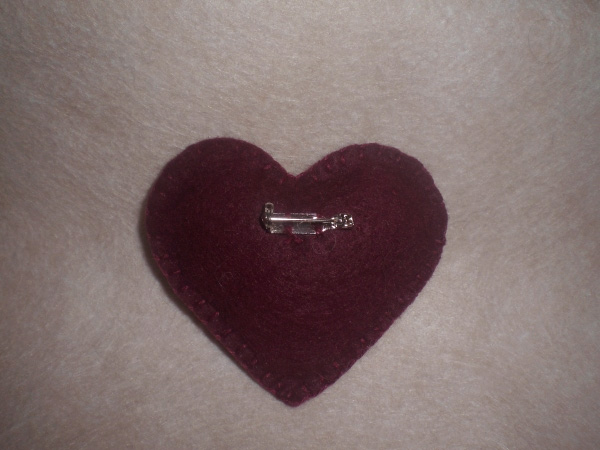 Note about patterns: We are sharing patterns we have designed and made for our own children, families and friends. Every effort is made to share information in a clear and accurate manner. We offer preemptive apologies for any mistakes that may be made. Please let us know via comments or emails if you stumble upon a mistake or if you encounter directions that leave your scratching your head! We will rectify the situation as soon as humanly possible!
www.WeeFolkArt.com
Copyright © Wee Folk Art 2008 – 2009. All rights reserved. All photos, text and patterns are copyright protected. You may not copy, reproduce or redistribute any material found on WeeFolkArt.com without written permission. KM Projects retains all rights. All projects, patterns and directions are meant for your personal use and neither the patterns nor completed projects may be used for personal gain.