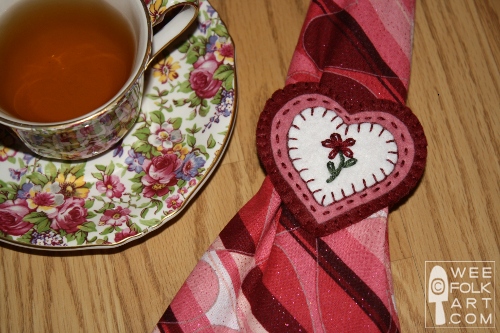 EDIT: This Give-Away is over. Thanks to everyone that participated, and a special thank you to Juile, at Prairied Point Junction for providing the materials for the Give-Away!
We weren't planning on having a Valentines Day Give-Away, but then we received an offer from Julie over at Wool Felt Central (A.K.A. Prairie Point Junction) which we couldn't refuse. For starters, she has kindly offered all Wee Folk Art readers 20% off regularly priced merchandise on all orders. How awesome is that? All you have to do is click on their cute little button up in the right hand corner of our home page and you receive 20% off. Makes building our felt stash doable! Then she said… "We'd also be happy to support another Give-Away if you perhaps have something dreamed up for Valentines Day. I bet you have tons of great ideas. You gals amaze me!"
Well, with that offer, what else could we do? So last night we "dreamed up" something special for Valentine's Day. One easy way to herald in any Holiday, is to simply set the table with Holiday themed napkins and napkin rings. Here are our go-to napkins… the old Rip and Tears. Easy and fast to make. Then, we reworked a heart motif that we had used last year for a necklace and brooch, and fashioned heart-shaped napkin rings.
Here is the Give-Away. Julie has put together kits for making 4 napkins and 4 napkin rings.
The kits include:
12" x 18" each of three wool felt colors (Red, Shocking Pink, and White)
2 skeins of floss
1 1/8 yards of the Valentine print for the napkins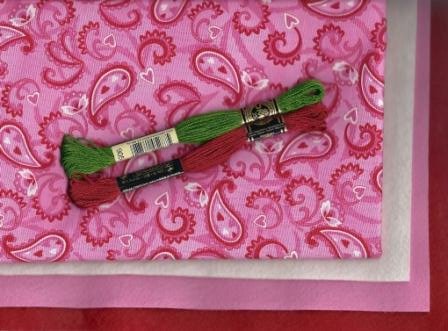 Such pretty fabric and colors! The value of the kits is $16.50, and she is donating 2 kits for this Give-Away. She is so great!

So… what do you need to do to enter this lovely Give-Away? Simple. Write a 5,000 word essay on Existentialism in the 21st Century OR choose any or all of the following methods to enter. You get 1 entry for each method.
1] Post a comment here (be sure to fill in your name… nicknames are fine).
2] Link to us through your blog, FaceBook, Twitter, Flickr, etc. Post one additional comment for each link. Make sure to include linking info.
3] Then, head over to Prairie Point Junction, visit Julie's blog HERE, let her know how awesome you think she and Wool Felt Central are, then run back here and tell us you did, and yep, another chance to win!
The contest will run from today, Tuesday, January 19 through Sunday, January 24, at 9:00 p.m. EST when 2 lucky winners will be chosen at random. Winners will announced on Wee Folk Art as soon as winners are determined and will also be notified via email. Winners have 1 week to contact us or another winner will be drawn. Directions for the Valentine Napkins and Heart Napkin Rings can be found HERE or with our FREE Patterns. Good luck to everyone!
BTW… even if you are not interested in making the napkins and napkin rings, the fabrics would make a wonderful addition to your stash! AND, Julie will have additional kits available for anyone interested in purchasing them for themselves or as a special Valentine's Day Gift! Thanks again, Julie!