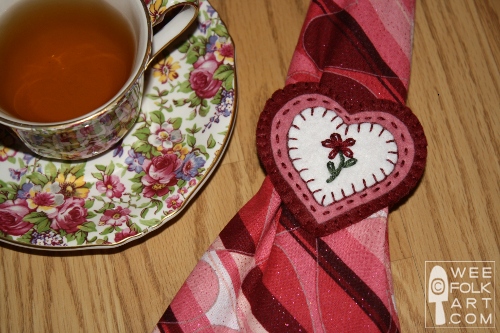 One easy way to herald in any Holiday, is to simply set the table with Holiday themed napkins and napkin rings. Here are my go-to napkins… the old Rip and Tears. Easy and fast to make. Then, I reworked a heart motif that I had used last year for a necklace and brooch, and fashioned felt heart shaped napkin rings. Buying 1 1/8 yards of fabric will give you 4 18″ square napkins.
Materials:
Cranberry Wool Felt
Rose Wool Felt
Off White Wool Felt
Cranberry Embroidery floss
Green Embroidery floss
1 1/8 yard Valentine print fabric
Copy of Pattern
Napkin Rings: (Makes 1 napkin ring)
1] Make a copy of the pattern and use it to cut felt as follows:
2 large hearts – cranberry
1 strap – cranberry
1 medium heart – rose
1 small heart – off white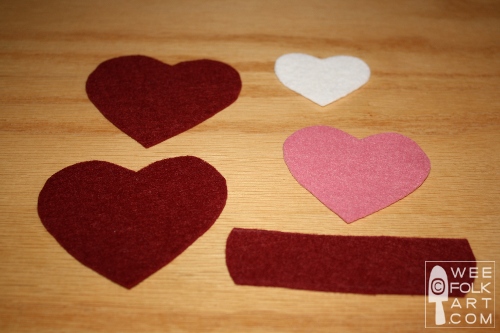 2] Using 3 strands of cranberry floss, blanket stitch small heart to medium heart. Transfer flower design to small heart. Using 6 strands cranberry floss, embroider flower on white heart using a lazy daisy stitch. Using 6 strands green floss, stem stitch stem, and use detached chains to add leaves.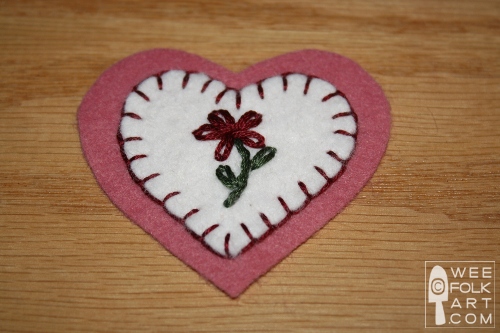 3] Attach medium heart to large heart with 6 strands of cranberry floss using a small running stitch.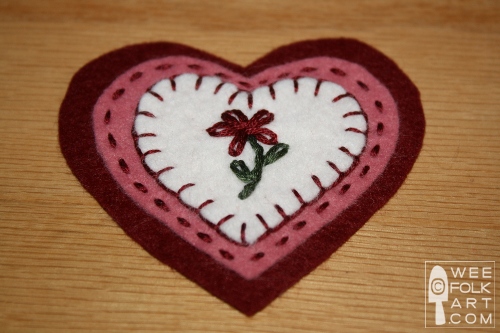 4] Using 3 strands of cranberry floss, sew a running stitch along the 2 long sides of the strap. This will help it from stretching out of shape during use.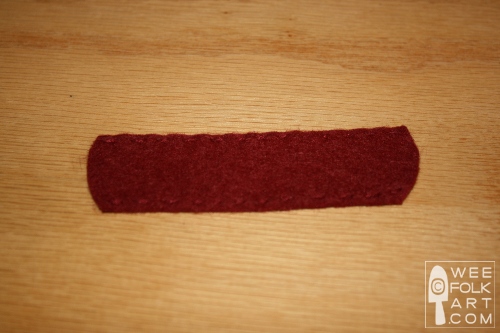 5] Following the pattern placement, pin the strap to the back heart. The strap will bow. This allows room for the napkin. Make sure the strap is right up to the heart's edge.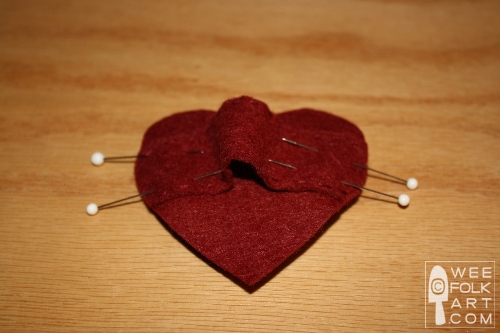 6] Pin the embroidered heart to the heart backing with wrong sides together. Using 3 strands of cranberry floss, blanket stitch the front to the back. Make sure you are stitching through all 3 layers when you come to the strap.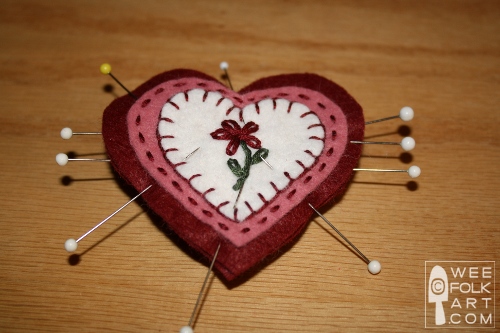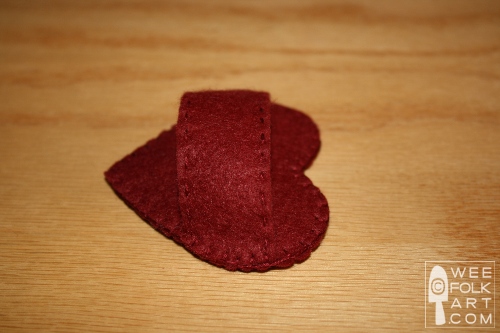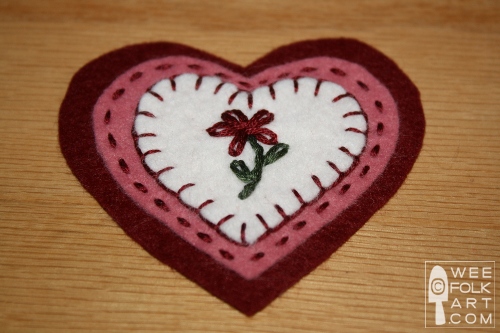 Napkins:
Follow the directions for the Rip and Tear Napkins found HERE. 1 1/8 yards of fabric will make four 18″ square napkins.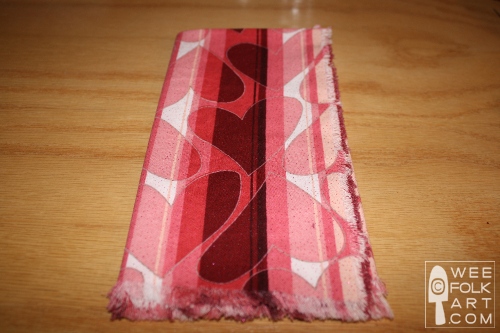 Assembly:
Grab the napkin by the center and thread through the napkin ring so the bottom of the heart is pointing to the raveled edge of the napkin. The napkin ring should rest in the middle of the napkin.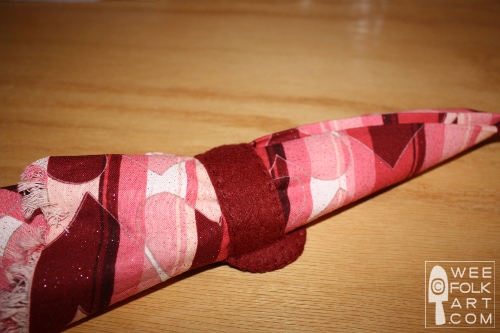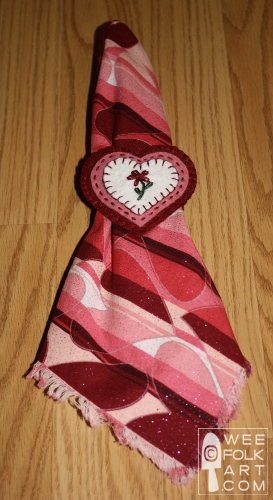 OUR "DISCLAIMER"! We are sharing patterns we have designed and made for our own children, families and friends. Every effort is made to share information in a clear and accurate manner. DUH, right? But we are only human, although I often long for superhuman powers, and as humans, mistakes will be made. We offer preemptive apologies for any aforementioned mistakes. Please let us know via comments or emails if you stumble upon a mistake or if you encounter directions that leave you scratching your head! We will rectify the situation as soon as humanly possible! Before beginning any of our patterns, think of yourself as a Beta Tester. We do not have a staff, editors or even volunteers that are crafting our projects before we share them. YOU are the first to have a go at them. As such, other than a heartfelt apology, we accept no responsibility for mistakes made, or in an extreme circumstance, for time or supplies wasted. Please tackle our projects in the same manner that we are sharing them, with a spirit of goodwill and global friendship!

https://www.weefolkart.com
Copyright © Wee Folk Art 2008 – 2010. All rights reserved.

All photos, text and patterns are copyright protected. You may not copy, reproduce or redistribute any material found on WeeFolkArt.com without written permission. Wee Folk Art retains all rights.