This past weekend Tim and I headed out to visit my youngest son and his wife in Wisconsin. The children always "Come Home" for the holidays, and we never get a chance to share their holiday decorations. So, this year, we took a long weekend, drove the 7 hours, and had a lovely weekend! It was wonderful seeing their "decked halls", playing with their friends, and watching them observe their own newly growing traditions. One of the things that tickled me the most was watching them make cookies. They worked side by side in the kitchen, one tackling the gingerbread dough; the other Russian Teacakes. (I'll be sharing both recipes soon.) As I watched them I couldn't help but note differences and similarities to our family traditions.
There, on their counter, was their laptop. The screen was split; gingerbread recipe on one side, Russian Teacakes on the other. And, I thought of past generations. My grandmothers seldom worked from recipes, but rather baked from memory and "feel". My mom always had a recipe book propped open in some corner of the kitchen. I print off recipes from our family website. And my children bake directly from their computer. (BTW… since my baking habits could never be construed as "neat" and are usually "full bodied" this would NEVER work for me. My poor laptop would be gunked up first time around!)


But on the other hand… they were still carrying on family traditions… baking together and following recipes that have been in the family for generations. And, I might add, turning out some truly scrumptious cookies. My grandmas would be proud. It was hard leaving them, but it made it easier knowing they would be home soon for the Holidays!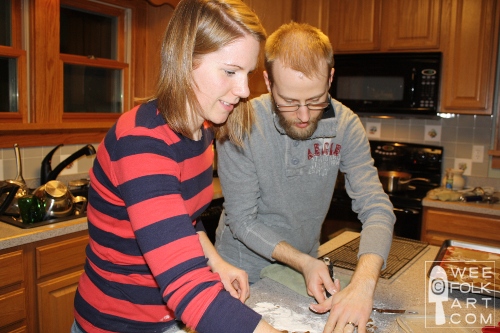 One of the "unintended consequences" of 14 hours in the car and 3 nights of Christmas movies… I was able to design and make a new scarf and a pair of mittens… for ME! I just got a new black pea coat and I wanted to soften the color with a pretty pink. Because the scarf and mittens are a solid color, I added interest in a simple, but lovely checkerboard pattern. I'll be sharing the instructions for these as soon as I wade through my notes and write them up in some coherent manner!