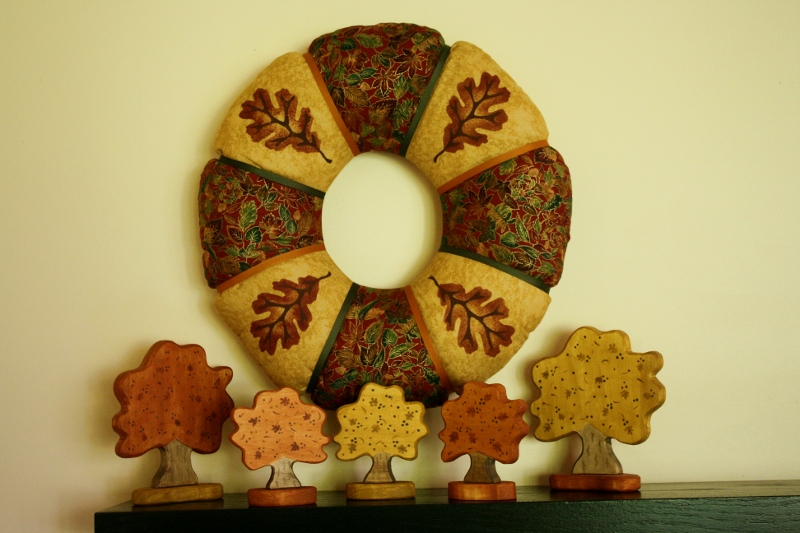 A couple of months ago we were contacted by Rhythm of the Home and asked to submit a project for their Autumn Edition. We were very excited to participate since we so enjoy the publication. If you are not familiar with Rhythm of the Home, here is a description from their website:

"Rhythm of the Home is a quarterly online magazine. Our focus is to unite a readership which is interested in Waldorf or Montessori education, or simply living intentionally and hoping to incorporate a rhythm and reverence for the natural world in the lives of their children. Each edition will publish seasonally, with articles and projects dedicated to incorporating the upcoming season into the family's rhythm."
The hard part was trying to decide what to make. We decided to share something that anyone could use to celebrate the season. Michelle and I love to use wreathes in our decorating. The wreath, a symbol of eternity, reminds us of the circle of life; of how one season flows into another, only to return again and again. So, we designed the Autumn Oak Leaf Wreath, combining sewing and stenciling. To get directions for this wreath visit Rhythm of the Home.
And while you are there, pay a visit to their blog. As an extra bonus, they are hosting a giveaway featuring handmade goodies from some of this edition's contributors. They asked for a giveaway that directly related to the submitted project, so we created two over-sized Maple Leaf Potholders, using the same fabrics and stenciling techniques as our wreath. You can sign up to win our potholders or any of the other giveaway items being offered from Rhythm of the Home blog.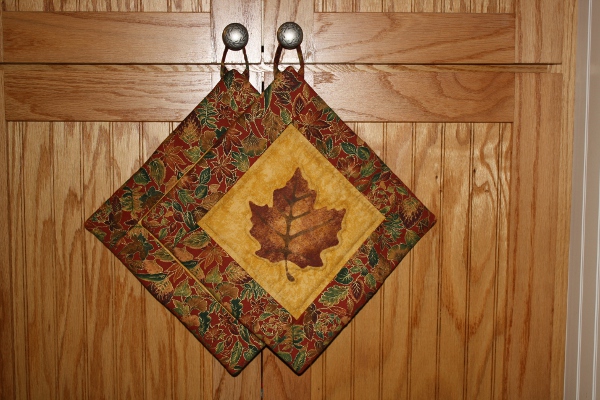 It has been a lot of fun crafting and contributing to another publication. You can now visit Rhythm of the Home to find our tutorial for the Autumn Oak Leaf Wreath and check out all the other wonderful crafts being shared to help us celebrate this beautiful season!