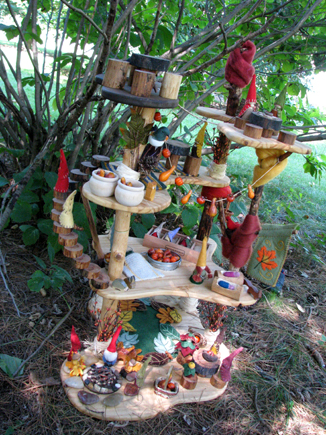 On the edge of our yard, where the lawn meets the woods, lies The Thicket. The Thicket is filled with pines and witch hazel, raspberries and forsythias, lindens and maples, and makes a delightful home for countless woodland creatures. In The Thicket, many Wee Folk, including fairies and gnomes, pixies and the occasional troll, live with an assortment of furry friends including deer and rabbits, raccoons and hedgehogs, mice and chipmunks, squirrels, and yes, even skunks! Birds of all types inhabit the trees and bushes, and toads and turtles find solace in the underbrush. 
Another creature can often be found in this magical world. Although they do not dwell there, they are frequent visitors and are well loved by the woodland creatures. They are children. 
Join the Wee Folk in The Thicket. All they ask is that you tread carefully, talk quietly, respect their privacy and listen to their Thicket Tales.