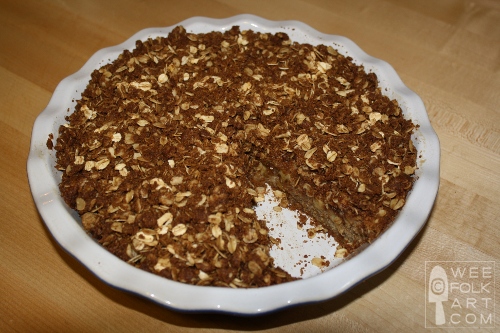 I would like to thank Katie for sharing her family's recipe for Apple Crumble Cake. She made a comment about it on our Apple Appliqué Block, and I asked her if she would share. She did and I made the Apple Crumble yesterday. It was a monumental success! My 8 year old niece told me it was the best cake she ever had. Hey, that's saying something, right? Just an FYI thing. I am including the recipe supplied by Katie. I am including her notes at the end. You will notice that I included in parentheses the tablespoon equivalents that I used for butter. This definitely was an easy recipe to prepare. I must admit when I "squished" it in the pan, it didn't seem like there was enough batter to hold it together… but I was wrong. It turned out to be a surprisingly firm cake. I also took Katie's recommendation and doubled the topping. Definitely the way to go. So… if you get a chance, try this! It smells like fall and tastes like heaven. Enjoy!
Apple Crumble Cake
Cut 3 large apples into bite size pieces (skin on or off, your choice) and mix with
115 grams of melted butter (8 tablespoons = 1 stick)
1 egg
1.5 cups of plain flour
1 cup of raw sugar
1 teaspoon of baking powder
1 teaspoon of cinnamon
0.5 teaspoon of nutmeg
0.5 teaspoon of mixed spice
Stir thoroughly, squish into a greased cake tin and bake at 180 degrees Celsius for 40-45 minutes. (350 degrees Fahrenheit.)
Topping
Mix together in a bowl
0.5 cup of brown sugar
0.5 cup of oats
1 teaspoon of cinnamon
30 grams of melted butter (2 tablespoons)
Sprinkle topping over cake and bake for a further 10-15 minutes.
The kids love it when you double the topping. I also make this in muffin tins but be sure that they are greased really well and that you do not fill them too deep as the topping mixture needs to fit within the paper case if you are planning on transporting them anywhere, picnics etc.
I hope that you enjoy! I still remember as a child mounding up the autumn leaves and flopping down into them! I am a little too afraid of hitting the ground these days 
PS Australian measurements given; so an egg weighs 60 grams, 1 cup equals 250 millilitres and 1 teaspoon equals 5 millilitres. We always work on the basis that 30 grams equals one ounce.