Here are the final directions for finishing your Winter Blues Buster Gift Box which include the Snowmen Napkins, Scarf Napkin Rings and Snowflake Wool Penny Coasters. All the crafts are easy, with the coasters being the most time consuming, but considering they are easy peasy to make, it's hard to complain!
Snowman Napkins:
To make these, find the perfect fabric. Thick, high quality calicoes work the best. Simply follow the directions for our Rip and Tear Napkins.


Scarf Napkin Rings:
If you found a fabric that has snowmen with scarves, use the scarf color for your napkin rings. If there are no snowmen or scarves in your print, simply pick a compatible felt color. For each napkin ring, cut felt 1 1/4″ x 13 1/2″. Using a running stitch and 6 strands of floss, sew around the edge of the felt piece, with the stitching stopping 1″ away from the two short edges. You will be topping stitching a long rectangle on the scarf. Hide loose threads inside the felt. Fringe the edge by cutting strips into the short sides of the scarf up to the top stitching. Tie the scarf around the napkins using a square knot. (Right over left, left over right 🙂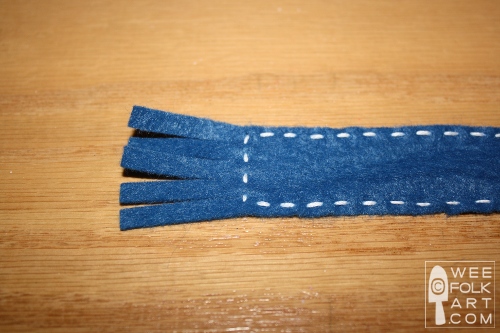 Snowflake Wool Penny Coasters:
Pick out wools to match your napkins. Follow the directions for our Wool Penny Coasters except embroider a 6 pointed snowflake on the small circle instead of a 8 pointed star. Add a French Knot to the end of all 6 points. Stack 4 completed coasters and tie with 1/4″ ribbon.


That's it! The Gift Box includes: Hot Chocolate Mix with a Calico covered Mason jar. 4 mugs… purchased at the Salvation Army. 4 Rip and Tear Napkins with 4 Scarf Napkin Rings. And 4 Snowflake Penny Coasters. The items are packed in a box, with recycled paper I put through my paper shredder! This would make a super gift to give to a friend or to save for your own family to enjoy come January!
Note about patterns: We are sharing patterns we have designed and made for our own children, families and friends. Every effort is made to share information in a clear and accurate manner. We offer preemptive apologies for any mistakes that may be made. Please let us know via comments or emails if you stumble upon a mistake or if you encounter directions that leave you scratching your head! We will rectify the situation as soon as humanly possible!
https://www.weefolkart.com
Copyright © Wee Folk Art 2008 – 2009. All rights reserved.
All photos, text and patterns are copyright protected. You may not copy, reproduce or redistribute any material found on WeeFolkArt.com without written permission. Wee Folk Art retains all rights.