To make this wooden apple orchard toy set you will need to use a scroll saw, a dremel and a drill. I am a VERY novice woodworker, and have no tips or suggestions for how to use this equipment. I'm learning as I go, trying to be as careful as possible, but would not even begin to try to teach someone how to do this stuff. I'm having this total tension issue with the saw blades and keep breaking them. But I will get the hang of it, and I will get better.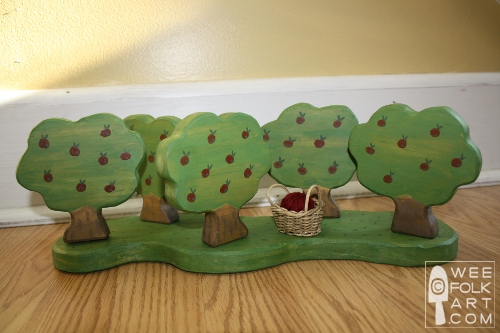 So, here's the deal on the instructions. (Hmmm… think I'm giving a disclaimer!!!) Basically, I'm giving you the pattern that I designed to make this wooden apple orchard toy set. I'll tell you what I did, even share some lovely photos, BUT, this is not instructions on how to use the tools. I'm thoroughly enjoying this, and finding it easy, with delightful results. BUT PLEASE BE CAREFUL!
NOTE: The apple trees can stand by themselves without a base, so, making an apple tree orchard toy base is optional. HOWEVER, the trees do not stand well on carpet so the bases really help stabilize them. There are 2 base patterns included. A base for 1 tree and a base for 5 trees. Your choice.
Wooden Apple Orchard Toy Materials:
wood – I used 1″ x 6″ pine scraps but you can use any solid wood – not plywood
paint – I used milk paint – use non toxic paints
finish – I used an all natural olive oil and beeswax finish – use a non toxic finish
1/4″ dowel rod if you are making a base
wood glue if you are making a base
apple tree pattern
Wooden apple orchard toy tools and equipment:
scroll saw
dremel
drill
fine sandpaper – I used a sponge sandpaper block
safety glasses
face mask
Directions on how to make wooden apple trees:
1] Make copy of pattern. Cut out pattern pieces. Tape the 2 pieces of the base together.
2] Trace pattern pieces on wood. (You can either trace with or against grain. HINT: If you're making multiple trees, do them all the same to give a unified look to your project.)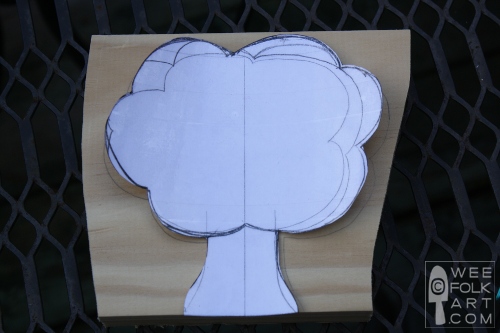 3] Cut out the pieces using a scroll saw. NOTE: Check out the pics below. THEY ARE NOT PERFECT! See how I didn't stay on line all the time! This project is an "ish" thing. They do not need to be exact to look great when you're done!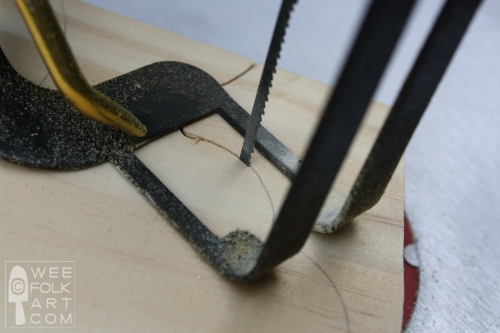 4] Using the dremel, soften the edges by using the dremel at a 30 – 45 degree angle. Take the edges down enough so you can see the angle but be careful not to overdo it! (Which is easy with a dremel!) This does not need to be perfectly smooth. Imperfections give a lovely hand hewed look to the project! Make sure you are wearing safety glasses and a face mask. I didn't use a face mask on my first tree and I was coughing up sawdust the rest of the day!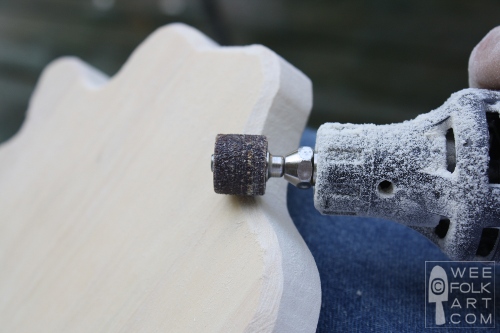 5] Use the dremel to lightly sand the flat edges, just enough to remove scroll saw marks.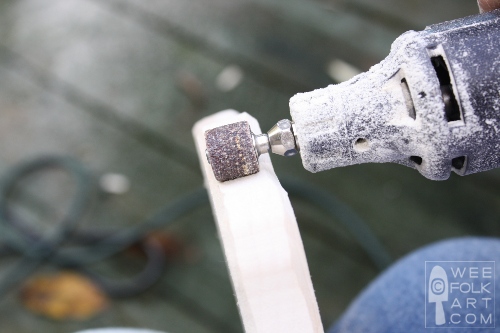 6] Go over the whole piece with fine sandpaper.


7] The piece is now ready to paint. Use the directions for painting the wood found in our Building Blocks – Painting the Blocks tutorial. I used milk paint on my trees. When adding apples to your trees, you do not need to exact. Each tree can, and probably should, be a little different. Get creative. Add as much or as little detail as you like.


8] Seal the wood. Following the directions for finishing the wood found in our Build Blocks – Finishing the Blocks tutorial. In the directions you will find my recipe for an all natural finish that I use all the time! 
9] If you are making a base, mark the hole placement on the bottom of your tree and in the base. Using a drill with a 1/4″ drill bit, drill holes 1/2″ deep. (Refer to pattern.)
10] Cut your dowel rod into 1″ pieces. Using wood glue, glue the dowel rods into THE BASE! (Do not glue them into the trees because you want them to be able to stand up without the base.)