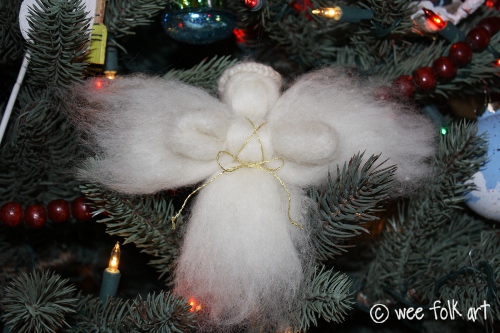 NOTE: Since we are reading the book The Littlest Angel for Advent this week, it seemed very appropriate to share this Wool Roving Angel now!
I can't remember a time in my life when I wasn't crafting. Whether I was knitting… I learned very early thanks to Grandma Pearl… or sewing clothes for dolls and trolls from Mom's scrap pile, I was always crafting something. One of my most special holiday memories each year was when my mom would pull out her crafting box with felt and glitter, floss and sequence, and we'd sit around for hours making Christmas ornaments. Even in college, I was forever working on a quilt or afghan, but it wasn't until I was married and had my first 2 children that I discovered the joy of crafting with other women. I moved into an area where women actually got together, taught each other new skills, and enjoyed the warmth and friendship that always seems to emanate when a group of people get creative together.
I remember one of the first things I crafted with the group were these Wool Roving Angels. Depending on the size you made, they could be used as ornaments or as a tree topper, by inserting a thick paper cone under the "skirt" of the angle. As a matter of fact, for years I kept 2 of them sitting on a table in our foyer. We hope you enjoy!
NOTE: We found this project to be harder for the children to do than anticipated. Although they worked along with us and enjoyed themselves, there were many parts they needed help with. I would say this would be a good craft for 8 year olds and up.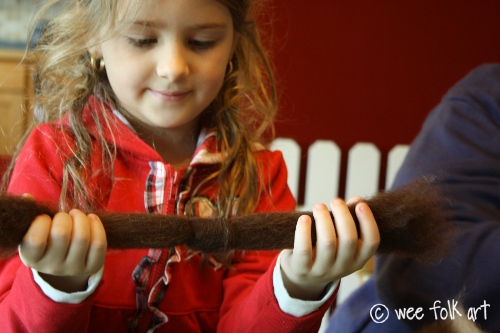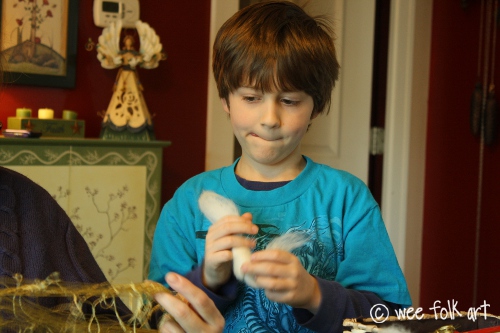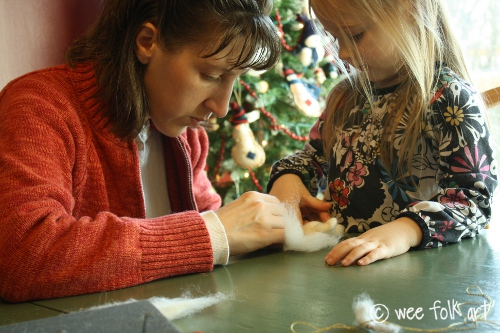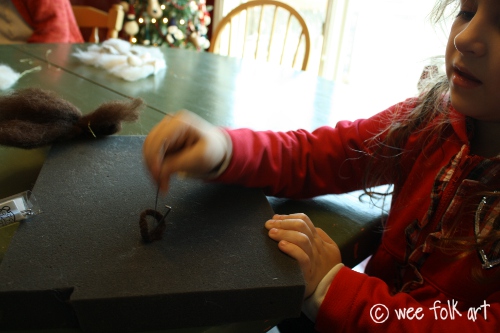 Materials:
wool roving
thread (I used metallic gold)
transparent nylon thread of fishing line to make a loop to hang on a tree
NOTE: I am sharing directions for making approximately a 4″ angel. Obviously, they can be made larger or smaller depending on the amount of roving you use. Also, you may either "blunt cut" the wings and skirt hem for a neat finished look, or leave them "whispy" for a more ethereal look. Just play with them until you get the desired look! Personally, I love the "whispy" look you get from ripping your roving instead of cutting it.
Directions:
Cut or rip 3 pieces of roving; one 12″ long and two 6″ long. (The roving was approximately 2 1/2″ wide.)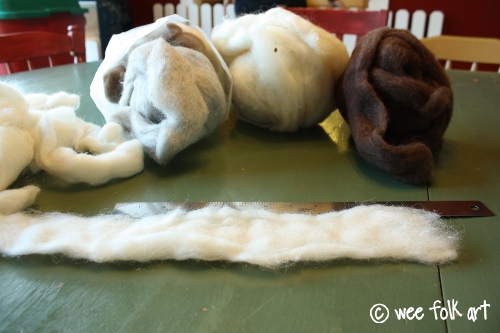 Tie a single knot in the middle of the 12″ piece.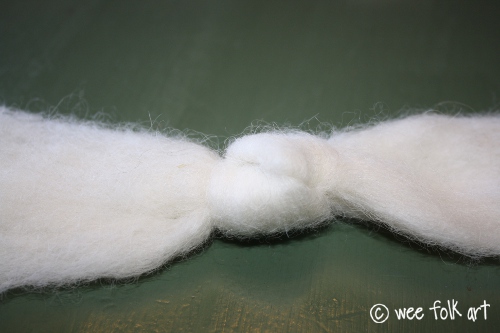 Fold the knotted piece in half, hiding the knot.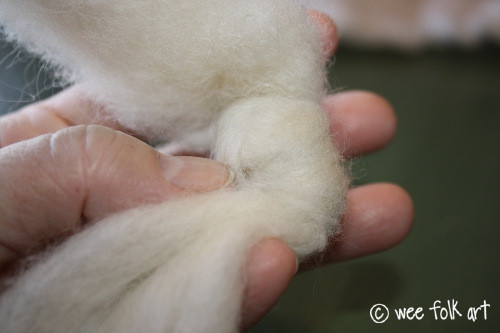 Using a piece of string 36″ long, tie off the head. DO NOT cut the thread. This will be the back.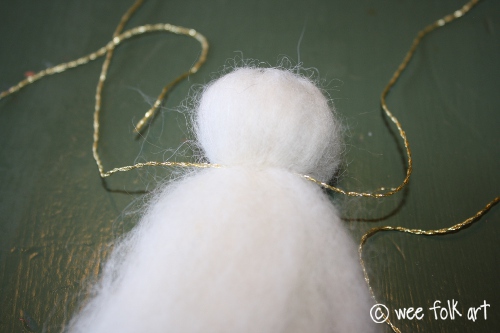 Take one of the 6″ pieces and pull apart lengthwise.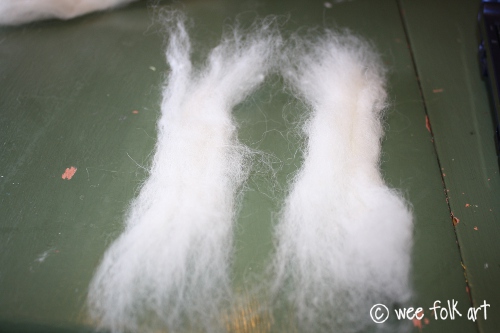 Loosely twist one of these pieces, then bring the 2 ends to the center and hold together.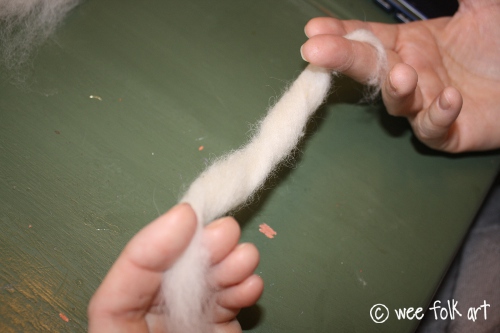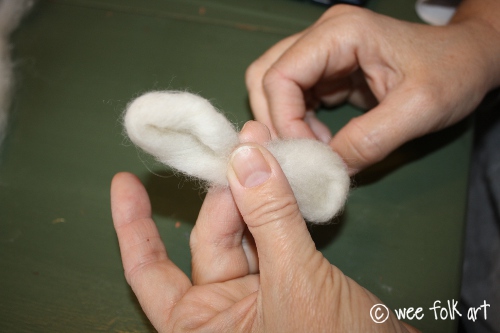 Use a loose piece of roving from an end and wrap it around the middle. This will hold it in place and make it easier to work with.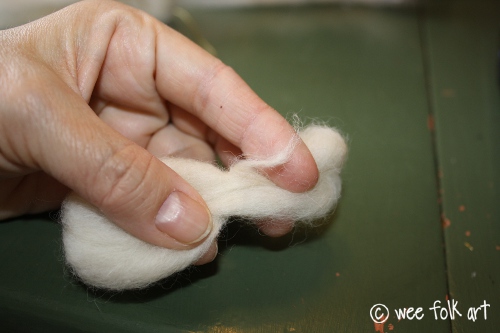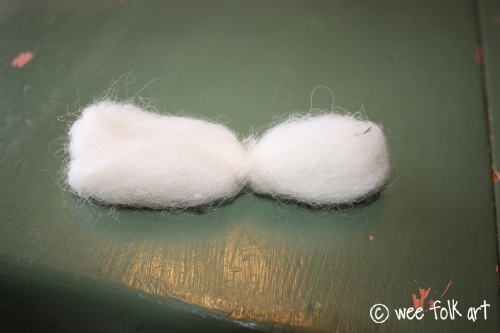 Lay the angel on its front side and lift the back flap.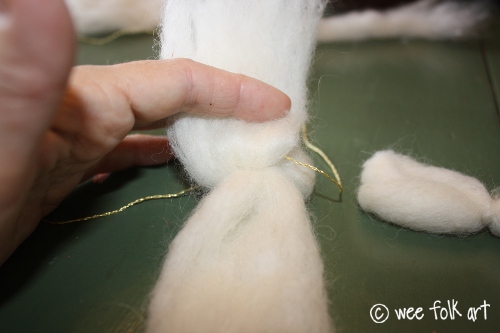 Place the arms inside the body near the head.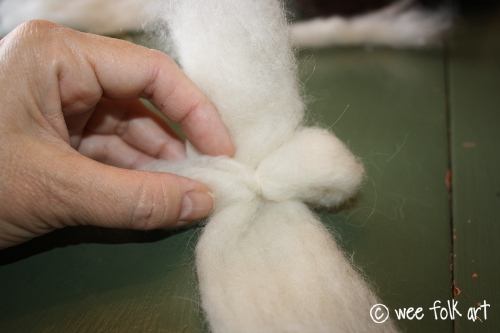 Take the remaining full piece of 6″ roving and set it over the arms. This will be the angel's wings.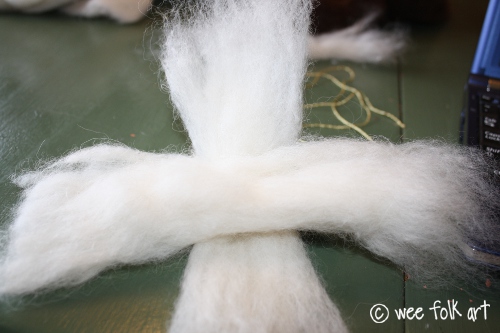 Drop down the back part of the body you had raised.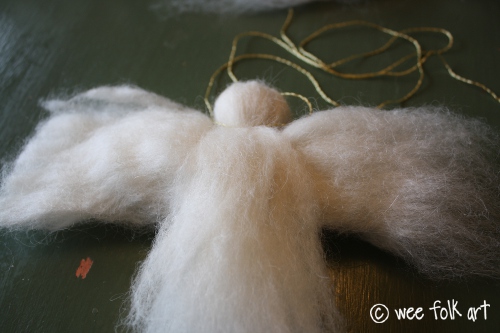 Turn the angel over, holding it firmly under the arms and wings.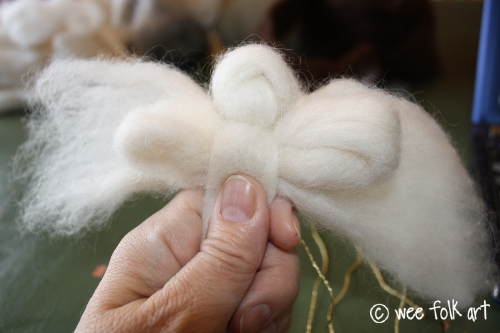 Using the thread, criss cross the thread on the back and bring around to the front and tie at the waist. Then continue to tie front and back until the arms and wings are secure and you have a pleasing look to the angel. Finish by ending up at the waist in front. Tie in a bow leaving streamers. Tie off the streamers so they don't fray.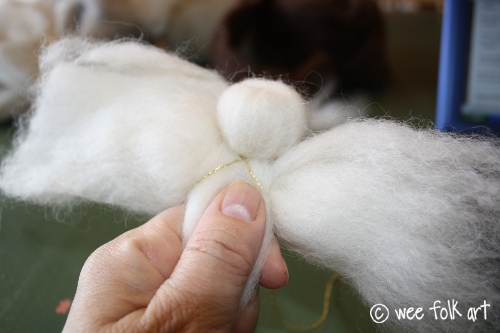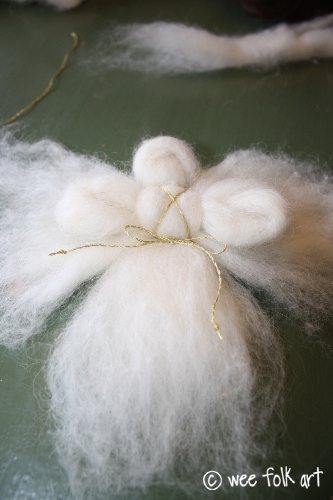 Cut or pull the ends of the skirt and wings to desired shape.
If you would like to add a halo, knot the end of the remaining piece of roving, divide into 3 sections, and tightly braind.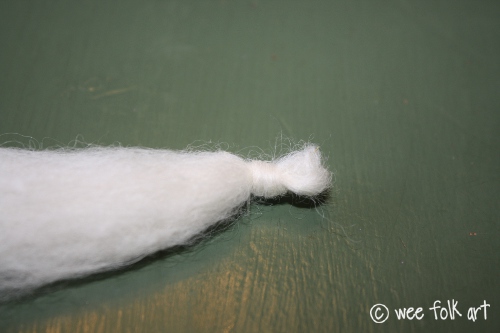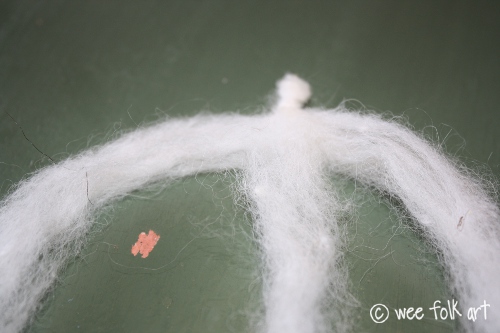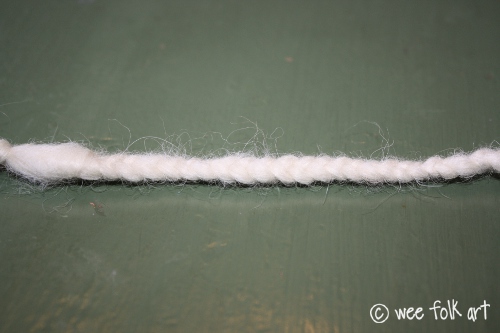 Size to the angel's head overlapping the ends 1/2″. Cut off excess, and needle felt the halo into a circle.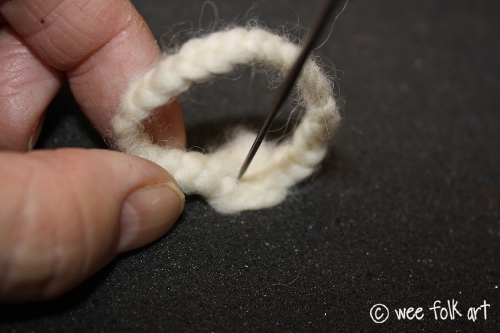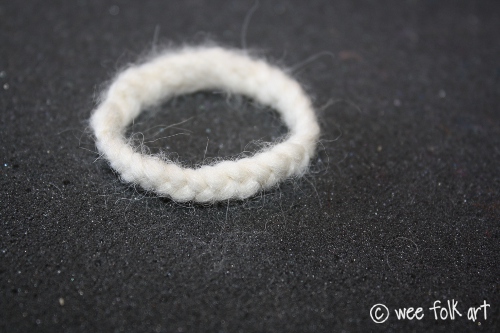 Position the halo on the angel, and gently needle felt the halo in place in 3 or 4 spots. Be careful not to flatten the head. It does not need to be securely fastened, just enough so it doesn't fall off!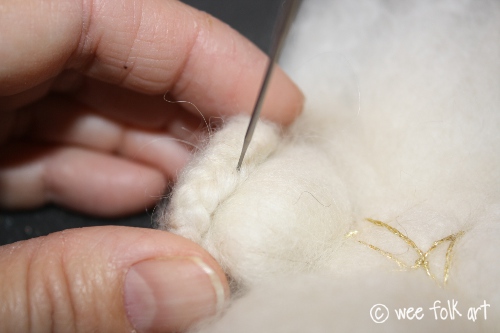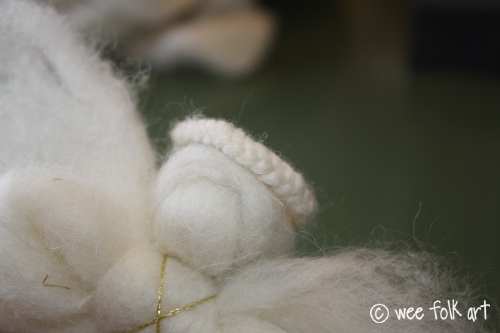 If you want the hands more defined, you can either needle felt the hands or tie them off with string. You can always position the hands together or make them holding something. This can be done by needle felting or stitching them in place.
To hang on a tree, use clear nylon thread and make a loop on top of the head. Go deep enough into the head so you aren't pulling on just a few strands of roving. If you want the angel to "fly", attach clear nylon thread to the back of the angel.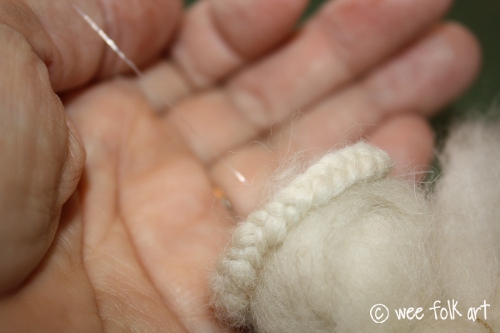 Tomorrow… Primitive Angel Applique Block
https://www.weefolkart.com
Copyright © Wee Folk Art 2008 – 2010. All rights reserved.
All photos, text and patterns are copyright protected. You may not copy, reproduce or redistribute any material found on WeeFolkArt.com without written permission. Wee Folk Art retains all rights.