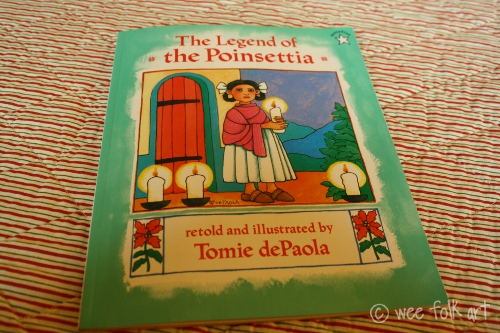 The complete list of our Advent Celebration activities can be found HERE.
Poinsettias and candy canes, mangers and evergreen trees are all symbols that have come to be associated with Christmas. Some symbols are pulled from history, others from fantasy, and some have been borrowed from other celebrations. Just like learning about how Christmas is celebrated around the world, learning about the significance and origins of the symbols associated with Christmas is fascinating and meaningful. This second week of Advent we are using The Legend of the Poinsettia to begin our discussion on Christmas symbols.
WEEK 2 – Symbols of Christmas
The book: The Legend of the Poinsettia
The craft: Weaving a small blanket (scrap yarns for a 3″ x 5″ blanket)
The applique: A poinsettia
The recipe: Sopapillas
I can remember as a child wondering if Jesus had a Christmas tree and what kind of gifts he wanted Santa to bring. There are so many traditions and customs associated with Christmas that it is almost impossible for a child to separate secular from religious. Let's face it, it is hard to do as an adult!  And there are so many icons that have become synonymous with Christmas like trees, wreathes, candy canes, presents, angels, and even poinsettias that their significance is often lost.
Whether you celebrate Christmas as the birth of Jesus or simply embrace the season, I think it is important for children to understand why certain icons are associated with this time of year.  Sharing both fact and legend helps us all better understand  the season and helps delineate between secular and religious celebrations.
There are many wonderful Christmas books for children that share both fact and legend. One of my favorite authors/illustrators of children's literature is Tomie dePaola. His bold, beautiful colors and folksy illustrations are so appealing to children. As a starting point for discussing Christmas symbols, we read dePaola's The Legend of the Poinsettia.
In this book dePaola shares the Mexican folk tale of how a little girl's loving heart brings about a miraculous event. When the local priest asks the little girl's mother to weave a new blanket for the parish's Baby Jesus figure to be used in the Christmas procession, they are thrilled and honored. They will present this blanket as a gift the night of the Christmas procession. When the little girl's mother becomes deathly ill, she tries to complete the blanket, but ruins it instead. Crushed and embarrassed, she hides out the night of the Christmas procession. When a mysterious old woman tells her that "Whatever you give, the Baby Jesus will love, because it comes from you", the little girl gathers up some weeds that she takes as a gift. That night, a miracle occurred, turning a gift of weeds into the beautiful poinsettia plants.  The poinsettia, which is said to resemble the Christmas star, has become one of the most famous symbols of the Season.
Do you have suggestions for other books that discuss the sysmbols of Christmas that your family enjoys?
Tomorrow… weaving a small blanket