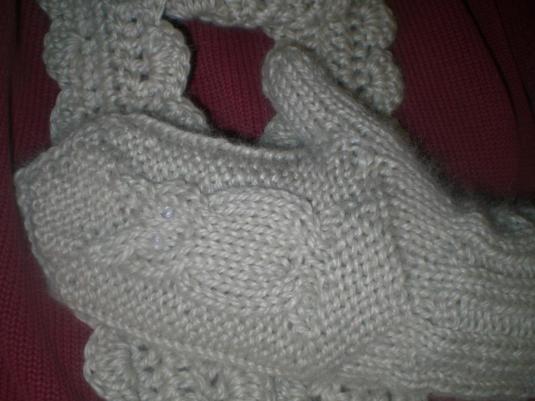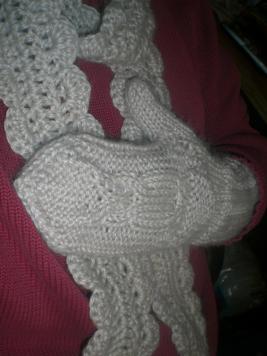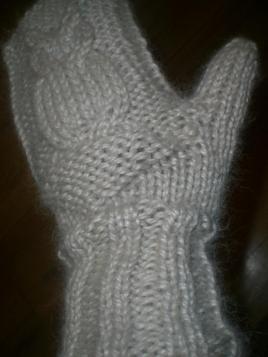 I've learned 2 very important things in the past 24 hours. First, I'm as allergic to alpaca as I am to wool, and second, apparently my pictures turn out just as good when I'm blindly flailing the camera around as when I painstakingly try to control focus and lighting!
Yesterday, I decided to sneak in one more homemade gift. I hit my lovely local yarn store, Ewe-Nique Yarns, how cute is that, and they told me some people who are allergic to wool aren't allergic to alpaca. And this yarn felt oh so good! Debbie Bliss's Alpaca Silk. I thought, "Nothing that feels THAT good would ever hurt me!" Well, 24 hours later, I'm totally congested, my eyes itch, and any where on my body that made contact with the yarn, (and wasn't coated in Liquid Gloves), is red and itchy. Having said that, I will sing the praises of alpaca. It is such a lovely yarn to work with, and if you don't have my unreasonable constitution, lovely to wear.
And about my photography abilities…I bet you can't tell the difference between the pictures I tried to focus and those where I held the camera at arms length and Willy Nilly snapped. A rather depressing and sobering thought! Obviously, I've been going about this photography thing all wrong!
Anyway, I love how the mitts and scarf turned out. The scarf is the crocheted "One-Skein Scarf" in The Happy Hooker. I had made a couple of them last summer when I was learning to crochet. (I still consider myself a beginning student of crochet!) The mittens are from a free pattern from Kelbourne Woolens. They are so cute and nicely shaped…the shape has become my favorite mitten pattern…I will be making them again.
As far as time goes…the mitts probably took me 8 hours to knit, and the scarf 3. Hope everyone is progressing nicely on their projects! (BTW…I'm far from done…but beginning to see the light at the end of the tunnel!)