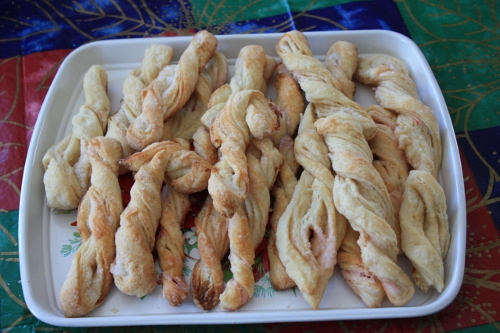 I was very excited to see this kefil recipe. It is unlike any cookie I've ever made. How cool is that? Chiska shared this recipe and gave us a lovely little story about how it came to her family. I can't wait to give this a try. Thank you so much, Chiska, for this lovely contribution!
I wasn't sure if there was still time, but I wanted to send you this recipe and finally got it made so I could take a picture. Thanks for sharing all the fun recipes.
This cookie is a recipe that my mother's aunt made for Christmas. Her "kefil recipe" didn't exist and so my Mom tried to come up with her own and then eventually found a recipe that also revealed it's name, Kefil and it's German origin. It's the cookie that gets made when there's no time for anything else. I was a little nervous about involving my 4 year old this year, but it was great fun. He spread sugar and got to use a pizza cutter to cut the cookies with a little help. We used a bash-n-chop as a straight edge to try and get the sort of uniform.
Edit: Chiska just shared her blog with us. Pay her a visit at Muddy Spring 🙂
Aunt Margaret's Kefil Recipe
3 1/2 Cups flour
1 Teaspoon salt
1 Cup Butter
1 Tablespoon yeast
1/4 Cup water
Full Small Container of Sour Cream (original recipe calls for 3/4 Cup if you'd rather not have so much sour cream)
1 Whole egg
1 Teaspoon vanilla
1 Cup of sugar (this varies a little depending on how much you sprinkle on it, I tend to use more)
Kefil Recipe Directions:
Dissolve yeast in 1/4 cup water. Combine flour and salt, cut in butter as you would for a pie crust. Add dissolved yeast, sour cream, egg and vanilla. combine thoroughly by hand.
Cover with a damp cloth and refrigerate for 2 hours.
Roll into large rectangle, sprinkle with sugar (think cinnamon rolls), fold into thirds, roll again. Sprinkle with sugar, fold in thirds again. Repeat one more time. After the third sprinkling fold into thirds and roll lightly, sealing the edges. (This should be a smaller rectangle). Then cut into strips and twist.
Place on greased cookie sheet. Bake at 375 degrees for 15 minutes. Baking time at my high altitude (about 6800 feet) is about 22 minutes.
I recommend removing them from the cookie sheet as soon as you can after removing them from the oven. They tend to stick even to the greased cookie sheet.