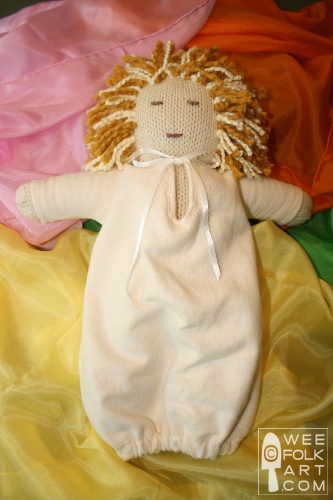 The next two weeks are non stop busy. Time to put away the crafts and focus on what's important, right? Well, for me, crafting is important. And the busier I am with life, the more important crafting becomes. It's how I find balance. It gives me serenity.
That is why, at the beginning of my week, with enough on my plate to sate an elephant, I decided to make 1 more shower gift for the Little Lady. Meet Baby Doll. (Name to be given someday by her mommy!) Her body was knit from merino wool and her hair is a combination of organic cotton and bamboo. Her little sleeper was made from organic cotton flannel. She is so soft and cuddly. I know that someday the Little Lady will love her dearly 🙂
I don't have time to share the pattern right now, but I did want to share the Baby Doll before she left for her new home on Saturday. The doll was made using our Basic Knit Doll pattern with a few changes. I knit it in the round instead of flat, I added hair, and a face. I also made a very soft little sweet-pea sleeper. I'll be sharing the directions soon.

Just a note… in the past, whenever I've crafted toys, they have always been for Michelle's children. For the past several weeks, Bug, Fairy and Pixie have been watching me create things, then put them away for the Little Lady. Although they totally understand the logic behind this, it is a little difficult sharing my creations. Both girls fell in love with Baby Doll. Although they know this one is being given away, they have both made requests for dolls for their fall birthdays.
"No problem", I tell them. "What color should I make the hair?"