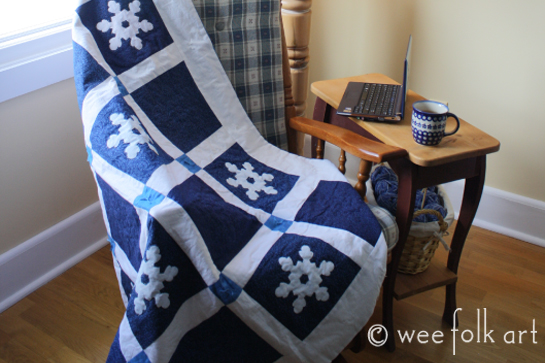 Here are the directions for turning those freezer paper stenciled blocks into a toasty warm blankie. Of course, you are welcome to make up your own quilt pattern, too. Just a head's up, this isn't a step-by-step tutorial on how to quilt (I didn't take photos along the way and actually… this is a pretty old project, completed a couple cameras ago, so please forgive the photos 😉 … but I do have all the measurements and such that you will need to recreate the snowflake lap quilt. If you need more advice on how to quilt, check out our Quilting Basics Series or read over our Pinwheel Quilt Tutorial for help 🙂
Snowflake Freezer Paper Stenciled Lap Quilt… Finished size approx. 46″ X 67″
Materials Needed:
FABRIC…
Navy A – 1/2yd
Navy B – 1/2yd
Navy C – 1/2yd
White – 1 2/3yd
Med Blue – 2 2/3yd
White Fabric Paint
Stencil Brush
Freezer paper
Batting
Embroidery Floss (gold)
Embroidery Floss (med blue – opt)
Embroidery Hoop
Thread to match
Snowflake Pattern (120%)
click here for tips on enlarging
—————————————
Pre-Wash Fabric (very important!) Due to the high contrast of Navy and White I also used a 1/4 cup of vinegar when washing the blues to help color set the fabric. Remove fabric promptly from the dryer to reduce/eliminate wrinkles. Iron if needed.
Cutting Directions:
Medium Blue:
Cut Two Pieces 34.5″ wide by 47″ long for backing
Cut 15 squares 3″ x 3″
Navy (each):
Cut 2 strips 9″ x 42″, then trim to eight 9″ x 9″ squares
(you need 24 Navy 9″ x 9″ squares total)
White:
Cut 2 strips 5″ x 60″
Cut 2 strip 5″ x 47″
Cut 7 strips 3″ x 60″ then trim strips to 3″ x 9″ (need 38)
Quilt Directions:
Stencil the Snowflake design on 12 of the Navy squares (4 of each color) following our Snowflake Stencil directions.
Assemble the quilt top following the pattern chart bellow using a 1/2″ seam allowance (the stars represent the snowflakes).

Add backing and batting (you can follow the backing/batting directions from our Pinwheel Quilt pattern). You will need to sew the two pieces of medium blue together to make a backing large enough to fit (approx 68″ x 47″).
Use safety pins to hold the layers in place while you quilt.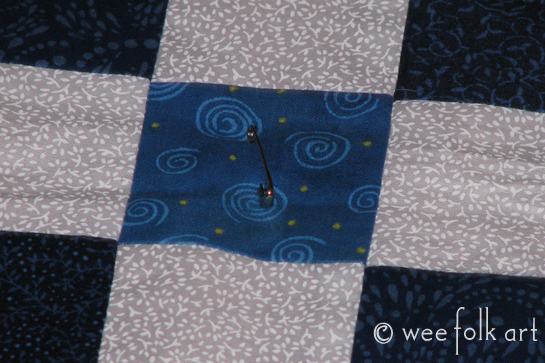 Quilt around each snowflake with gold floss.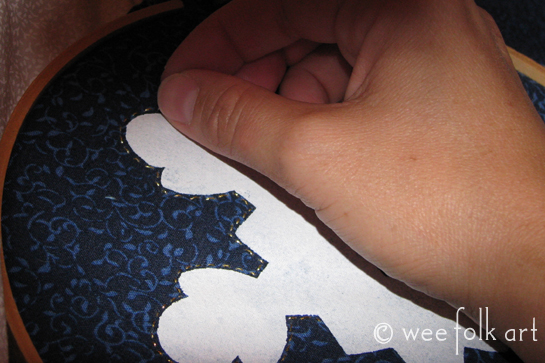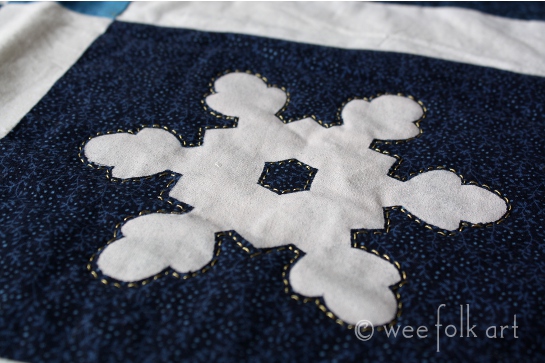 I also used a wax pencil and traced a snowflake in center of each plain navy square. (Very hard to see in photos!) I quilted the snowflake in those squares with navy thread.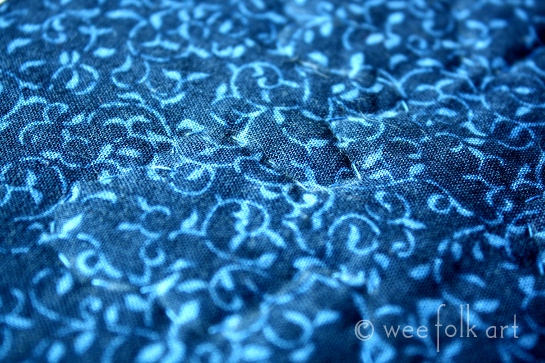 I also used 6 stranded of blue embroidery floss to tie off the small medium blue squares and white floss to tie the border.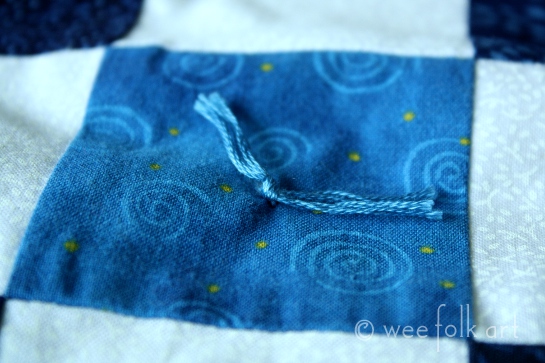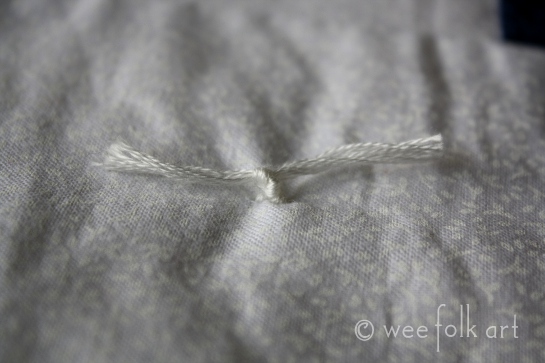 Now, grab a book, some steamy hot beverage, and snuggle under your new Snowflake Lap Quilt!