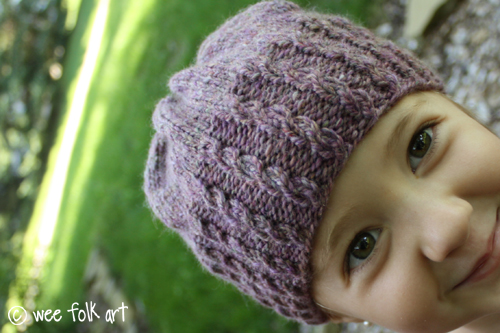 In between other, larger projects (with more on that to come, including a peek at my Double Secret Probation Sweater) I've been whipping up a few smaller, fun fall knits. I've been using this as an excuse to take a tour of other blogs looking for free knitting patterns. The one I've started with is Soule Mama's Rosa hat (available as a free Ravelry Download). I've done it twice now, in both cases using some of my own homespun yarn working at different gauges. I love the mock-cable ribbing and the quick shaping done at the top that creates a ruffled star texture on the cap. It is super cute on my girls.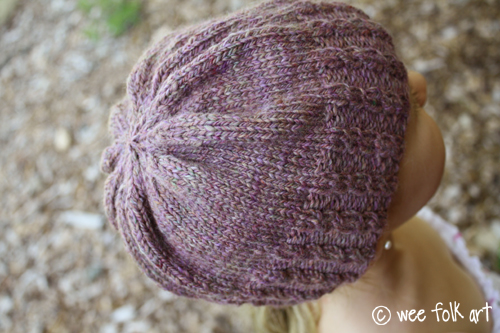 Here are some of my notes on the pattern for my own reference… just thought I would share if you are interested. In general I find that the pattern runs a tad small if you are actually working on gauge. At the given gauge of 5.25 sts per inch… for an adult hat I would be tempted to cast on 108 sts or use size 7 or 8 needles and work as written looking for a 4.5 sts per inch gauge. The 80 sts for a child size seems to work up more at a toddler sized hat (maybe try 92 sts).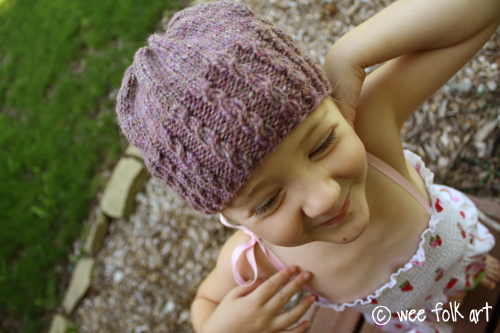 My greenie hat… worked up at 5 sts per inch. I was running out of yarn and had to start decreasing at 7.5. Although it fits me… it just fits me. Fairy has claimed it… and I'm debating taking out a few rows… because the width is good for her but it is a tad too long.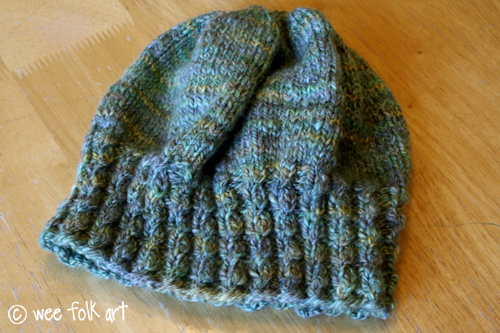 My purpley hat worked up at 6 sts per inch. I CO 100 sts and worked as the adult size but used the child's length. It was a perfect fit for Pixie! She loves it and has been wearing it around the house. LOL.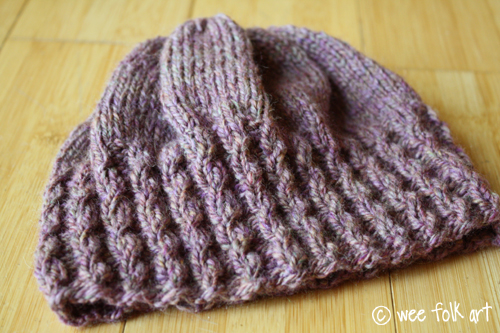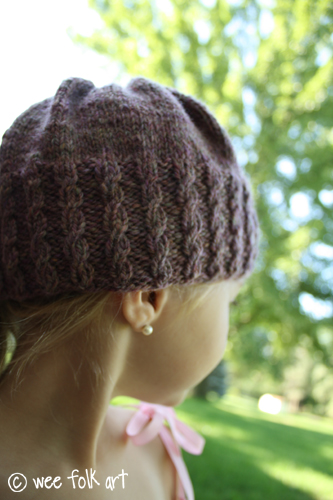 We've had some chilly nights recently (such a nice treat after that blasted heat and humidity) and the girls donned their new hats while chasing fireflies in their PJs. Too cute!