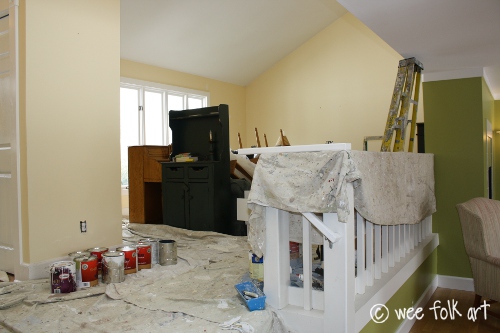 As summer is drawing to a close, my thoughts turn inward… not philosophically, but rather to the inside of my house. I don't do spring cleaning, I do fall cleaning, and much of the change inside my house occurs in September and October, before the holidays. As I was wandering through my house this morning, tablet in hand, taking notes on ideas I have, I was reminded of this article I wrote for the now retired blog, One Generation to Another. It was first published November 27, 2007. Hope you enjoy!
I have been accused (accused, hmmmm, sounds so harsh) ok, it's been suggested that I do not handle change well. Truth be told, I normally have to be dragged kicking and screaming into change. It's not that I'm dissatisfied with end results, case in point, THE INTERNET, but that's a whole 'nother story, it's just that I cringe at the process of changing. Although I can be impulsive, spontaneous, and rather fickle, I put a lot of effort into fine tuning and tweaking my decisions, and once I do, I settle into them and see little reason to go through the process again.
Perhaps the only place in my life where this does not hold true is in decorating. I view houses as living, breathing, organic entities that must continuously evolve or face extinction. Let's face it. We've all been in prehistoric houses, often our grandparents. (Hmmm, must remember I'm a grandmother when I say things like that!) They decorated their houses 30 years ago, and other than removing the protective plastic sofa cover, they've changed little. Repainting means finding a shade that most closely resembles the color already on the walls, and their new furniture must fit into the dimples already created in the carpet from previous furniture. Over the years they've added their children's graduation pictures to the walls, and the shelf above the couch holds a growing collection of souvenirs from their road trips, but nothing significant changes, ever.
I, on the other hand, am ALWAYS in the throes of decorating. You know how some people feel about a new car smell, to the point of buying "new car" potpourri when the original smell has worn off? Well, that's how I feel about the smell of fresh paint or recently sawed wood. It's intoxicating! Once that freshly decorated smell goes away, I get the wanderlust for a new project! And it's not decorating for the sake of decorating. Oh NO, far from it! It's more like listening to your house and responding to its needs. A couch says, "I'm tired of looking at the fireplace. Let me look out the window for awhile. " A wall screams for a splash of color. And the laundry room is pleading with you to restore order by installing cubbies. In my opinion, you would be heartless to ignore their needs.
I realize it takes practice to learn how to speak "house". Just like new parents need to learn to interpret their infant's nonverbal cues, so must a homeowner learn to listen to their house. So, grab a cup of coffee, herbal tea, or favorite libation and take a "day trip" through your house. Visit each room and sit in a variety of locations. It's amazing how different a room looks from different vantages. Start a home journal. I like to use an 8" x 11" sketch book that you can write, draw and paste in. Record your ideas and possible changes. You can use the journal to collect photos and ideas when looking through magazines or surfing the net. Then use the journal to record your changes, including pictures and info for future reference. One of the biggest secrets to decorating is learning to separate the screams from the whimpers. Just like parents know the difference between their child's whine for a superfluous unfulfilled desire and the scream of pain, our house's needs vary in intensity. Don't get overwhelmed by everything you want to do. Prioritize and realize that decorating is an ongoing process, and to the chagrin of everyone I've ever lived with, never complete!
Obviously, budgets are a large factor when planning any change; however, many alterations are relatively inexpensive or free and produce dramatic results. Rearranging your living room to create an intimate "chat corner" costs nothing more than a few sore muscles. Bringing color into a room through freshly painted walls or a new wall hanging can be worked into most budgets. Just remember, there's no way you would be happy wearing the same outfit day in and day out, neither does your house. Change, gulp, is good, at least where your house is concerned. Consult it frequently and listen when it speaks!
I use sketch books for the house and garden. Over the years they've gotten banged around and often abused…case in point, one fall I needed to get a shipment of plants in the ground before a trip, so I was out working in the garden, in a steady drizzle, with my trusty sketch book haphazardly wrapped in plastic while providing the blueprint for planting. Not only do journals become a great resource of collected info and plans, but a wonderful diary of the life of your house and garden.