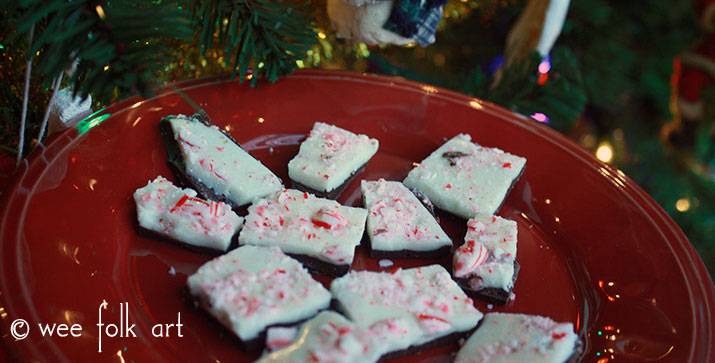 One of my family's favorite treats at Christmas is Peppermint Bark. It is very easy to make, festive looking, and happily for Fairy-girl… gluten free. It also makes a nice gift to share with teachers and friends. Although I love the peppermint, chocolate combination, I also love the chocolate, salt combination that has become so popular. This year, I decided to try making a batch of our Easy Peppermint Bark with a sprinkling of kosher salt. It has been a bit hit around here.
Ingredients
12 oz bag semi-sweet chocolate chips
12 oz bag white chocolate chips
10-12 candy candies (crushed)
Optional: Kosher Salt

Directions
Line a 9×13 baking pan with wax paper.
Melt semi-sweet chocolate chips. You can use a double boiler but I usually just use the microwave. Spread chocolate evenly in the bottom of the pan without touching the sides. Lightly sprinkle with some of the peppermint pieces. I like to use the finer crushed pieces on this layer (peppermint dust).
Set aside and allow to cool a bit. Don't put it in the fridge. You want it to cool down just enough that you can spread another layer of chocolate over it without mixing the two colors but you don't want it completely cold or your peppermint bark will divide into two separate layers when you crack it.
Melt white chocolate chips. Carefully spread white chocolate over your dark chocolate layer. Sprinkle with larger pieces of peppermint candy.
For a salted version, also sprinkle lightly with kosher salt. The salt crystals add a sparkly, ice-like texture to the bark.
Set pan in fridge to cool completely. When it is set, remove bark from the pan. It should peal right off of the wax paper. Flip it over and break into bit sized pieces. I find that my stainless steal scrapper/chopper works well for breaking the bark.
FYI – We are an Amazon Affiliate.