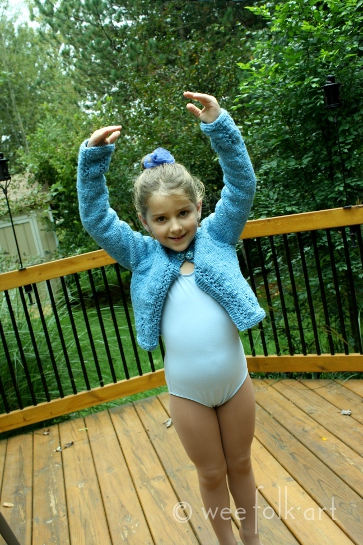 Early in the Fall, I realized that Fairy had outgrown basically all of her sweaters. So of course I set off to rectify that situation. One of the main places she wears sweaters is in the dance studio. When I asked her what she wanted she just said "light blue and sparkly." Ok, I can do that, although I did take a moment to reconcile myself with the fact that she doesn't want pink anymore. Its not the color (you wouldn't have caught me dead in pink past the age of two) but the acknowledgment that she was moving beyond that "everything has to be pink" stage that she lived in for so long that made me pause for a moment.
Growing pains aside, onto my Show and Tell… I totally love this project. I started with this super fun Sequin Yarn from Bernat. Somehow during the spinning process, a single pink sequin ended up in one of the skeins of yarn. Fairy is delighted about that one pink sequin and shows it to everyone. I can't help but think that maybe is slightly symbolic… silly yarn… here it is reminding us that the pink princess in still in there. 😉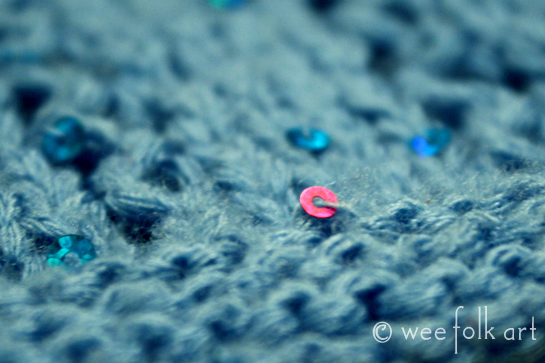 I found some blue bejeweled buttons. Seriously, this sweater is all about the bling! I also used a sparkly pony tail band as the closure.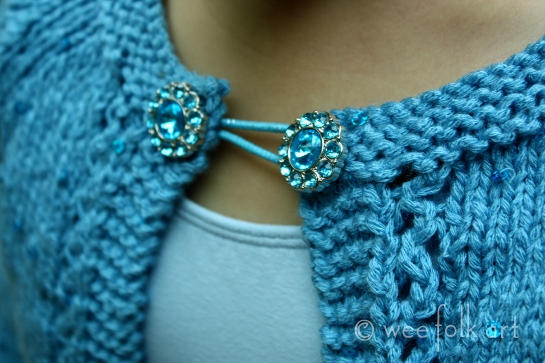 And then sat down to play with this zig-zag eyelet pattern that caught my eye. It took several tries to get the shaping just right and it is probably a bit big (but who wants to knit a sweater that only fits one season?)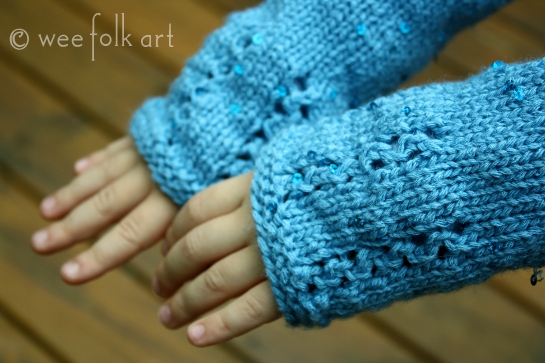 And now my Blue Princess, is toasty warm and ready to dazzle!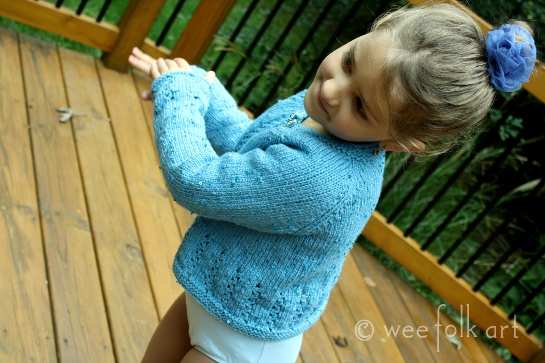 I took lots of notes. And may at some point in the future try to write it up as a pattern to share. But don't hold me to that. LOL. The knitting notes that work for me don't always translate easily into a sizable, sharable pattern. I can be all about winging it… so we'll see.