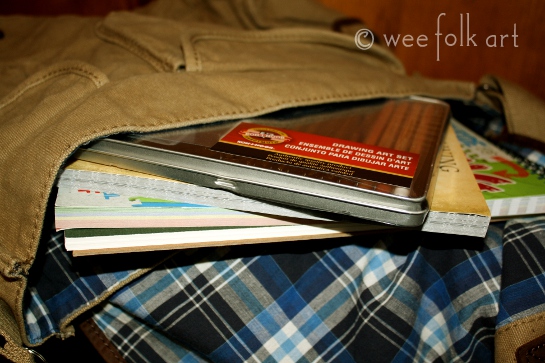 Back in early November, I had my idea for Bug's Christmas gift. He LOVES to draw, and I thought it was high time he had his own supplies. So, I got him a sketch book, a couple of "how to draw" books, and a nice set of pencils and erasers.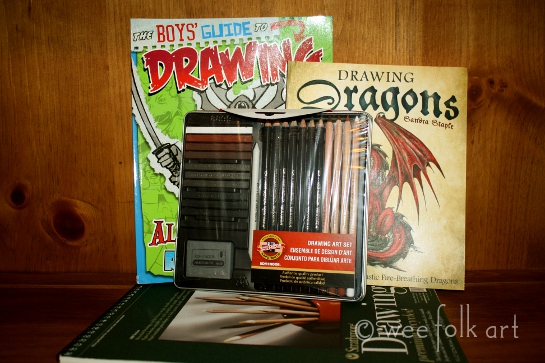 I think he will really enjoy the drawing books. The first is The Boys' Guide to Drawing by Aaron Sautter. It has "aliens, warriors, robot and other cool stuff". The sketches get harder as you progress through the book. The other book is Drawing Dragons by Sandra Staple. It teaches you "how to create fantastic fire~breathing dragons" and such. This book is more complicated than the first, but the pictures are awe inspiring, and like the other book, the drawings become more complex as you make your way through the book. The Kohinoor Gioconda 24 Piewce Drawing Set includes pencils, erasers, chalk and charcoal. Lots to experiment with. And, of course, I included some Strathmore Drawing Paper.
Next, I needed something to put everything in. I thought of making him a messenger bag, but I must admit, I decided to buy one instead. I started looking at kid's bags but they were too small, and had designs on them that Bug would consider babyish. Finally, I hit some shops in town. The price tags were all very dear! Did I really want to spend $50.00 just on a bag? Then, I got lucky. I was in Aeropostale. I didn't see any bags, so I asked. The manager said there were a few in the back left over from a promotion. She brought out the bag, and it too was $50.00. (Must be the going rate for messenger bags this year 🙂 As I was hemming and hawing, she did a price check, and it was reduced to $15.00! Well… YAY! So, I bought the bag.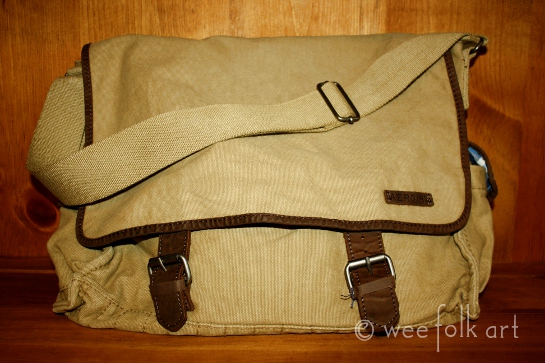 It is really a cool bag. It has a distressed look about it, too. Just the kind of place to put all your treasured work. I did want to do SOMETHING to add a little panache and individualize it. I considered appliqueing something on it, than decided it would look more "grown up" to add a tag. After considering Bug's favorite things, I made a keychain to look like Kai, a Lego Ninjago. I also embroidered his initials on the back.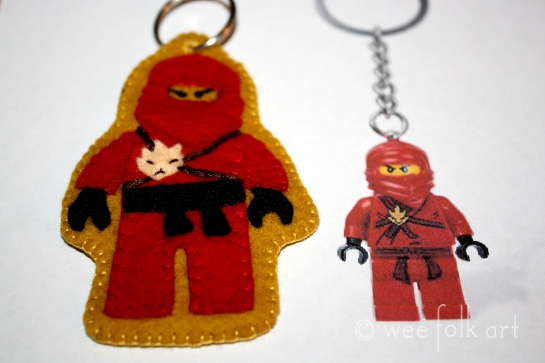 And here is the final result…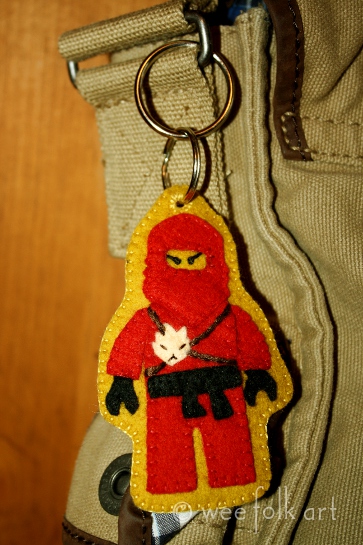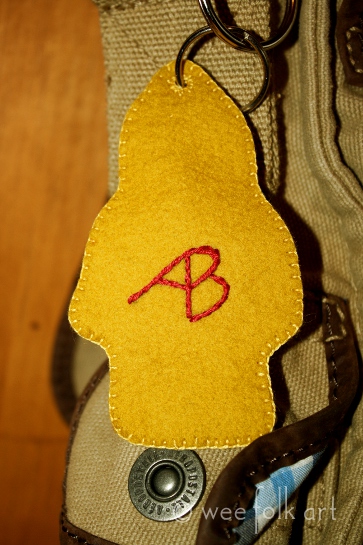 Although I think Bug will like his drawing supplies, I know he is going to LOVE Kai. Tomorrow I will share the pattern I made just in case you have a Ninjago lover in your life 🙂