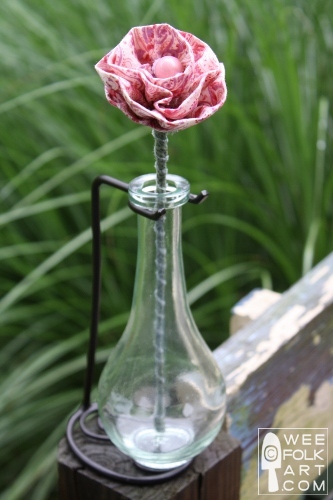 If you're not into flowers, I'm sure it seems like we've really been belaboring this whole "Rolled Flower" thing. We had our Rolled Calico Flower and our Rolled Felt Flower and now… our Calico Flower. We created this last tutorial because of a request made by Sally.
My daughter and her fiance are getting married this fall. This is the 2nd marriage for both of them although they are both in their 20s. She did not have a wedding her first go around, but he did. They've themed their wedding "Second time around". Everything has to be used. The bridesmaids are to have casual dresses and need to shop at 2nd hand shops. Even my daughter is insisting on a used dress and very casual. She doesn't want flowers but agreed to a, you guessed it, used bouquet. I've been looking around for a bouquet, but can't find anything that I can see my little girl carrying. Do you think if I could convince her to let me make some calico flowers, there would be a way to stick them on stems? Sorry this post is so long, but I really do want to make the day extra special for her.
Actually, I think this is an incredible idea. My response… of course we can stick them on a stem, and threw out this idea. In keeping with the whole "2nd time around" theme, why not get a used article of clothing from all the important people in the wedding, and craft the flowers from salvaged material. Her daughter loved the idea. I'm hoping we will eventually get to see the completed bouquet! So, here is the last variation of the Rolled Flower… I promise. I'm thinking of making a whole fall bouquet out of them. The patter for the Calico Flower can be found HERE or in our FREE Open Patterns. Enjoy!