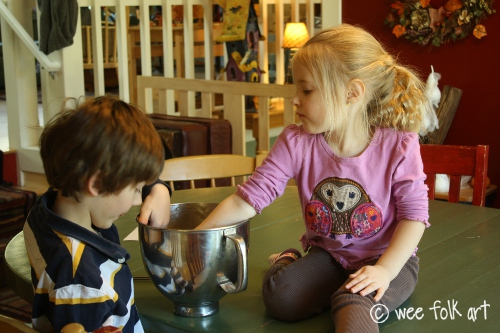 Make sure to read this all the way through. There is a special invitation after the recipe!
I often mention that the family has dinner at our house every Sunday. As a matter of fact, we start by having bagels at 12, then dinner at 4. There are usually 12 for dinner unless we have company. I love this time spent with the family and it is always fun trying out new recipes or dredging up almost forgot favorites. The other day I made a Cream Cheese Pumpkin Roll. I haven't made this in years. Four year old Pixie was fascinated by the swirl. "Gammy, how did you do that?" I briefly explained the process to her. She was a little confused and told me she wanted to come over and make one for our Pumpkin Carving Party. So last Friday, she came over, ready to bake. Although Fairy helped, and Bug was around to lick the bowls, this was Pixie's project. When we reached the part of rolling the cake in a tea towel she was so excited to learn how it was done. As an extra bonus, cream cheese is one of Pixie's favorite foods and she thought this was the yummiest dessert she ever ate! Although this requires a little effort, it is not hard, and makes a delicious and attractive dessert. Hey, if Pixie can do it, right?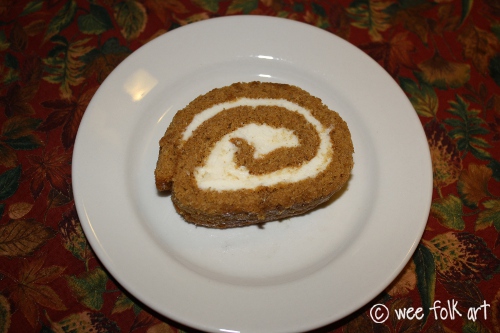 Cake Ingredients:
4 eggs
1 1/4 cup sugar
3/4 cup pumpkin
1 teaspoon lemon juice
1 cup flour
1 1/4 teaspoon baking powder
2 teaspoons cinnamon
1 teaspoon ginger
1/2 teaspoon nutmeg
1/2 teaspoon salt
Filling Ingredients:
16 ounces cream cheese, softened
8 tablespoons butter, softened
2 cups powdered sugar
1 teaspoon vanilla
DIRECTIONS
In an electric mixer beat eggs and sugar until thick and light yellow in color. Add pumpkin and lemon juice and thoroughly mix.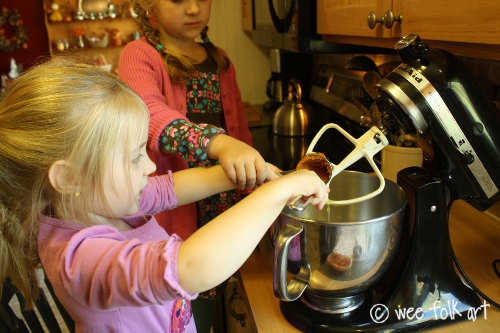 In a separate bowl combine flour, baking powder, spices and salt. Add to egg mixture a little at a time, mixing well after each addition. Spread on a greased, parchment paper lined 12-by-18-inch jelly-roll pan.
Bake at 350 ° for 15 minutes and then remove from oven. Cool for 15 minutes. Turn cake out onto a clean tea towel sprinkled liberally with powdered sugar. Peel bake the parchment paper and discard the paper. Cool 10 minutes longer. From 12- inch side, firmly roll cake up in towel. Set aside.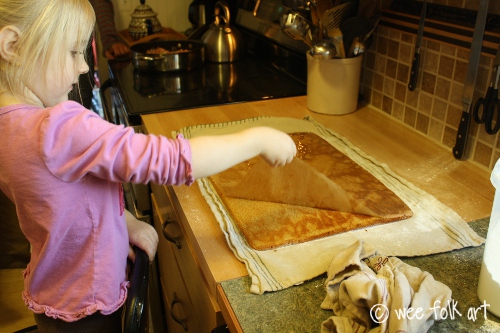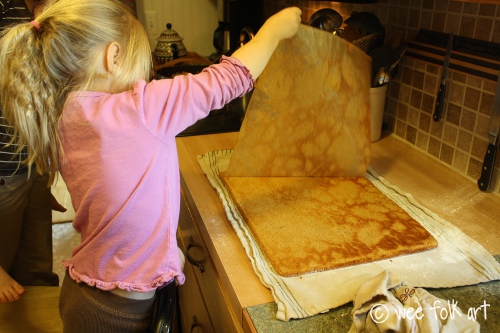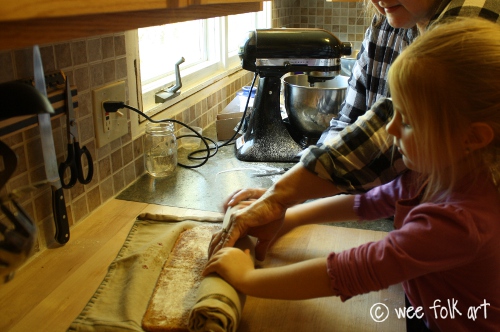 In the meantime, prepare the filling. Beat together cream cheese and butter; stir in powdered sugar and vanilla and blend until smooth.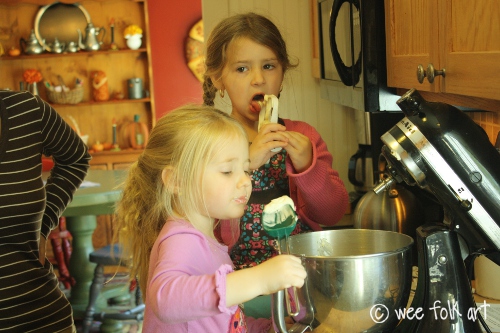 Unroll the cake. Spread the filling evenly over cake. Carefully reroll the cake. Firmly wrap in plastic wrap. Cover and chill at least 1 hour.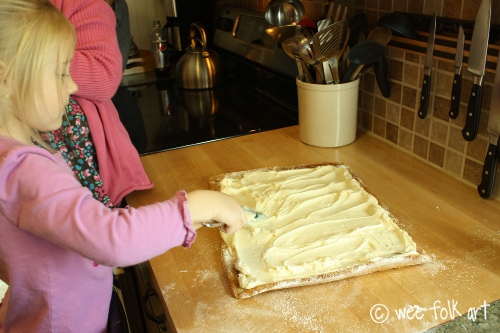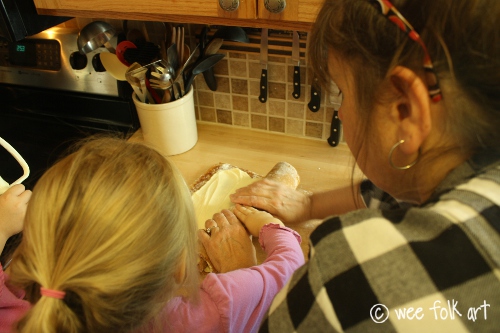 Prior to serving, remove the plastic wrap and dust with powdered sugar. Beginning at an end, slice into 1/2″ slices. Refrigerate left overs. Freezes well.
Do you have a favorite recipe using pumpkin? It might be a killer pie recipe your Gammy taught you how to make. Maybe it is pumpkin soup. Or maybe it is a crunchy cookie. Well, whatever it is, we are true fans of pumpkins and tis the season to incorporate them in your cooking. If you would like to share a recipe, just follow these guidelines.
Email the recipe to weefolkart@yahoo.com .
Include a little anecdotal background.
Attach a photo.
We will let you know in advance when we plan to share your recipe. If you have a blog and would like us to stop by and say "hi", make sure to include your URL. We will include a link to your blog when we post.
We will be sharing pumpkin recipes until Thanksgiving. We will try to feature all recipes we receive. Please understand that by sharing your recipes, stories and photos, you are giving us permission to use them on our blog.
We hope many of you decide to share a recipe. Pumpkin is definitely a favorite around here and we love trying new recipes!