I'm a doodler. If I'm not actually crafting something, I usually have paper in front of me and I'm sketching and doodling away. Last night my weekend was officially over, when our weekend house guests left, leaving me alone for the first time in days. Sitting at my desk I just started drawing some little askew houses. Well, one thing lead to another, and before I knew it, I had designed 6 little houses, sized to fit on a brooch. Of course, like any applique designs, they can be enlarged or reduced to meet your needs, but I thought these would make adorable Christmas gifts for friends. The designs can be enlarged to applique on a bag or the front of a tee. Lots of possibilities. Go crazy with colors or additional embellishment. Draw your own designs. Be creative! Here are the directions to turn my little doodlings into brooches. Enjoy!
Materials:
felt scraps
embroidery floss
thin batting
finding (pin for back)
3 – 4 copies of Pattern

Directions:
Make several copies of the pattern.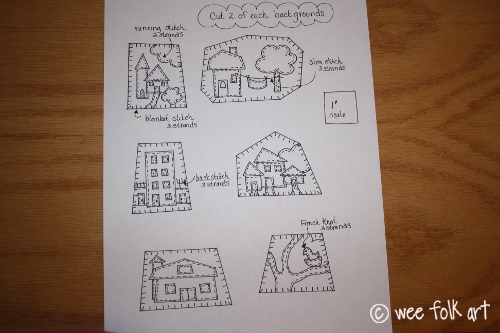 Choose your design and cut it out.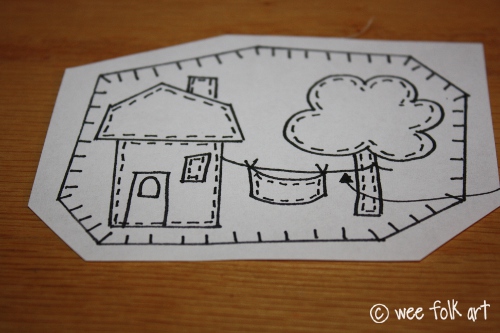 Using multiple copies of the pattern cut out 2 backgrounds and the individual pieces. NOTE: When sewing the pieces of felt to the pattern you will want to overlap pieces. (i.e. the tree trunk fits under the branches and the house tucks under the roof. When cutting out your felt pieces, add additional length to the pieces so they slip under the other pieces.)
Sew and embroider as follows:
Applique the pieces to the background using 2 strands of floss for running stitches.
Embroider the clothes line with a stem stitch using 6 strands of floss.
Embroider clothes pins with a straight stitch using 6 strands of floss.
(Not pictured: Add detail to the tree with French knots using 3 strands of floss.)
Add any other embellishments you like.


Cut out 2 layers of thin batting. You will want the batting to be smaller than the background. To do this lay the pattern on the batting and cut the pattern smaller by at least 1/4″ all the way around.


Lay the pieces of batting on the back piece of felt, centering the batting.


Place the appliqued front over the batting and back piece. Pin together and blanket stitch around the edges using 3 strands of floss.


Quilt around the outside of the branches, trunk, house, roof, chimney, window, door and hanging laundry using a running stitch and 2 strands of floss.


Turn the brooch over and sew on the finding using 2 strands of floss. Be careful not to sew all the way through to the front side.


Your brooch is now done!

https://www.weefolkart.com
Copyright © Wee Folk Art 2008 – 2010. All rights reserved.
All photos, text and patterns are copyright protected. You may not copy, reproduce or redistribute any material found on WeeFolkArt.com without written permission. Wee Folk Art retains all rights.